TopOption Review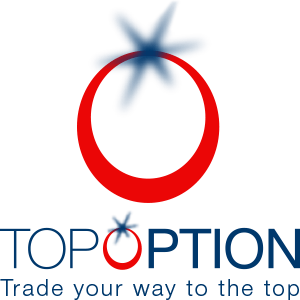 Introduction
Updated Jan, 2020
Category - Reviews
30

Views Today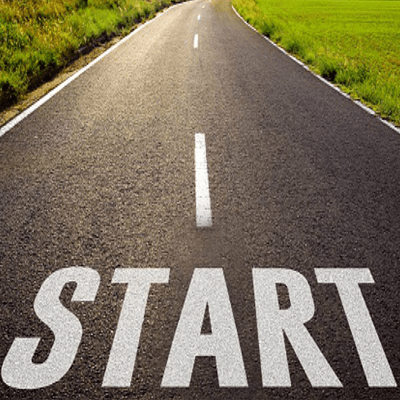 TopOption pride themselves on standing out as a binary options innovator and they are also proud of their claim to be the first binary options broker that was regulated. Now there are many more regulated brokers but they were pioneers and this gives their reputation as a reliable and trustworthy broker a boost.
TopOption was founded in 2002 by Safecap Investments Limited. The company has a strong profile for performing well in binary options and has founded several brokerages. They are regulated by the Cyprus Securities and Exchange Commission (CySEC) which provides an additional safeguard for traders with security concerns.
The strong reputation which precedes TopOption is backed up by a well-designed platform, a choice of web-based and mobile app trading options and a focus on providing smart, user-friendly products and services to make all of their traders enjoy their experience. In their own words they are committed to empowering new traders and providing every trader at their site with expert assistance, support and a simple and effective platform to generate success.
In this review, you will learn:
Their range of account types, trade types and assets
The special features which make them stand out
Why they have such a strong and legit reputation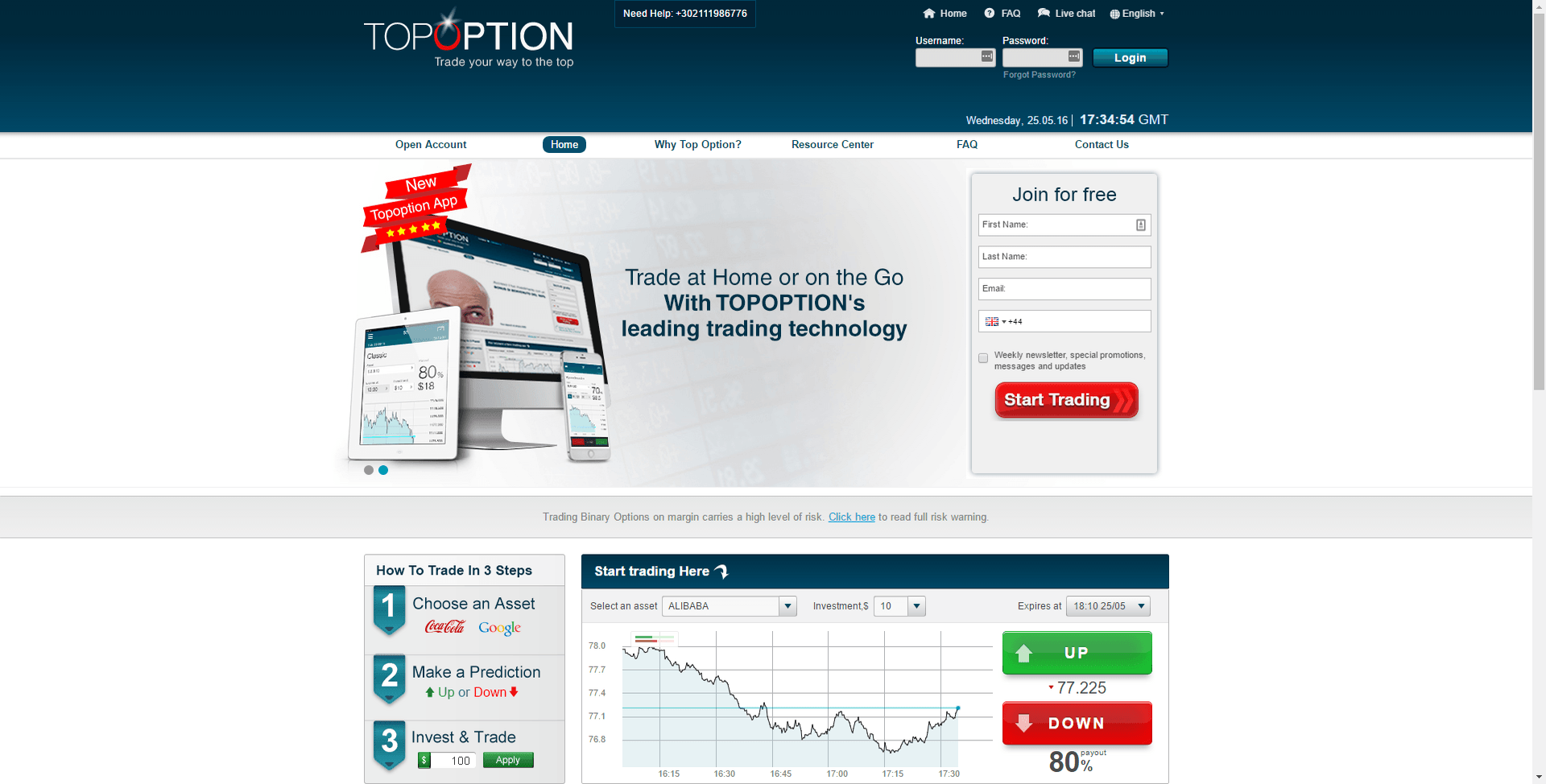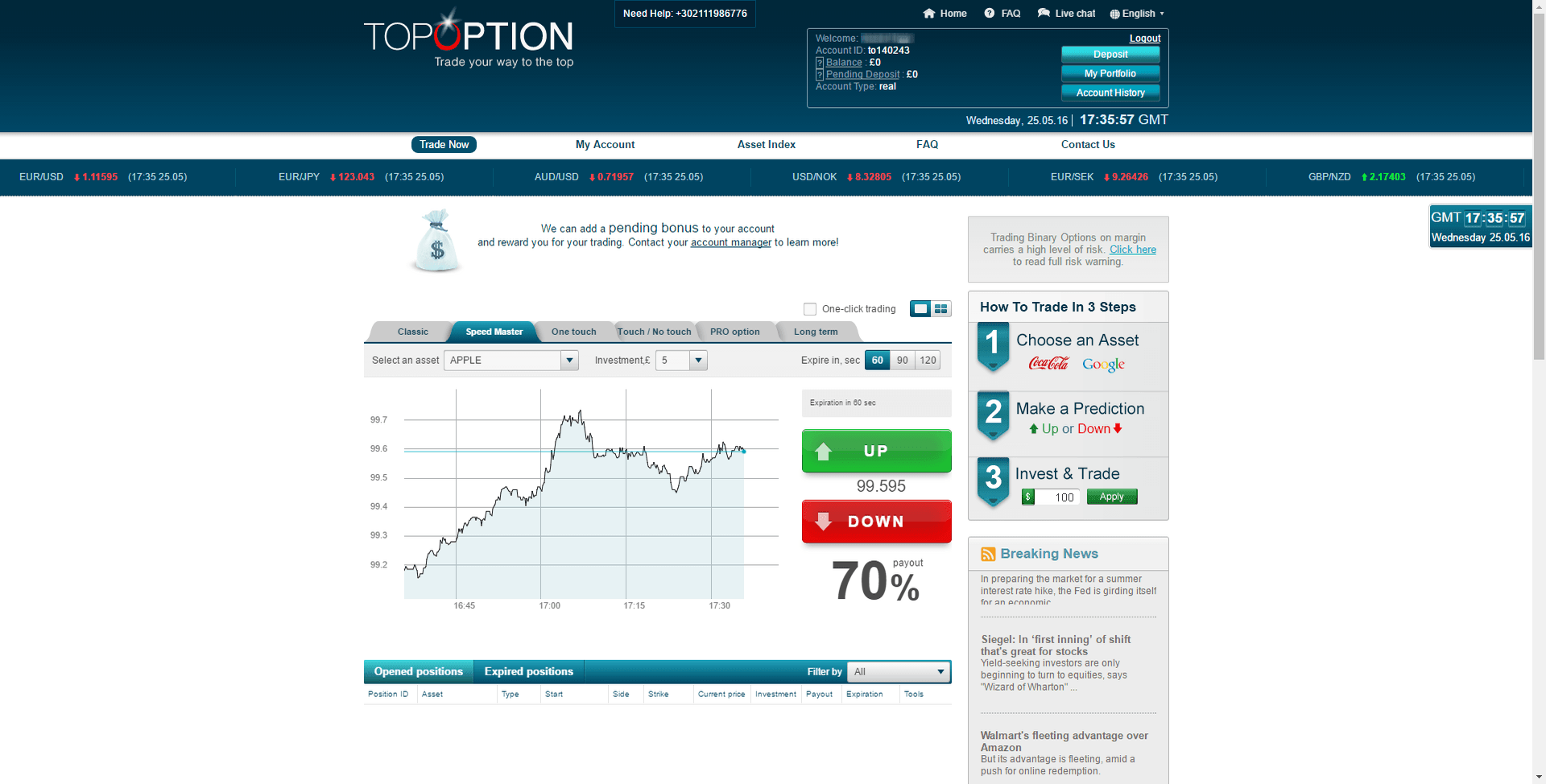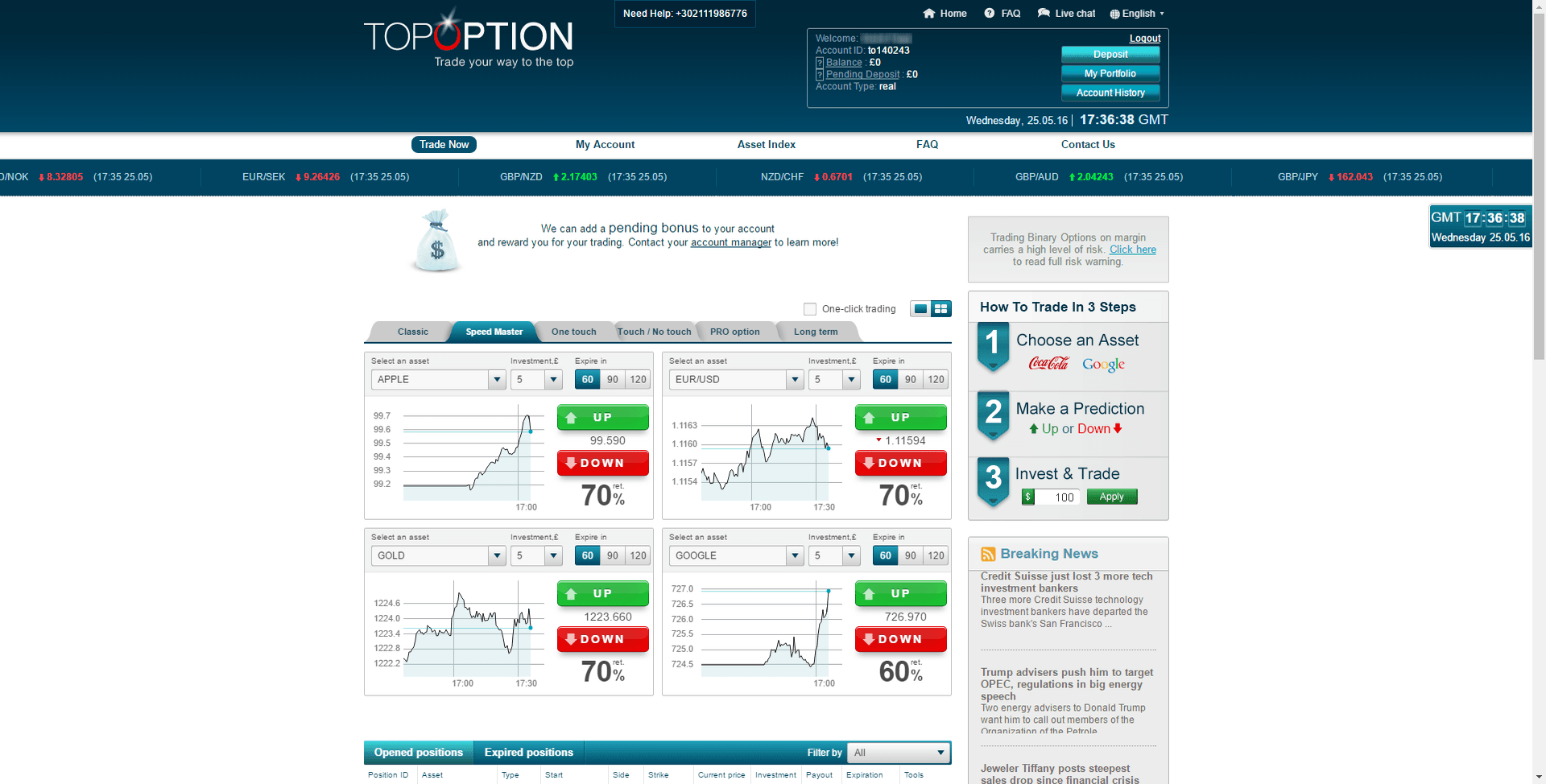 Risk Warning
/
Ad Disclosure
Risk Warning: The products offered by the companies listed on this website carry a high level of risk and can result in the loss of all your funds. You should never risk money that you cannot afford to lose.
Ad Disclosure: Some of the links that you will find on this website are advertisements for which we do receive financial gain from referring new customers.
Account Types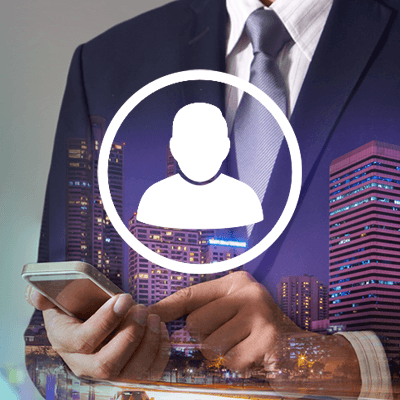 TopOption offers a choice of three different account types, they will also give you a free basic TopOption demo account if you ask nicely:
Starter Account
A Starter Account requires a minimum deposit of $100 and gives you the chance to enjoy a bonus of up to $250. You get introductory 1-on-1 trading from their experts as well as a free access to their Starter Guide eBook. You will also have full access to their eVideo library, newsroom research, alerts and updates and a starter level account manager. You can trade on both their web and mobile platforms with a Starter Account.
Pro Account
A Pro Account requires a minimum deposit of $1000 and comes with a professional account manager. You will be rewarded with a welcome bonus of up to $500 and receive 3 hours of expert 1-on-1 training as well as access to the Starter Guide and Advanced Guide eBooks. You will have full access to eVideos, newsroom research, alerts and updates too.
VIP Account
For elite traders out there, TopOption offer their VIP Account. The minimum deposit for this account is $5000 and you will be rewarded with a bonus of up to $2500. Your account manager will be a specialist and you will have access to both their eBook guides as well as all newsroom research, alerts and updates, as well as their eVideos. Additionally, VIPs have unlimited access to 1-on-1 training and can access off trading hours assistance and access the trading central report.
Trade Types And Payouts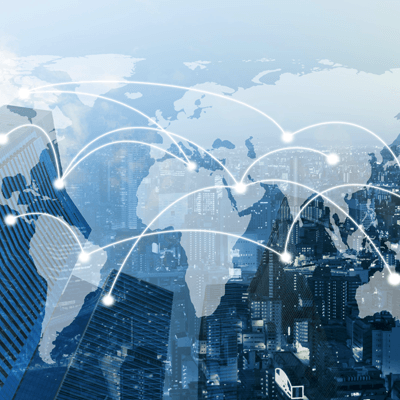 TopOption offers a diverse range of different trading types and they offer a maximum return on investment of 85%. Below is a closer look at some of the trade types:
High/Low Options
The most commonly traded binary options are High/Low. Simply predict whether the value of any asset will increase or decrease in value during a set time period.
One Touch Options
One Touch options are very straightforward, you simply predict that your chosen asset will reach a predetermined price before you place your trade. If you have success with a one touch option it lives up to its name and you have a winning trade in a single touch. It's worth nothing that some high yield One Touch options have high payouts of up to 500%.
Early Closure Options
Based on a three-minute time period, this type of trade allows you to opt to take any profit out at this stage, although you need to remember you will not be paid out the full amount, rather a percentage of the profit by exiting early.
60 Second Options
If you like the thrill of speedy trading then 60 Second options ensure you can work quickly and with the right trades, generate a profit in super-quick time.
ProOption
ProOption is an exciting feature from TopOption which lets you determine two assets and make trading like a pro much more straightforward thanks to the innovative tools the broker put at your disposal. You can pick between two popular assets and let them face off against each other.
TopOption stands out in the market as one of the most trustworthy brokers.
Bonuses And Promotions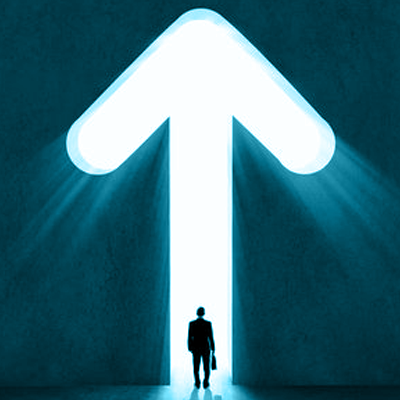 TopOption has an inviting welcome pack for new traders. There is up to a 100% welcome bonus on offer and you can choose between a 50% bonus on a $200 deposit or a 100% bonus on a $500 deposit.
They also offer a Refer a Friend promotion where there is up to $350 or more available in bonuses if your friend makes a deposit. Even if your friend only deposits the minimum $100 you will receive a $35 bonus so it is worth letting know any trader friends know if you sign up to TopOption and enjoy their platform.
Mobile Trading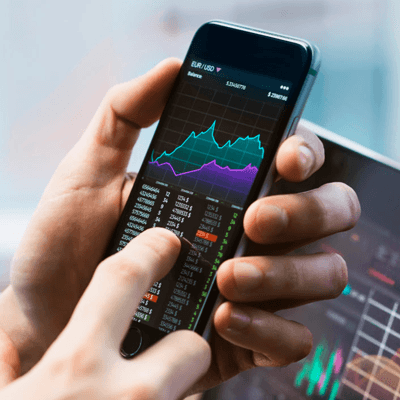 TopOption make it easy to trade on any device. You can use their web-based platform and you can also download the app to your iOS (iPhone or iPad) or Android device. If you already have an account you can register directly via your mobile browser and then download the app to access your full account.
Mobile trading with TopOption is super simple and you will have access to your account and be able to manage it with ease via your mobile phone or tablet. You can access 60 Second options trading, the fastest paced market trades available and you can also trade on the go with ease, with up to 85% payout on any winning trades and access to the most popular stocks and assets. The TopOption mobile app is compatible with both Android and iOS and can be found both in the Apple App Store and on Google Play and has been designed to make it easier than ever to trade as you travel.
Deposits And Withdrawals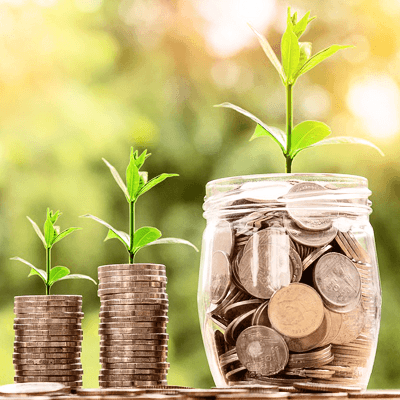 As mentioned the minimum deposit you can pay in to open your TopOption account is $100 and you can place a minimum trade investment to open from $5. There were no withdrawal problems we encountered and no deposit fees are attached to your account. There are also no withdrawal limits and each withdrawal will be processed back to the payment method you used for your deposits.
The process for making withdrawals and deposits is extremely straightforward and you have a choice of payment options which includes credit cards, fast bank transfer and the eWallet Webmoney.
Special Features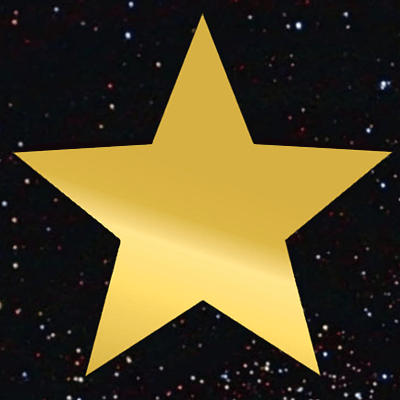 This broker has two unique and innovative features which make it stand out from competitors and you can use them as you trade.
The first of these options is Buy Me Out. This is an exclusive feature designed by TopOption which gives traders the choice of closing their position early, before the expiry time. Buy Me Out can be used whether you're in profit or in loss, as long as it is at least 5 minutes before the expiry time.
The second special feature is the unique Rollover feature. This allows traders to delay their expiry time. You do this through increasing your initial investment by 30% and this in turn allows you to postpone the trade expiry.
TopOption stand out because they integrate their range of innovative tools into every aspect of their platform and they make it easy for even complete newbies to understand and get to grips with binary options trading very quickly.
Trending Pages
Customer Support

All traders can contact a member of the friendly and knowledgeable support team via e-mail, live chat and also via a toll-free phone number. TopOption make a very genuine commitment to their customers and this goes beyond just looking after their VIPs. They offer their customer support in a range of languages (10 in total) and it is provided 24 hours a day, five days a week and they pride themselves on offering individualised support for each trader.
Once you make your first deposit at this brokerage you will be assigned your account manager and they should provide you with any additional support you need and it's worth making sure you make use of your 1-on-1 trader training too as the experts at TopOption are ready and waiting to provide you with insight to success.
Here are the contact details for TopOption:
Email - [email protected]
Phone - +44 800 170 0124
Address - Treppides Tower, 5th Floor, 9 Kafkasou Street, 2112 Nicosia, Cyprus
Conclusion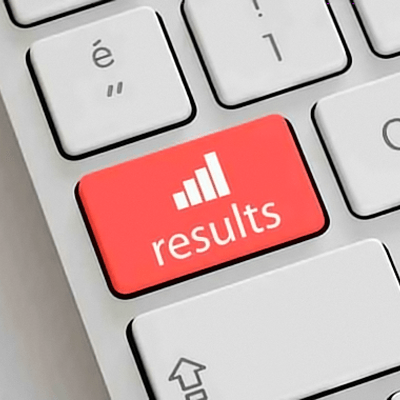 Let's finish up our TopOption review here. TopOption stands out in a market as one of the most trustworthy and high integrity brokers out there. We found nothing online via their service of third party complaints to imply that they are a scam. They make it easy for traders to access the markets and the choice of web and mobile platforms, both offers to a high stand also ensures they maintain their great reputation. The fact that they are fully regulated is another plus point and they are a genuinely reputable brokerage who offer great support and resources to help traders succeed.
They also stand out because they are continually evolving and innovating and they are committed to providing the most user-friendly binary options trading environment online.
Risk Warning
/
Ad Disclosure
Risk Warning: The products offered by the companies listed on this website carry a high level of risk and can result in the loss of all your funds. You should never risk money that you cannot afford to lose.
Ad Disclosure: Some of the links that you will find on this website are advertisements for which we do receive financial gain from referring new customers.
Frequently Asked Questions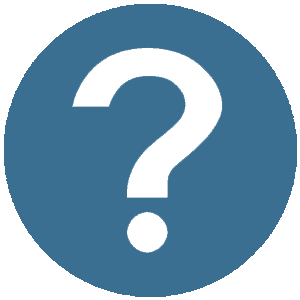 Meet The Author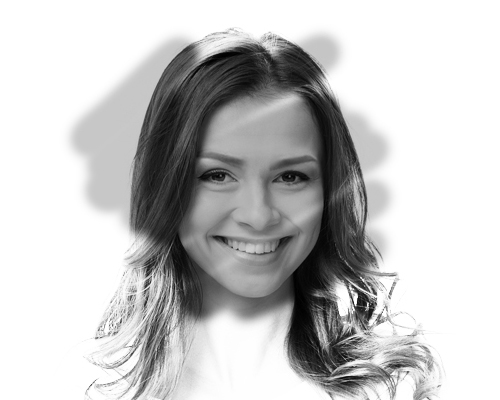 Shelly Burns
Broker Specialist
Shelly is proud of her current position as Head of Brand for a well-known organisation that owns several brokerages in the trading sector. She's consulted for us since 2015 and readers can benefit from her insider knowledge of how brokers work.
Popular Pages
Popular Pages

Other Investing

More Info