PayPal to Offer Crypto Wallet But no Keys; BTC at 1-Year High
Oct 26th, 2020 - 4:11 PM (GMT)
Category - Crypto News
31

Views Today
Last week, I got an email from PayPal, inviting me to join a waitlist for a new PayPal crypto service. Of course, I signed up for the option and thought it was a massive movement for the company based in San Jose.
According to the email, crypto was joining the power of PayPal. Clients would now "confidently buy and sell crypto with PayPal, starting as a little as 1 dollar." Besides the wallet, the company will provide educational articles for crypto newbies.
Last week, the San Jose Based company announced that it would enable cryptocurrencies as a funding source for digital commerce. The company received a "first-of-its-kind" conditional Bitlicense from the New York State Department of Financial Services.
A press release published on October 21 said:
PayPal Holdings, Inc. today announced the launch of a new service enabling its customers to buy, hold and sell cryptocurrency directly from their PayPal account, and signaled its plans to significantly increase cryptocurrency's utility by making it available as a funding source for purchases at its 26 million merchants worldwide.
Crypto Date: Early 2021
The company also said that the new service would be alive beginning in early 2021 around the globe. Customers will be able to use their crypto holdings to pay in PayPal. They will also be able to buy, hold, and sell cryptos.
In that framework, Crypto and Blockchain contributor Billy Bambrough highlighted in a Forbes article the mainstream condition of PayPal and its ability to put cryptos into the masses.
Bambrough said:
The bitcoin and cryptocurrency community has been set alight by news payments giant PayPal will allow its 346 million users to buy and spend bitcoin and a handful of other major cryptocurrencies.
However, the analyst also said that the news comes with downsides as PayPal wouldn't allow users to deposit or withdraw cryptos from the PayPal platform. Users won't have control of private keys.
The company clarified regarding its bitcoin and crypto plans that:
Currently, you can only hold the cryptocurrencies you buy on PayPal in your account, additionally, the crypto in your account cannot be transferred to other accounts on or off PayPal.
That would be problematic for a business like mine because we wouldn't have the ability to transfer cryptos from other accounts unless you are a merchant, enhancing the institutional client base for PayPal.
The crypto community is divided after the announcement. Some experts even recall the mantra: Not your keys, not your coins.
PayPal Moves Forward in The Crypto Industry; In Talks to Buy BitGo
It looks like PayPal is taking cryptocurrencies seriously, finally. After former PayPal chief executive Bill Harris called bitcoin "the greatest scam ever" in 2018, the company is turning its eyes to the industry.
PayPal is now moving ahead in the crypto sphere to buy digital coin related companies such as BitGo, a startup that helps investors store Bitcoins securely.
According to people familiar with the matter, Bloomberg reporters Ed Hammond and Katie Roof wrote that PayPal is moving ahead with BitGo and other companies.
Bitcoin at Highs Since June 2019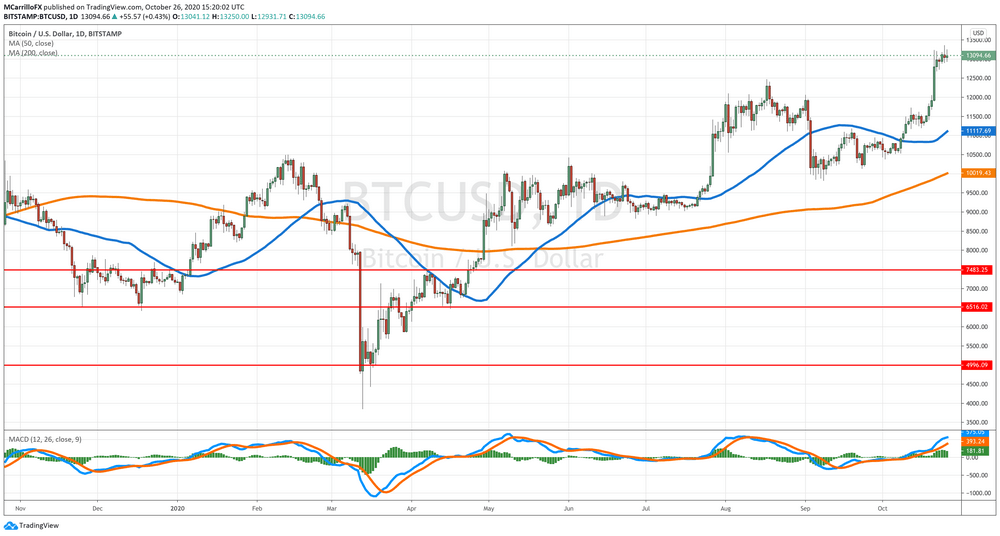 Following the news, BTC/USD broke above the 12,500 resistance and rallied to its highest levels since June 2019, around 13,363 dollars per unit. BTC/USD is currently trading at 13,104, which is 0.33 percent positive on the day.
Technically, the pair is trading in consolidation mode following the previous gain, and it is moving in a flag pattern.
PayPal Stock Extends Decline And Falls Below $200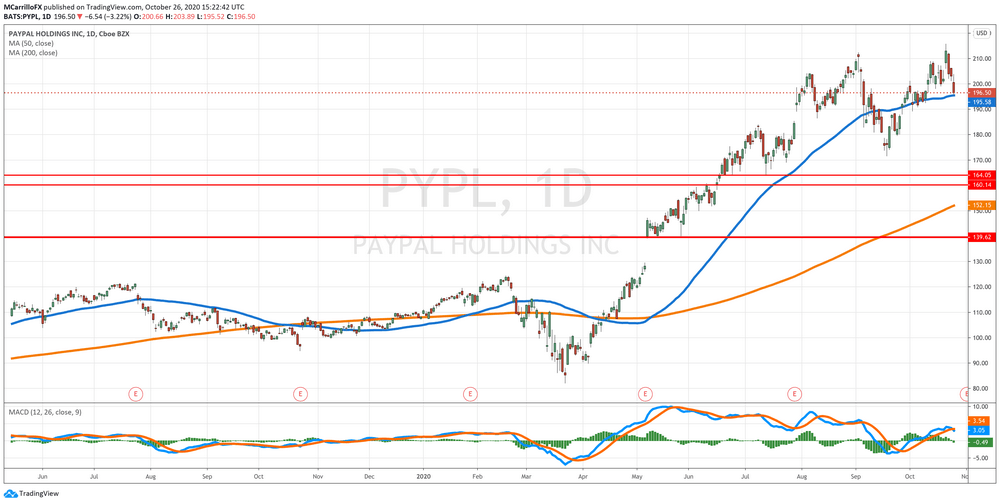 Shares of PayPal are trading down for its third session in a row as investors are reluctant to take risks or go into the market ahead of the US presidential elections. Also, rising coronavirus cases in the United States and Europe are affecting market sentiment.
Currently, PYPL is trading at 196.63 dollars per unit, which is 3.27 percent down in the day and its lowest level since October 12. The share is now facing the 50-day moving average level at 195.58, which is acting as a support.
Technically, conditions for PYPL are improving in the daily chart. MACD says that the middle term trend is bullish and chart formation suggests more gains. However, the unit should keep the 50-day moving average intact. Momentum is slowing.
According to CFRA ratings, PayPal is a stock to "hold" with a price target fo0r the next 12 months of 200.00 dollars per unit.
We think PYPL offers significant value propositions to both consumers and merchants as a two sided network that is agnostic to how consumers fund their accounts. However, the flipside to this business model is PYPL could increasingly be seen as a middleman that heavily relies on other parties such as the traditional card networks and banks. Fees to these other companies have continually increased as a total percentage of expenses, threatening the scalability and margins of the business.
Meet The Author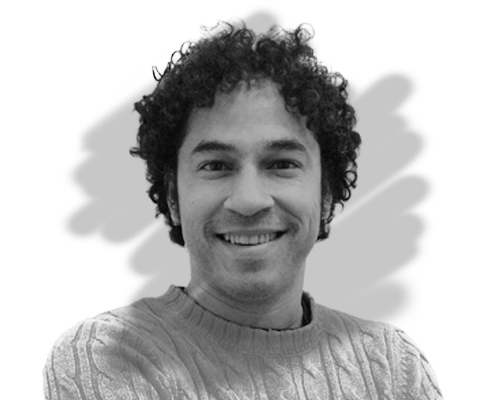 Mauricio Carrillo
Senior Reporter
Mauricio is a newer member of the team and a very welcome addition. He is a financial journalist and trader with over ten years of experience in stocks, Forex, commodities, and cryptocurrencies. This experience means he has an excellent understanding of the markets and current events.
Investing News


Dec 9th, 2020 - 4:48 PM (GMT)


Dec 8th, 2020 - 4:22 PM (GMT)


Dec 7th, 2020 - 4:48 PM (GMT)
Related Pages