BBVA to Launch Crypto Services in January - Source
Dec 8th, 2020 - 4:22 PM (GMT)
Category - Crypto News
32

Views Today
Spain's second largest bank, BBVA, would launch a crypto service as soon as January, according to sources quoted by a report in Coindesk. It would be one of the most significant crypto adoptions in traditional banking in the last months and a colossal starting for digital assets in 2021.
In an article published by Ian Allison in the crypto media Coindesk, the author reported that two people familiar with the plans confirmed that the Bilbao based Banco Bilbao Vizcaya Argentaria S.A is "launching its Europe-wide crypto initiative from Switzerland."
Sources added that the bank is still dealing with regulatory and compliance hurdles. Yet, as Switzerland offers a friendly crypto ecosystem, the bank is taking from there to the whole continent. "This will be a cryptocurrency offering."
The source said:
There are still some compliance hurdles so this will not be in December, but I expect they [BBVA] will be live next month.
According to rumors, the bank will integrate SILO, a custody solution for digital assets that was implemented previously by Russian firm Gazprombank.
Allison says in the article:
About six months ago, BBVA began work on integrating the SILO custody platform built by core banking software provider Avaloq and Swiss crypto specialists METACO, according to the source. METACO is also known to be working on an institutional custody solution with London-headquartered Standard Chartered.
The Expert Investor Takeaway
The crypto move taken by BBVA would be one of the first crypto bets for a too big to fail institution in the European Union. It means that traditional banking is taking the crypto industry seriously.
It looks like the time finally has arrived for the digital assets industry. So it would mean a push for crypto prices and more blockchain implementations.
Recently, Bitcoin jumped to test the 20,000 level, but it was rejected. With the news of several traditional banks planning to offer crypto assets, investing instruments, and token offerings, it looks like the break of the 20,000 level is just a matter of time.
Besides, government and central banks' stimulus across the world would help crypto prices to go up in the middle of a sustained wave of low interest rates. You know it, cheap dollars and euros mean more gains for cryptos.
BBVA Stock Analysis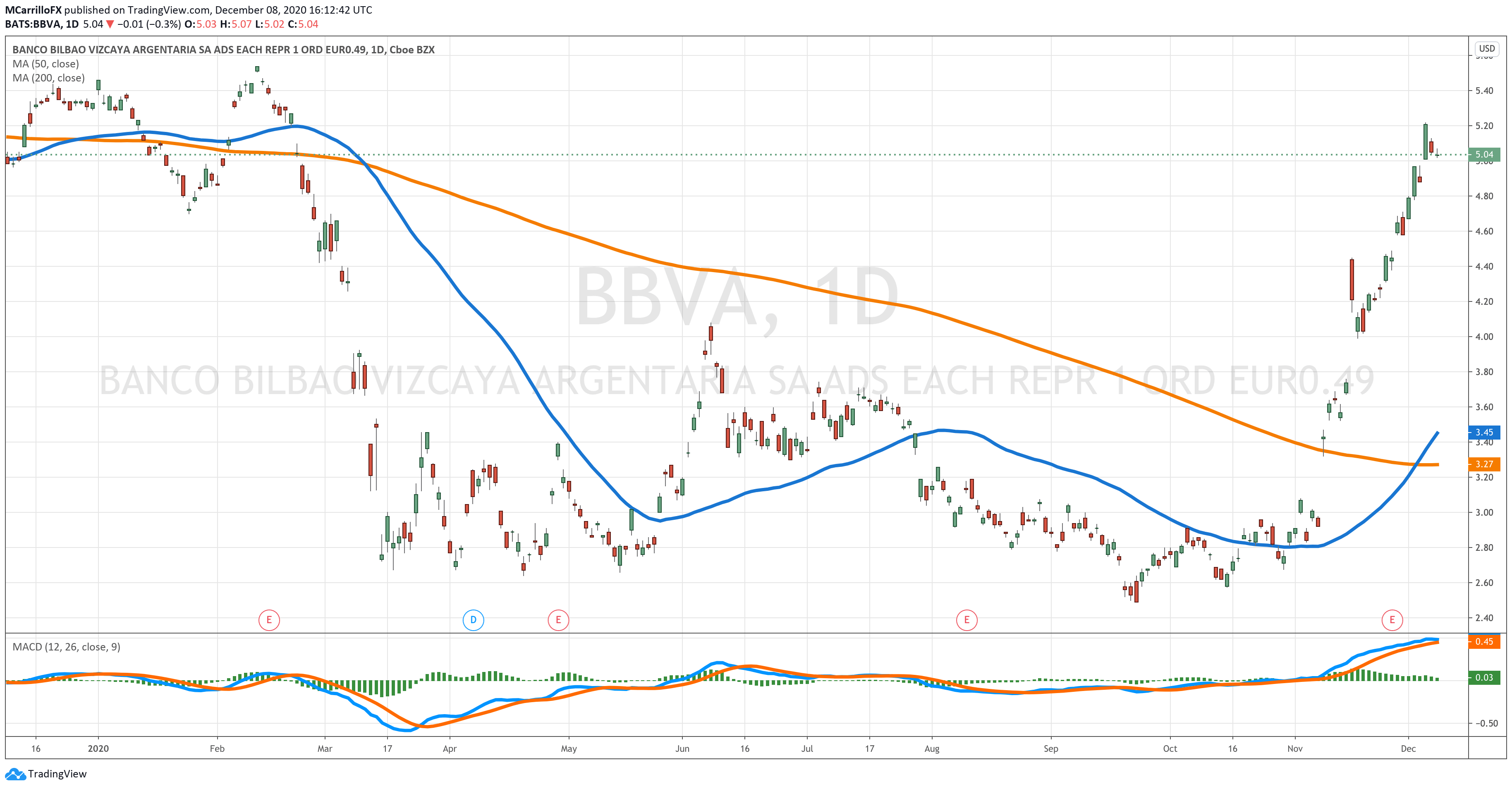 Shares of Banco Bilbao Viscaya Argentaria, traded in the New York Stock Exchange under the code of BBVA, are trading negative on Tuesday as investors are on a consolidation path following the rally performed from 4.00 dollars per unit on November 17 to its highest level since February 21 at 5.22 dollars per share, reached December 4.
Currently, BBVA is trading at 5.04 dollars per unit, which is 0.20 percent on the day. In December, the share has jumped over 10 percent so far; a follow up from the previous month, when the share gained a stunning 58 percent.
Technically, the BBVA share looks bullish with healthy conditions favoring the upside. MACD and RSI are very strong. However, the unit will face strong resistance at 5.55 dollars per unit, where the 50-day moving average lies right now.
According to Ford Equity Research, the share of Banco Bilbao Vizcaya Argentaria is a number 2 out of five buy rating. The firm projects that BBVA will outperform the market over the next 6 to 12 months. Earnings strength is positive, and relative valuation is very positive; however, price movement is very negative.
Ford's Buy recommendation on Banco Bilbao Vizcaya Argentaria S.A. is the result of our systematic analysis on three basic characteristics: earnings strength, relative valuation, and recent stock price movement. The company has produced a positive trend in earnings per share over the past 5 quarters and while recent estimates for the company have been raised by analysts, BBVA has posted better than expected results. Based on operating earnings yield, the company is undervalued when compared to all of the companies we cover. Share price changes over the past year indicates that BBVA will perform very poorly over the near term.
Meet The Author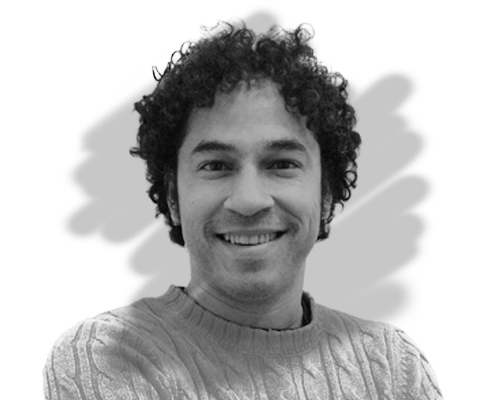 Mauricio Carrillo
Senior Reporter
Mauricio is a newer member of the team and a very welcome addition. He is a financial journalist and trader with over ten years of experience in stocks, Forex, commodities, and cryptocurrencies. This experience means he has an excellent understanding of the markets and current events.
Investing News


Dec 9th, 2020 - 4:48 PM (GMT)


Dec 7th, 2020 - 4:48 PM (GMT)


Dec 1st, 2020 - 4:46 PM (GMT)
Related Pages