Bitcoin Jumps Above 18,000, But Gets a Rejection; What's Next?
Nov 18th, 2020 - 6:49 PM (GMT)
Category - Crypto News
40

Views Today
After a 75 percent rally from the beginning of October, Bitcoin had finally surpassed the 18,000 level for the first time since December 2017, when the market was in the middle of a crypto bubble that exploded soon after.
However, according to experts, some fundamental situations are telling a pretty different story this time. So, why is Bitcoin trading at its highest level in almost three years and why "this time is different," as experts say? Let's explore it.
Bitcoin Tests The 18,000 Area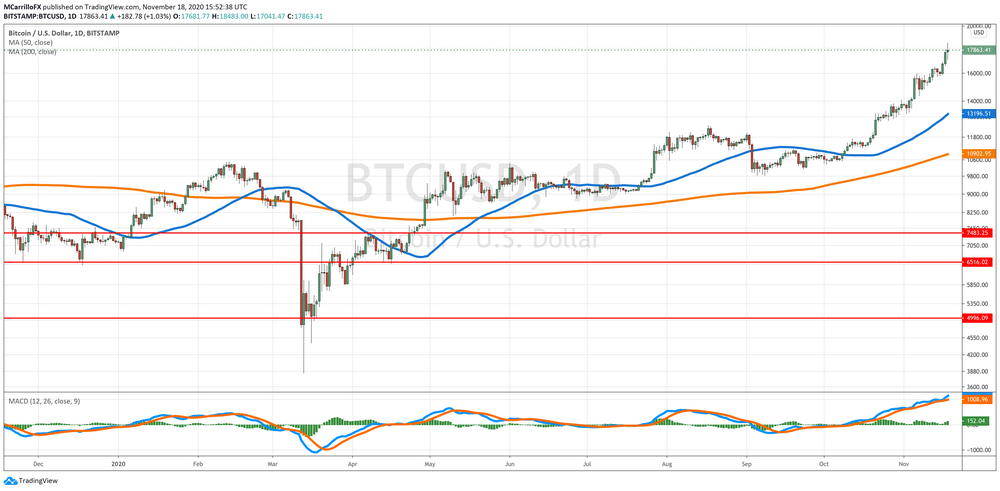 Before, let's see Bitcoin's current situation. After a three days rally, the crypto king finally broke above the 18,000 area early Wednesday, and it jumped to its highest level since December 2017 at 18,483 dollars per unit.
However, the unit got a rejection as selling interest emerged, and investors wanted to book profit at such an exciting level. Currently, BTC/USD is trading at 17,863, which is around 1 percent positive in the day.
Bitcoin and other crypto prices have been rallying in the last months as investors bet on stimulus packages from governments and accommodative policies by central banks that would fuel markets and main street people with fresh and cheap money going into the crypto market.
Besides, a weak dollar is also helping crypto assets as people need fewer dollars to buy cryptos, allowing digital coins to go up smoothly. Since the start of the year, Bitcoin has risen around 150 percent from January's opening price.
According to Tanya Abrosimova, a crypto analyst at FXStreet, "the cryptocurrency market has become extremely greedy, and a correction is looming."
Abrosimova highlights that the market has liquidated more than 70,000 positions worth more than 800 million dollars in the past 24 hours.
All major assets lost over 7% in less than two hours after reaching the top as the so-called "market makers" started to clear out overleveraged traders, According to the data from Bybt, over $800 million were wiped out in the recent 24 hours, with the largest single liquidation happening on BitMEX (nearly $5 million in BTC).
Is This Time Different?
Crypto believers and Bitcoin bulls claim that this time is pretty different from the bubble experienced in 2017 when the BTC(USD reached its all time high at 19,880 dollars per coin. They recall significant movements for crypto and blockchain implementation in different industries.
Big industries are currently implementing blockchain initiatives and crypto currencies as a method of payment and saving.
PayPal is now supporting crypto trading as they allow users to buy, hold, and sell virtual currencies. In addition, the company based in San Jose, California, will help businesses to implement transactions and accept payments in cryptos.
Recently, Fidelity Investments launched its first Bitcoin fund for investors with portfolios over 100,000 dollars.
So, crypto believers state that the world is pretty different from what it was in 2017. Industries are better prepared and well positioned for massive blockchain implementation. In this framework, as blockchain technologies back cryptos, the increase of its usage would drive prices of digital coins up.
That's why they do believe BTC/USD is sustainable this time.
In addition, as Kathy Jones, chief fixed income strategist for Schwab Center for Financial Research, said to Bloomberg, "The fascination has worn off."
You have the hardcore 'I'm a cryptocurrency investor' group but it hasn't really expanded because it's been so volatile, there have been so many questions around security and what regulations might do. The number of questions I get on it now is a fraction of what I got a couple of years ago when it was really hot.
Also, Simon Peters, a crypto assets analyst at multi-asset investment platform eToro, highlighted in a note to CoinTelegraph that today the crypto market is well diverse and has a presence in a "wide-ranging data sets, mean that we can say with some trepidation, this time is different."
In fact, Peters says that the next target for Bitcoin is the 20,000 per dollar level. "Should we surpass that this year, which I believe is possible, then we are into uncharted territory as sentiment remains positive."
Meet The Author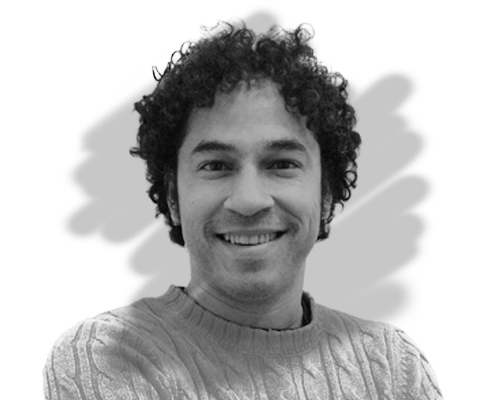 Mauricio Carrillo
Senior Reporter
Mauricio is a newer member of the team and a very welcome addition. He is a financial journalist and trader with over ten years of experience in stocks, Forex, commodities, and cryptocurrencies. This experience means he has an excellent understanding of the markets and current events.
Investing News


Dec 9th, 2020 - 4:48 PM (GMT)


Dec 8th, 2020 - 4:22 PM (GMT)


Dec 7th, 2020 - 4:48 PM (GMT)
Related Pages