Best Buy Reports Strong Sales But BBY Shares Fall Hard
Aug 25th, 2020 - 4:40 PM (GMT)
Category - Investing News
32

Views Today
American multinational consumer electronics retailer Best Buy reported a strong second quarter on Tuesday as the company took advantage of the social distancing and quarantine measures during the COVID-19 pandemic.
According to a press release published by the company, however, officials warned that growth wasn't likely to keep the pace and costs are expected to rise in the next months due to store reopening.
Best Buy reported an FQ2 Non-GAAP earning per share of 1.71 dollars, a beat of 0.62 dollars. GAAP EPS was 1.65 dollars, 64 cents above expectations.
The company announced a revenue of 9.91 billion dollars, 120 million dollars better than expert estimates, and 3.9 percent above the same period in the previous year.
In that line, Best Buy declared 0.55 cents per share as a quarterly dividend, in line with the previous quarter. Dividends will be paid on October 6 with an ex-dividend date of September 14.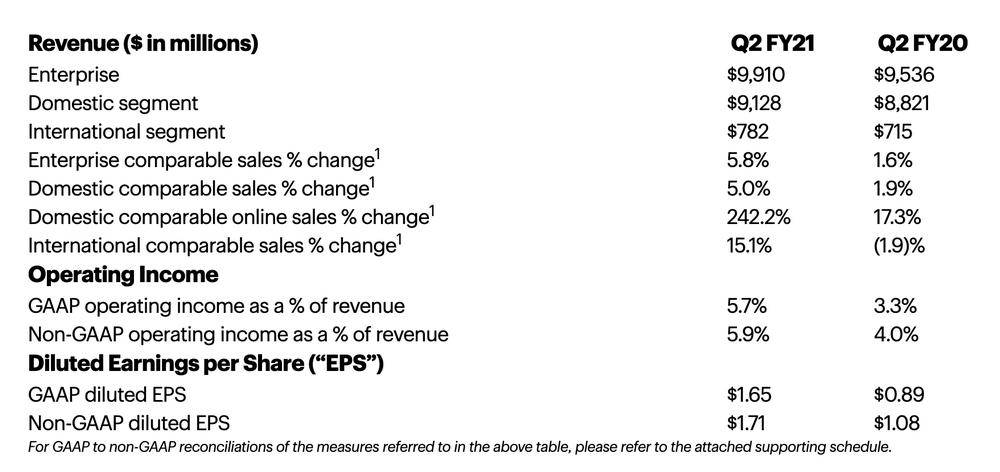 During the earnings call, officials highlighted the uniqueness of the current situation and how it influenced sales.
Online sales skyrocketed 242 percent in the United States during the second quarter while comparing with the same period in 2019. Sales at stores grew by 5.8, above the 2.3 percent increase expected by the market.
CEO Matt Bilunas warned that it is expected that sales will return to a more normal behavior, so the company is anticipating that the hype experienced in the second quarter would be short lived.
Bilunas said:
Overall, as we plan for the back half of the year, we continue to weigh many factors including potential future government stimulus actions, the current shift in personal consumption expenditures from areas like travel and dining out, the possible depth and duration of the pandemic, the risk of higher unemployment over time, and the availability of inventory to match customer demand.
Best Buy Shares Analysis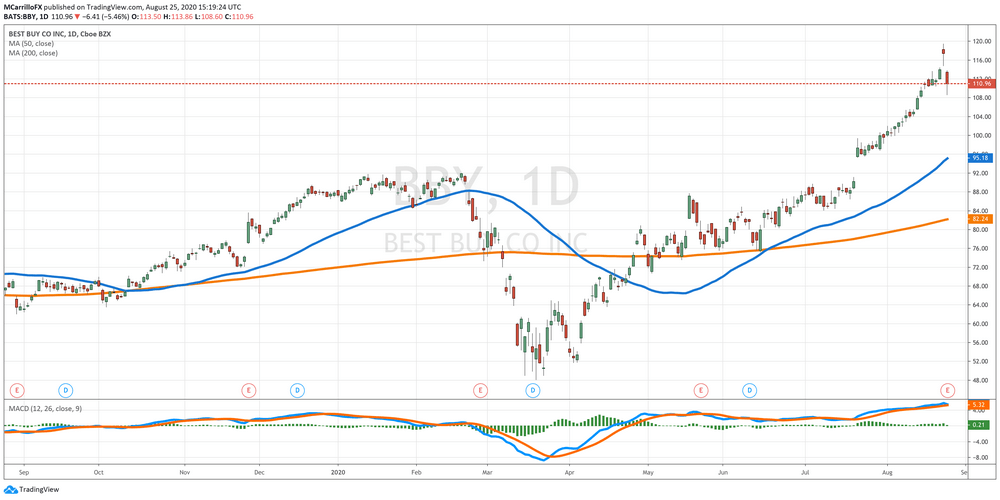 Shares of Best Buy are trading sharply lower on Tuesday as investors are disappointed as the recent hype in the sales performed in the second quarter is expected to be short lived.
Besides, the company didn't provide enough guidance for the second part of the year.
In that framework, BBY is trading 5.40 percent down on the session at 111.00 dollars per share.
Previously, BBY traded at all time highs at 119.48 on Monday as investors raised interest in the stock just ahead of today's earnings release. However, after posting the corporate report, traders sold the news and closed positions amid profit taking.
The unit is now testing the 108.00 level, which is a significant support that defends a potential bearish change in the odds. In the long term, BBY looks long with healthy technical conditions. The chart pattern suggests more uptrend coming, MACD is bullish, and Momentum is positive.
TheStreet Quant Ratings sees Best Buy as a stock to "buy" with a target price of $138.91.
Regarding the stock's future course, although almost any stock can fall in a broad market decline, BBY should continue to move higher despite the fact that it has already enjoyed a very nice gain in the past year.
CFRA has maintained its "buy" opinion on Best Buy shares with a 12-month target price of $130.00.
We note BBY's reliance on constant technological innovation and disruption, including upgrade cycles and the emergence of new products, which could lead to rapid maturation of existing categories and product cannibalization. We also account for a delay in 'must have' new products by suppliers due to Covid-19, intensifying competition from Amazon, and tariff-related headwinds, given China accounts for 60% of BBY's cost of goods sold.
Meet The Author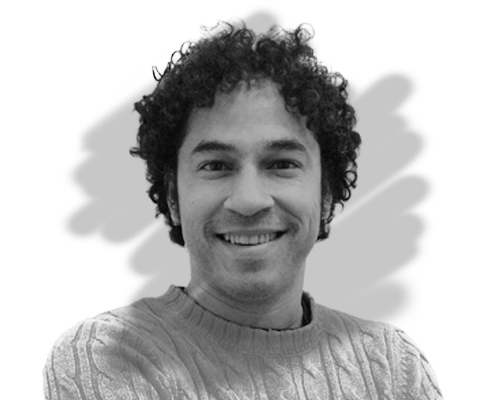 Mauricio Carrillo
Senior Reporter
Mauricio is a newer member of the team and a very welcome addition. He is a financial journalist and trader with over ten years of experience in stocks, Forex, commodities, and cryptocurrencies. This experience means he has an excellent understanding of the markets and current events.
Investing News


Dec 10th, 2020 - 4:32 PM (GMT)


Dec 9th, 2020 - 4:47 PM (GMT)


Dec 4th, 2020 - 4:58 PM (GMT)
Related Pages