Boeing 737 Max Certified to Fly Again, But BA is Under Pressure
Nov 19th, 2020 - 4:51 PM (GMT)
Category - Investing News
35

Views Today
When the Boeing 737 Max started flying back in 2017, everybody praised the Seattle-based aircraft manufacturer because it was an addition to the Dreamliner's technological improvements. However, everything changed in 2018 and 2019 when a technical problem caused two deadly crashes, killing 346 people.
The 737 Max was grounded and banned from the air by the United States' Federal Aviation Administration. After two years, the FAA has certified the plane and has cleared to fly again.
But the clearance was not free. Both the 737 Max and the Boeing Company were under heavy scrutiny in the last 20 months. All key people in the industry, from pilots, passengers, airlines, and the FAA officials critiqued Boeing and its internal culture.
The investigation found design flaws and contradictions with good praxis in a company like Boeing. Internal company documents showed how some employees expressed safety concerns but how superiors watched the other way. Also, it revealed how employees mocked regulators.
FAA Administrator Steve Dickson acknowledged that to CNBC, "It's the most scrutinized transport airplane in history and it's ready to go." Dickson continued, "I would put my own family on it. I understand the concerns. This is certainly a time for humility."
In a press release published by Boeing, the company said the FAA now directs them to implement changes and it would lead to reshaping the company.
David Calhoun, chief executive officer of The Boeing Company said:
We will never forget the lives lost in the two tragic accidents that led to the decision to suspend operations, these events and the lessons we have learned as a result have reshaped our company and further focused our attention on our core values of safety, quality and integrity.
Not a Blank Check
The FAA requirements include aircraft operators to make changes too, and those changes would be inspected by the FAA again. Additional training will be needed for pilots. After that, the FAA will approve airworthiness certificates for each plane.
"This saga is not yet over," pointed out Vertical Research Partners analyst Rob Stallard in a Tuesday research note quoted by Barrons:
Airlines will have, at least, three or four weeks of work to get their MAX jets back in top form. There are physical changes to, and inspections of, the MAX planes.
The Expert Investor Takeaway
When the crashes and the banning of the 737 Max happened, Boeing shares were trading at all time highs around 400 dollars per unit. Then, the stock came under pressure as investors were wondering what was going on in the company.
According to experts citing the FAA report, Boeing was under a "culture of concealment" plus a "grossly insufficient oversight by the FAA." It has damaged the company's reputation and FAA authority. Boeing will take years to recover its brand.
In that framework, the company makes extra promises to all its customers and investors. According to the press release, it will take further steps to consolidate Boeing core values:
Organizational Alignment: More than 50,000 engineers have been brought together in a single organization that includes a new Product & Services Safety unit, unifying safety responsibilities across the company
Cultural Focus: Engineers have been further empowered to improve safety and quality. The company is identifying, diagnosing and resolving issues with a higher level of transparency and immediacy
Process Enhancements: By adopting next-generation design processes, the company is enabling greater levels of first-time quality
Besides, the FAA certification is not a permission to fly right away. The company should comply with new requirements and extra training for pilots. Then, the FAA will inspect every aircraft separately.
So, for the market, it is another step in the saga, but not the last. There are still few steps to accomplish and nothing is for sure right now.
However, the news is good for Boeing and other companies such as commercial airlines, aerospace suppliers, engine producers, and even air catering companies. For instance, American Airlines has announced it is planning to resume 737 Max flights as soon as December after certifications.
Boeing Stock Analysis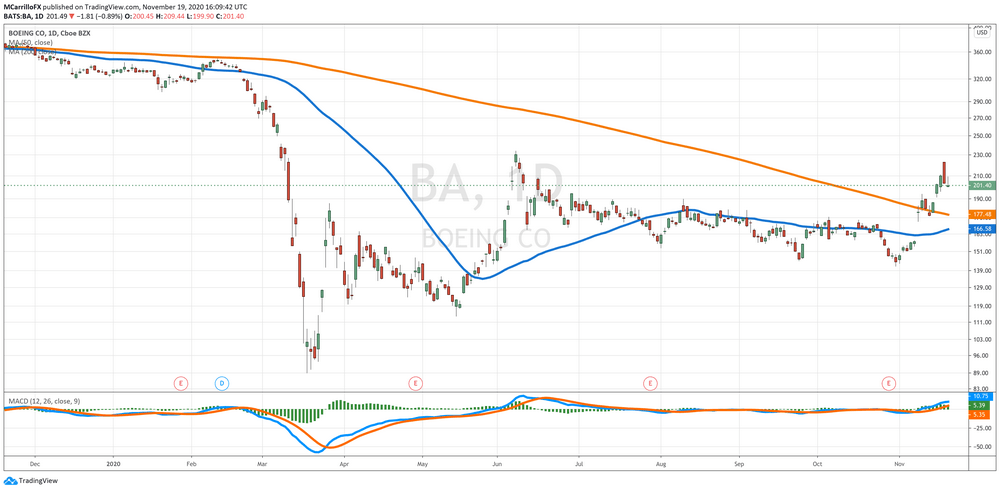 Shares of Boeing are trading slightly positive on Thursday after rallying but failing on Wednesday. Investors reacted positively to the FAA approval news, but after reading the small print, they realized it was just another step in the Boeing resurrection.
In addition, rising COVID-19 cases are putting stocks on the defensive and, especially, the airlines and aircraft sectors.
That being said, BA jumped to its highest level since June 20 at 223.02 dollars per unit on Wednesday, but it got rejected and the stock fell all the way down to close 3.21 percent negative at 203.30 dollars per unit. On Thursday, BA is trading 0.93 percent negative at 201.40.
According to TheStreet Quant Ratings, Boeing Co. is a share to "sell" as "the company's weaknesses can be seen in multiple areas, such as its feeble growth in its earnings per share, deteriorating net income, poor profit margins, weak operating cash flow and generally disappointing historical performance in the stock itself."
On the other hand, CFRA considers The Boeing Company as a "four stars buy" with a 12-month target price of 248 dollars per unit. "Since late May when we upgraded our BA rating to Buy, we have viewed the market as overly focused on BA's near-term challenges, asserting vaccines and 737 MAX recertification would eventually shift the focus to BA's still formidable position in a longterm growth industry."
Meet The Author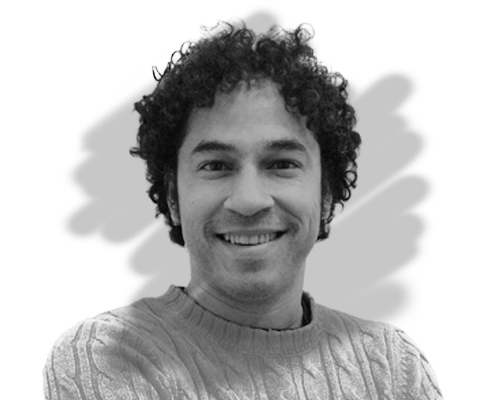 Mauricio Carrillo
Senior Reporter
Mauricio is a newer member of the team and a very welcome addition. He is a financial journalist and trader with over ten years of experience in stocks, Forex, commodities, and cryptocurrencies. This experience means he has an excellent understanding of the markets and current events.
Investing News


Dec 10th, 2020 - 4:32 PM (GMT)


Dec 9th, 2020 - 4:47 PM (GMT)


Dec 4th, 2020 - 4:58 PM (GMT)
Related Pages