Sony Shares up Amid PS5 Launch And Sold Out
Nov 12th, 2020 - 3:27 PM (GMT)
Category - Investing News
39

Views Today
Shares of Sony Corporation are trading higher on Thursday after the market welcomed the launching of the new brand Playstation 5 console in strategic markets such as Japan and the United States.
According to market data, the gaming console is sold out in Japan, and it would probably be the same in the United States. In addition, the first day of real sales will be limited to pre-order pick up as the company focused on online sales due to the COVID-19 pandemic.
After the new console announcement back in September 2020, thousands of gamers were waiting for the arrival of the new station, which comes in two versions: PS5 Digital edition at 399 dollars per unit and the PS5 Ultra HD Blu-Ray Disc Drive for 499 dollars.
The console is available to the public in North America and Japan on November 12, but European customers will have to wait until November 19 to have it.
In a press release published on September 16, president, and CEO of Sony Interactive Entertainment, Jim Ryan said:
Since we first announced our next generation console last year, we have received astounding support from developers and gaming fans all around the world, and it's truly humbling.
As you may know, the COVID-19 pandemic has fueled virtual environments and remote work. But also, the gaming industry is booming in 2020. According to Sam Nussey, Reuter's journalist, experts anticipate a shortage of consoles from now until 2021.
Sony expects to sell around 7.6 million units in the first five months after the launch. As a matter of context, The PS4 console took it one fiscal year to sell the same 7.6 million after its debut.
The Expert Investor Takeaway
The COVID-19 pandemic is reshaping the way people live and interact with others in 2020. Despite a vaccine, the changes are here to stay. The world is evolving into a more digital society, and the gaming industry is taking advantage of that.
As mentioned before, analysts see a shortage of gaming consoles from Sony, Microsoft, and others in the next months, allowing other gaming companies to raise their sales.
At the top of it, gaming consoles are not just for playing games. Still, they are being developed to support other services such as real time communication, virtual reality, augmented reality, TV packages, and educational software.
So, the future looks bright for Sony and its PlayStation 5 console and Microsoft and its Xbox station. But also for gaming chip and software developers like NVIDIA, AMD, and others.
Keep that in mind.
Sony Stock Analysis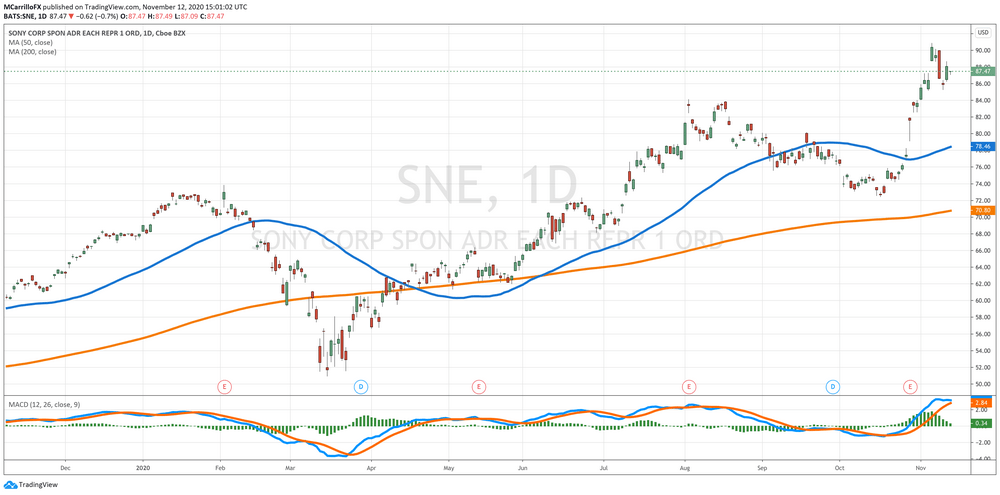 Shares of Sony are trading lower on Thursday amid the uncertain environment in Wall Street amid the COVID-19 vaccine and the rising cases of coronavirus around the world.
However, the unit is over 20 percent up from its October lows of 72.40 dollars per share. It looks like SNE is trading in consolidation mode after the stock reached its 20-year high at 90.88 dollars per unit on November 5.
According to TheStreet Quant Ratings, the SNE is a stock to "buy" with a target price of 113.68 dollars per unit.
Powered by its strong earnings growth of 55.85% and other important driving factors, this stock has surged by 43.37% over the past year, outperforming the rise in the S&P 500 Index during the same period. Regarding the stock's future course, although almost any stock can fall in a broad market decline, SNE should continue to move higher despite the fact that it has already enjoyed a very nice gain in the past year.
CFRA considers Sony Corporation a "four star buy" with a 12-month target price of 96 dollars per share.
We favor Sony's shifting earnings drivers towards content creation and platform business model, which should generate higher margins and better earnings quality. PS5 products will underpin Sony's earnings growth over the next three years, in our view, supported by its robust platform, PS-exclusive games, and leading market share for consoles (54% for 2019, according to Statista). We believe music and movie/series contents business will continue to grow despite the short-term impact of Covid19.
Meet The Author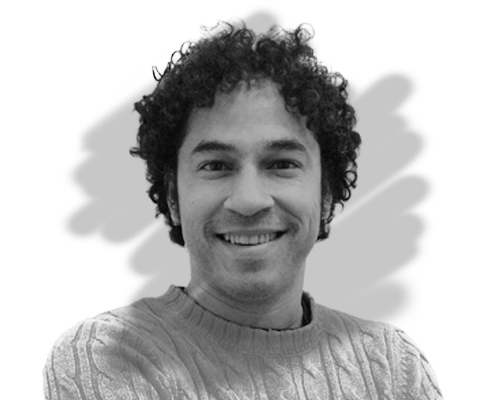 Mauricio Carrillo
Senior Reporter
Mauricio is a newer member of the team and a very welcome addition. He is a financial journalist and trader with over ten years of experience in stocks, Forex, commodities, and cryptocurrencies. This experience means he has an excellent understanding of the markets and current events.
Investing News


Dec 10th, 2020 - 4:32 PM (GMT)


Dec 9th, 2020 - 4:47 PM (GMT)


Dec 4th, 2020 - 4:58 PM (GMT)
Related Pages