Merck Buys OncoImmune, a COVID-19 Drug Developer
Nov 23rd, 2020 - 4:40 PM (GMT)
Category - Investing News
33

Views Today
American multinational pharmaceutical company Merck announced the acquisition of clinical-stage biopharmaceutical company OncoImmune for 425 million dollars in cash. Shares of Merck reacted positively to the news, but the gain was diluted in the middle of Monday's session.
According to a press release published by the company, Merck will accelerate the development of CD24Fc, an experimental COVID-19 therapy for critical and severe conditions of SARS-CoV-2/COVID-19.
The drug has been reported as a risk reduction of respiratory failure or death by more than 50 percent in patients with COVID-19 in hospitals and requiring oxygen.
The company will pay an upfront payment of 425 million dollars in cash, but OncoImmune shareholders will receive payments based on the drug's regulatory milestones and sales.
Dr. Roger M. Perlmutter, President Merck Research Laboratories said
Meaningful new therapeutic options are desperately needed for possibly millions of people around the world who will develop severe or critical COVID-19 disease, recent clinical investigations support the view that CD24Fc may provide benefit beyond standard of care therapy for COVID-19 patients requiring oxygen support, and hence will represent an important addition to the Merck pipeline of investigational medicines and vaccines designed to address the COVID-19 pandemic.
Merck Buys OncoImmune, But Not Everything There
Merck and OncoImmune agreed to sell the company but not all rights and assets for other developments, which would go to a new company, in which Merck has decided to invest nearly 50 million dollars.
Other products in the OncoImmune pipeline are ONC-392, an antibody that targets CTLA-4, and ONC-781, a novel monoclonal antibody.
The Expert Investor Takeaway
The COVID-19 pandemic has changed the way we live in every single aspect, and most of those changes will remain for a long time while others are here to stay. Under that framework, people are focused on returning to the old normal.
Most of the headlines across that topic have been for potential vaccines, including the ones recently announced by Pfizer, Moderna and AstraZeneca. However, there are lots of industry-related developments needed to reconquer public spaces.
Among those industries are drug logistics and transportation, new, upgrading and improved cooling systems and, of course, treatments for patients who get infected by the coronavirus.
In that line, Merck made a bold move with an experimental treatment that has shown promising results.
CD24Fc showed it could reduce the risk of respiratory failure or death by more than 50 percent in hospitalized patients. Data in 203 patients reported that patients receiving it had a 60 percent higher probability of seeing improved clinical status.
Perlmutter said in a telephone interview with CNBC:
The results are remarkable.
When asked why Merck decided to buy OncoImmune, Perlmutter said that they:
realized that this small little company was in no position to make CD24Fc to try and treat all of the people who could potentially benefit from this drug.
Then, Merck "decided that the only way, seriously, that this could be brought to people who need it is for us to lean in with our capabilities."
Basically, Merck bought a successfully developed drug, and they will focus on the scaling.
Merck Stock Analysis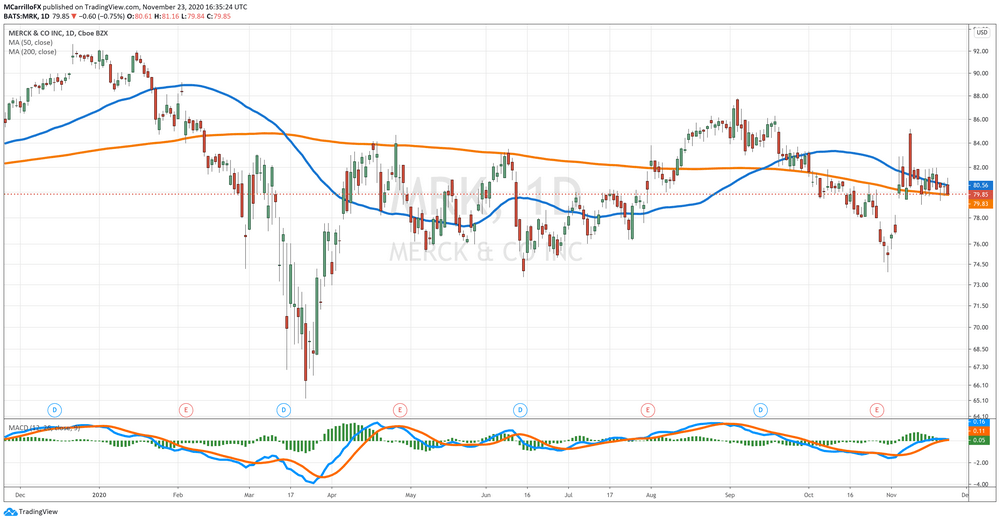 Shares of Merck initially reacted positively after the news, but the gains faded quickly and it is currently trading negative on Monday.
MRK has been trading in a small range between 79.50 and 82.00 dollars per unit in the last two weeks. Today, Merck is trading 0.55 percent down in the day at 80.00.
According to TheStreet Quant Ratings, Merck & Co is a stock to "buy" with a target price of 92.85 dollars per unit as "the company has demonstrated a pattern of positive earnings per share growth over the past two years." TheStreet feels "that this trend should continue."
CFRA considers Merck & Co. Inc. as a "four stars strong buy" share with a 12-month target price of 97.00 dollars per unit.
We think headwinds due to Covid19 will continue as patient visits have not fully normalized, negatively impacting some of MRK's physician-administered drugs and certain vaccine categories. Looking forward, though, we see a favorable patent setup with no key brands losing marketing exclusivity until 2022, and MRK's growth engine, Keytruda, on patent until 2028.
Meet The Author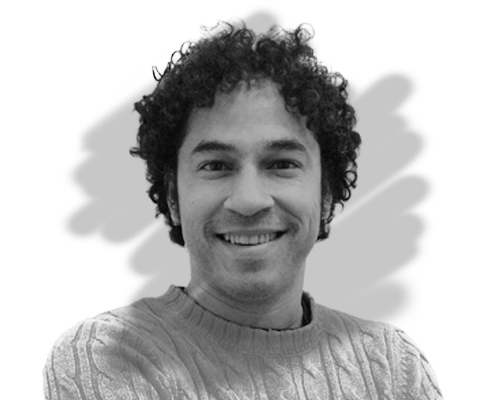 Mauricio Carrillo
Senior Reporter
Mauricio is a newer member of the team and a very welcome addition. He is a financial journalist and trader with over ten years of experience in stocks, Forex, commodities, and cryptocurrencies. This experience means he has an excellent understanding of the markets and current events.
Investing News


Dec 10th, 2020 - 4:32 PM (GMT)


Dec 9th, 2020 - 4:47 PM (GMT)


Dec 4th, 2020 - 4:58 PM (GMT)
Related Pages