BMW 'All in' Electric Cars With The 2022 iX; Its First Long-Range EV
Nov 11th, 2020 - 4:16 PM (GMT)
Category - Investing News
35

Views Today
Luxury carmaker Bayerische Motoren Werke AG, better known as BMW, announced its all new iX SUV, the first long range electric vehicle. It will be launched as soon as next year, and it will be on the roads as soon as 2022.
At its NextGen 2020 event, BMW unveiled a new all-electric SUV car with about 300 miles of range and 500 horsepower that will allow it to go from zero to 60 miles per hour in just 5 seconds.
In that way, BMW is taking another step in its over a decade journey from gas fueled cars to electric powered vehicles.
Twelve years ago, BMW launched its Project i electrification program with the testing of the MINI E fleet going electric. Two years ago, the company launched the iNext, a concept electric car that looks like it has become the iX today.
In a press release published by the company, Senior Vice President BMW Group Design, Adrian van Hooydonk said:
The BMW iX shows how we can give new technologies a very modern and emotional design, the car is technologically complex, but it feels very clear and uncomplicated. The BMW iX offers a mobile living space in which people will feel at ease, where the car's intelligence is only there when you need it.
Today, 13 percent of all BMW and MINI models registered in Europe are hybrid or all-electric cars. BMW said it would have more than a million electric vehicles on the roads by the end of 2021, and the company's expectations say that half of all BMW cars will be electric.
The Expert Investor Takeaway
BMW's new iX is called to compete with other luxury SUVs manufactured by Tesla, NIO, and Porsche.
As you may know, the Tesla X is the Palo Alto company's flagship SUV. Recently, Musk revealed his company is working on a million mile battery and new technology that allows them to cut prices down. As in fact, they have done.
On the other hand, NIO, a Chinese electric car maker, is developing its particular Batter as a Service product in which a customer can drive a bunch of miles and then stop in a replacement station and change his battery for a fully charged one. Like going to the gas station: Empty battery exchanged for a fully charged one.
Before, Porsche unveiled its entirely new brand all-electric Taycan model. A luxury car that will lead the company's effort to create an electric station network in all four corners of the world. The Cayenne SUV is in the electrification queue as it currently offers an E-Hybrid version.
In that line, BMW is taking steps to become one of the most prominent electric car industry players. It will also get advantage from greener policies in Europe and now in the United States with a more environmental awareness government.
BMW Unveils a Flying Electric Vehicle
As the new iX wouldn't be enough, BMW also announced a new flying electric vehicle in its NextGen event.
According to a press release published by the company, now you can "fly" if you buy one of the new wingsuits developed by BMW.
The press release said:
Austria's Peter Salzmann caused a sensation with a climbing flight in an electrified wingsuit, for the project "The Electrified Wingsuit" he entered unknown territory along with BMW i and Designworks, the BMW Group's in-house agency for the mobile concepts of tomorrow.
After three years of development, the electrified wingsuit was tested in wind tunnels and in real motion. It now allows people to do a kind of kite windsurf but in the air.
BMW Stock Analysis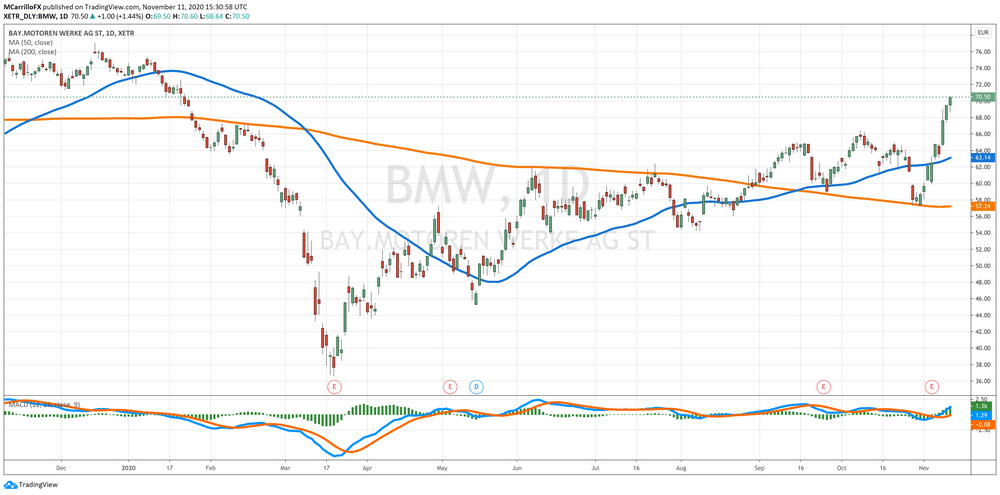 Shares of BMW are trading positive for the third day in a row and for the ninth session in the last ten. Investors are buying the stock following the news of the new electric car unveiled in the NextGen event.
That being said, BMW is in the middle of a middle-term uptrend following earning surprises, European government stimulus packages, and optimism following the COVID_19 vaccine developments.
BMW shares were trading at the 200-day moving average level around 57.36 euros per share in October's last days. The unit managed to hold the position, and it started a rally that has taken the share above key levels at 62.27 euros per share, October 21 maximum at 64.97, the 66.00 euros per share resistance, and the 70.00 euros per unit key level.
Currently, BMW is trading at its highest levels since January 21 at 70.51 euros per share. Technically, the chart suggests more gains in the next few days and a change in the odds after the unit broke above the range between 58 and 65 traded previously.
The next significant resistance is identified at the 72.00 euros per share level, then 2020 high at 75.35.
Meet The Author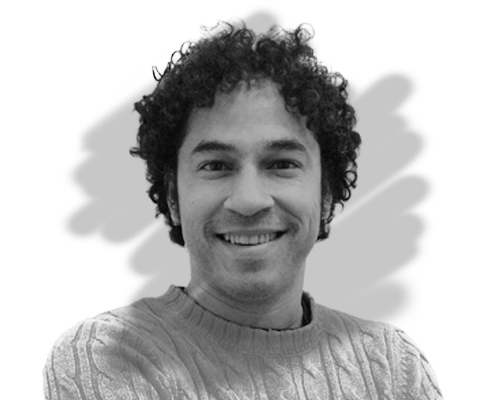 Mauricio Carrillo
Senior Reporter
Mauricio is a newer member of the team and a very welcome addition. He is a financial journalist and trader with over ten years of experience in stocks, Forex, commodities, and cryptocurrencies. This experience means he has an excellent understanding of the markets and current events.
Investing News


Dec 10th, 2020 - 4:32 PM (GMT)


Dec 9th, 2020 - 4:47 PM (GMT)


Dec 4th, 2020 - 4:58 PM (GMT)
Related Pages