Nasdaq Buys Verafin to Fix Global Financial Crime
Nov 20th, 2020 - 4:40 PM (GMT)
Category - Investing News
37

Views Today
Exchange operator Nasdaq announced the acquisition of anti-financial crime management solutions firm Verafin by a sum of 2.75 billion dollars in cash. NDAQ reacted positively, but the risk aversion environment in Wall Street cut gains.
After following that company for about three years, Nasdaq finally went ahead and announced its intention to buy Canadian tech firm Verafin. According to a press release published by the company, the transaction would create "a global leader in the fight against financial crime" and expand its print in the regulatory technology industry.
Founded in 2033, Verafin is a pioneer in anti-financial crime management solutions and provides services including a cloud-based platform to detect, investigate and report financial fraud and money laundering to over 2,000 financial institutions in North America.
With the acquisition, Nasdaq will add Verafin products to the more than 250 companies that use their trade surveillance systems.
Valerie Bannert-Thurner, senior vice president and head of sell-side and buy-side solutions, market technology at Nasdaq, said in an interview to CNBC:
The problem of detecting money laundering and fraud hasn't been solved very well yet, With our acquisition, we are doubling down on our belief that this is an area that is being disrupted and where we can have a big impact.
The deal means a further step for Nasdaq in its evolution into a leading Software as a Services technology provider as the company will use its established position in the industry plus the Verafin Fintech innovative solution.
It also "enhances Nasdaq's performance and potential, with Verafin's cloud products delivering ~30% compound annual recurring revenue growth, or ARR1, within a US$13 billion addressable market."
The Expert Investor Takeaway
With this movement, Nasdaq is not only buying a cyber security firm but also paving the path to expanding its dominions beyond stocks, futures, and traditional exchanges.
As you may know, blockchain and cryptocurrencies are becoming more and more used globally. So, I think it could be a step from Nasdaq in its positioning as a dominant in case they want to launch any fully regulated crypto exchange, crypto index, or asset in the future.
It could sound not related, but crypto currencies and blockchain technologies are still unknown for most traders and they don't have the confidence to bet on semi-regulated exchanges. But what if Nasdaq can offer a well established brand with the most innovative technology that avoids money laundering?
The government will buy it. And, therefore, investors. It would mean the massive adoption of digital coins in the traditional financial industry.
Also, remember that as Reuters reporters Anna Irrera and Noor Zainab Hussain said in a recent article, "while Nasdaq is best known for operating exchanges in the United States and globally, it is also a provider of market technology to banks and other financial institutions."
Nasdaq's business shift to data provider, volume, and analytics is making higher margins possible in that line.
Of course, only time will say it.
Nasdaq Stock Analysis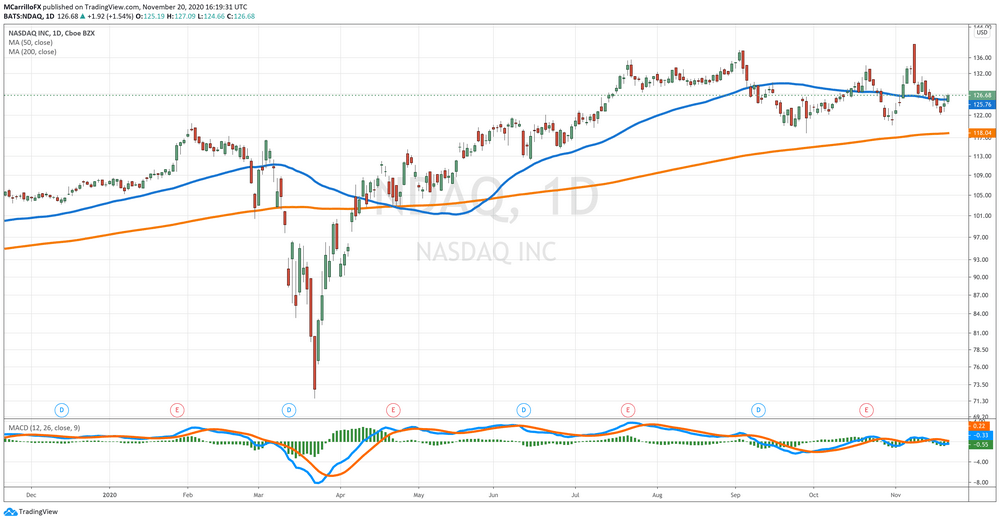 Shares of Nasdaq are extending gains for the second day in a row as investors are digesting the acquisition of Verafin and the increase of volatility in the markets in the US post election age.
Currently, NDAQ is trading at 126.68, which is 1.54 percent positive on the day. Before, the unit closed 1.65 percent up on Thursday.
According to TheStreet Quant Ratings, Nasdaq Inc is a stock to "buy" with a target price of 166.49 dollars per unit.
Looking at where the stock is today compared to one year ago, we find that it is not only higher, but it has also clearly outperformed the rise in the S&P 500 over the same period. Although other factors naturally played a role, the company's strong earnings growth was key.
CFRA considers Nasdaq Inc as a "five stars strong buy" share with a 12-month target price of 150.00 dollars as the firm sees "an under appreciation by investors for NDAQ's transformation into a data and analytics business as well as a jump in trading volume."
NDAQ continues to execute its shift toward a subscription and recurring revenue business mix; subscription fees are not only higher growth, but also carry higher margins and are a less volatile source of revenue. We see return on invested capital rising (which we find is highly correlated to subsequent outperformance) as NDAQ continues to acquire data and technology focused companies while shedding low growth or non-technology centric businesses.
Meet The Author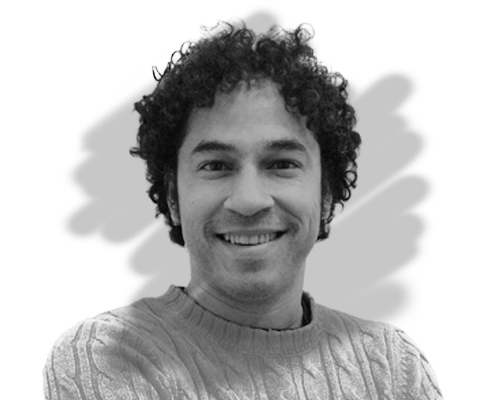 Mauricio Carrillo
Senior Reporter
Mauricio is a newer member of the team and a very welcome addition. He is a financial journalist and trader with over ten years of experience in stocks, Forex, commodities, and cryptocurrencies. This experience means he has an excellent understanding of the markets and current events.
Investing News


Dec 10th, 2020 - 4:32 PM (GMT)


Dec 9th, 2020 - 4:47 PM (GMT)


Dec 4th, 2020 - 4:58 PM (GMT)
Related Pages