Adapt or Die: Target Nails it on Customers New Shopping Habits
Nov 18th, 2020 - 3:51 PM (GMT)
Category - Investing News
35

Views Today
American retail corporation Target reported a well better quarter than expected as it crushed estimates after focusing on new shopper habits and its 'one-stop solution.'
Target said comparable digital sales rose 155 percent in the third quarter, curbside pickup service grew above 500 percent, and home deliveries increased by around 280 percent. According to the company's CEO, Brian Cornell, people are making more trips and are adding more products to their baskets.
The company also confirmed its market share advance across all five core merchandising categories, gaining more than 6 billion dollars in market share.
According to a press release published by the company, third quarter comparable sales grew 20.7 percent.
Comparable traffic grew 4.5 percent, and average ticket grew 15.6 percent
Store comparable sales increased by 9.9 percent
Digital comparable sales grew 155 percent, accounting for 10.9 percentage points of Target's comparable sales growth
Same-day services (Order Pick Up, Drive Up and Shipt) grew 217 percent
More than 95 percent of Target's third quarter sales were fulfilled by its stores
Our strong results in 2020 reflect the benefits of our multi-year effort to build a durable and flexible model, with a differentiated assortment and a suite of industry-leading fulfillment options - all brought to life through the passion and effort of our team, As a result, we've seen a deepening level of engagement and trust from our guests. The result is unprecedented market share gains and historically strong sales growth, both in our stores and our digital channels.
Target to Resume Share Repurchases
On other news, the Minneapolis based company said it would resume its share repurchases program in 2021, after pausing it on March 25 on the back of the COVID-19 pandemic as an effort to keep as much cash as possible to face uncertain times.
The company adjusted itself to face the coronavirus health crisis and it is turning stronger than before. "Those investments turned out to be crucial. Without them, we would not have been able to meet the extraordinary demand driven by the pandemic," Chief Executive Officer Brian Cornell said on a media call.
The Expert Investor Takeaway
Yesterday, Amazon announced its new venture Amazon Pharmacy as its bet to disrupt another industry after doing the same with retailers, book stores, and groceries, among others.
The retail sector has been under pressure since Amazon's inception. They should adapt themselves or die like it is happening with JC Penney, Winn-Dixie, or Lane Bryant, Ann Taylor and Loft owner Ascena Retail.
At this moment, allow me to recall a quote from J. K. Rowling's series Harry Potter that perfectly fits this industry situation.
In the sixth book of the series, "Harry Potter and the Half-Blood Prince," Professor Albus Dumbledore had an intense pep talk with Harry regarding his destiny to face Voldemort.
Voldemort himself created his worst enemy, just as tyrants everywhere do! Have you any idea how much tyrants fear the people they oppress? All of them realize that, one day, amongst their many victims, there is sure to be one who rises against them and strikes back!
Now, I am not saying that Amazon is a tyrant or an empire, as many financial journalists have said about the Seattle based company before. I am referring to it as an incredible force that is changing everything. Neither in the wrong or right way, just transforming and disrupting everything we knew before.
Well, Target is emerging as the unexpected contender who, instead of using the strength, is using his brain. Just to highlight a data: Target curbside pickup service jumped more than 500 percent, and its two day delivery option was 280 percent up in the third quarter.
And at the top of it, they keep customers visiting their stores!
So, the takeaway of this story is that Target has proved that you don't need to have a bunch of money or to be a financial giant like Walmart to face Amazon with success. What you need is to use your brain and understand the shopper's new habits.
It is all about adapt or die. Companies should be thinking like a startup with the muscle of an established business. Because in the end, we all started in that way.
This COVID-19 pandemic is changing everything and accelerating the switch to virtual and remote worlds. We will emerge from this sanitary crisis with better and more efficient products and services, but companies need to be smart enough to understand the times we are living in.
Yesterday, here at Expert Investor, we praised Amazon's decision to move into the pharmacy industry. We actually said that "what surprised us more is that such a significant service movement was not taken by Walgreens, CVS, or even Walmart before. It looked really obvious. Don't you think?"
Today, we are acknowledging established corporations' ability to act with audacity and rethink themselves. In that framework, Target's movement is an excellent example of how retailers can survey their particular apocalypses.
Let's see what companies in Europe, the United Kingdom, and even China are ready to do what it takes. Do you have any particular bet? Let's know!
Target Stock Analysis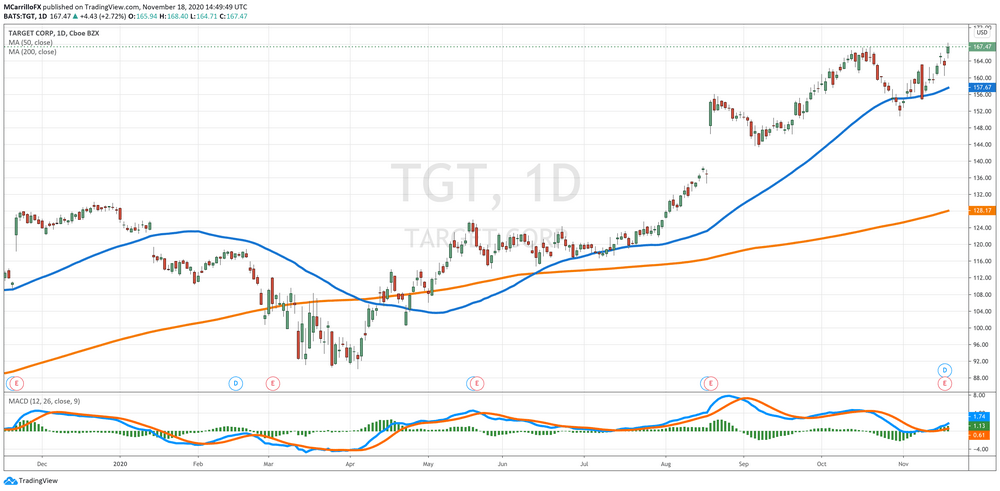 Shares of Target are trading positive on Wednesday as investors are digesting company's third quarter corporate results. The reaction has been well enough to drive the stock to its all time high around 169.00.
Currently, TGT is being exchanged at 167.35 dollars per unit, which is 2.74 percent positive in the day. Interesting in the price action is that Target has just broken the resistance located at the 167.50 dollars per unit level. However, it would need a close above it to confirm it is a good break.
In the year, Target is gaining 34.16 percent from its January's opening price. Technical conditions remain neutral at the moment, that's why a close above 167.50 is critical.
MACD is changing to the upside; however, it is still too soon to be confirmed. Momentum seems strong, especially after today's announcement. Moving average lines are heading north.
According to TheStreet Quant Ratings, Target Corp is a stock to "buy" with a target price of 209.38 dollars per unit. "The company has demonstrated a pattern of positive earnings per share growth
over the past two years. We feel that this trend should continue."
The return on equity has improved slightly when compared to the same quarter one year prior. This can be construed as a modest strength in the organization.
On the other hand, CFRA considers Target Corporation as a "three stars hold" position with a 12-month target price of 145 dollars per unit as "TGT's strong recent results have been driven largely by consumer stimulus and distress among small businesses and mall based retailers, leading to market share gains."
Additionally, canceled vacations due to Covid-19 have been re-allocated toward consumer purchases. While we regard TGT as a high quality company, we are cautious on its valuation and exposure to more discretionary categories as stimulus wanes.
Meet The Author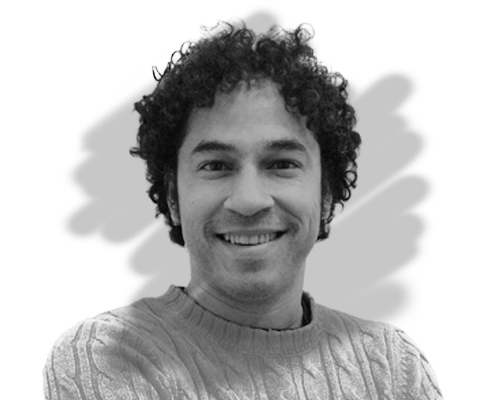 Mauricio Carrillo
Senior Reporter
Mauricio is a newer member of the team and a very welcome addition. He is a financial journalist and trader with over ten years of experience in stocks, Forex, commodities, and cryptocurrencies. This experience means he has an excellent understanding of the markets and current events.
Investing News


Dec 10th, 2020 - 4:32 PM (GMT)


Dec 9th, 2020 - 4:47 PM (GMT)


Dec 4th, 2020 - 4:58 PM (GMT)
Related Pages