Amazon Takes on Pharmacys, The Next Industry to Disrupt
Nov 17th, 2020 - 3:51 PM (GMT)
Category - Investing News
31

Views Today
And here comes Amazon! Today, the pharmacy industry is under pressure as Amazon just announced it would jump into the pharmacy business with online prescription drugs, free deliveries, and "massive discounts" for Prime members when they pay without insurance.
According to a press release published by the corporation, the American multinational technology company is now offering pharmacy services and two-day delivery for Prime members starting on Tuesday in the United States.
The company is also announcing huge discounts of up to 80 percent on generic drugs and 40 percent on branded medications when users pay with no insurance.
The press release says:
Prime members can access savings on medications at Amazon Pharmacy when paying without insurance, as well as at over 50,000 other participating pharmacies nationwide.
After starting movements back in 2017 and
acquiring PillPack
in 2028, Amazon has been preparing its jump into the pharmacy industry and the prescription market, a sector valued at more than 500 billion dollars.
How to Get Medication Easy?
TJ Parker, Amazon's vice president of pharmacy, and co-founder of PillPack, said that their efforts are focused on making it easy for people to get their medication, understand costs and get it at home.
Parker said:
We designed Amazon Pharmacy to put customers first – bringing Amazon's customer obsession to an industry that can be inconvenient and confusing, We work hard behind the scenes to handle complications seamlessly so anyone who needs a prescription can understand their options, place their order for the lowest available price, and have their medication delivered quickly.
According to the press release, Amazon customers will order confidently and securely in a similar environment to the one they used to buy groceries or tools. The company will focus on three topics:
Research Medications and Order Confidently
Seamless Transactions
Access Fully Digital, Personalized Quality Care
The Expert Investor Takeaway
After the announcement, stocks from pharmacy dominants such as Walgreens, CVS, and Walmart were trading under pressure. The arrival of Amazon into the prescription industry is threatening drug stores as Amazon will hurt the middleman businessman.
It happened to the books industry: Amazon won. Then, the clothes and apparel business: Amazon won; Then, grocery store: Amazon market share is increasing every month. Now it comes to the pharmacy industry, what would happen?
We are in the middle of a COVID-19 pandemic with social distancing measures and more lockdowns on the horizon. It is the perfect service at the most necessary time.
What surprised us more is that such a significant service movement was not taken by Walgreens, CVS, or even Walmart before. It looked really obvious. Don't you think?
Now, Amazon is ready to disrupt another big industry in a moment of need that will empower the business and its implementation. Expect huge acceptance and massive profits.
Amazon Stock Analysis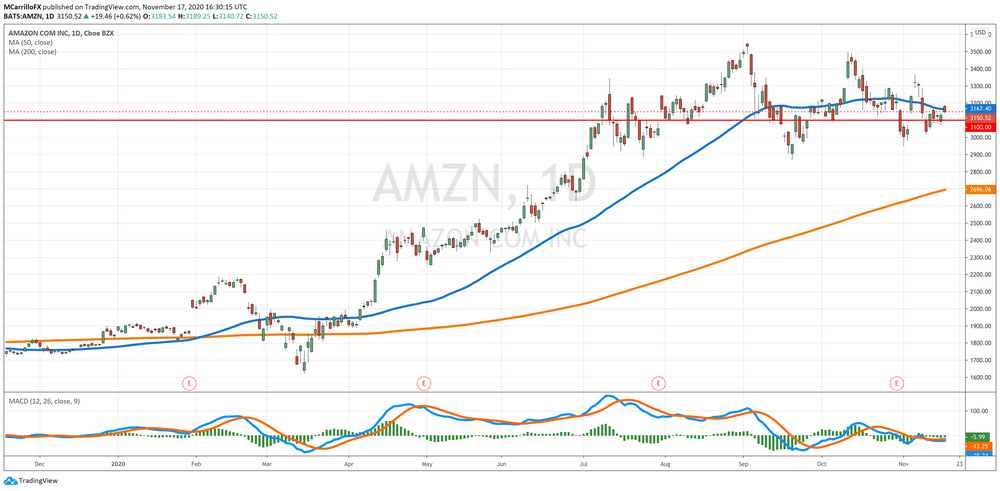 Shares of Amazon are trading higher for the third day in a row on Tuesday. The market is welcoming the company to jump into the pharmacy industry, and they are expecting more profits in the balance sheet for the company based in Seattle.
Currently, AMZN is trading at 3,167.71 dollars per unit, which is 1.18 percent positive on the day. The news is a fundamental bullish event, however, Amazon Pharmacy should now deliver on its promises. It did before, but medications are another field.
However, from the technical point of view, AMZN is trading on the defensive as investors think the share, which is already 66 percent up in the year, has gone too far in the COVID-19 pandemic era. But now that news regarding vaccine developments are hitting the wires. Investors are betting on more traditional sectors.
AMZN stock is neutral, but the long run looks bullish.
According to TheStreet Quant Ratings, Amazon.com Inc is a stock to "buy" with a target price of 4,082 dollars per unit. The firm expects the trend of increasing earnings per share will continue in the long term.
We feel that the stock's sharp appreciation over the last year has driven it to a price level which is now somewhat expensive compared to the rest of its sub sector. The other strengths this company shows, however, justify the higher price levels.
CFRA considers Amazon as a "four stars buy" stock with a 12-month target price of 3,600 dollars per unit. The analysts expect "further ecommerce market share gains and potentially sizable upside for the rapidly growing AWS business."
Meanwhile, we see further upside to return on ratcheted investments in delivery and fulfillment, potentially enhancing the longer term economics of the Prime membership base. With ample liquidity and financial flexibility, we think AMZN could sustain a low- to mid-teens return on invested capital (ROIC) over the long term.
Meet The Author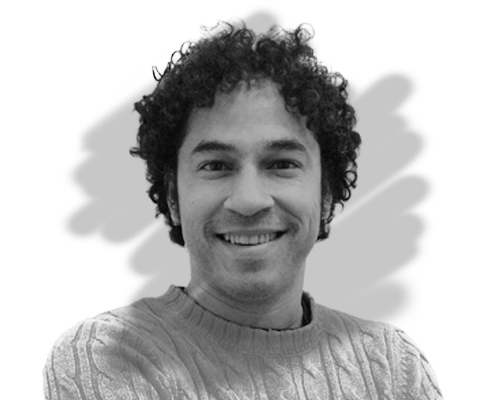 Mauricio Carrillo
Senior Reporter
Mauricio is a newer member of the team and a very welcome addition. He is a financial journalist and trader with over ten years of experience in stocks, Forex, commodities, and cryptocurrencies. This experience means he has an excellent understanding of the markets and current events.
Investing News


Dec 10th, 2020 - 4:32 PM (GMT)


Dec 9th, 2020 - 4:47 PM (GMT)


Dec 4th, 2020 - 4:58 PM (GMT)
Related Pages