Oil Breaks Above $40 on COVID-19 Vaccine And Biden Victory
Nov 10th, 2020 - 4:06 PM (GMT)
Category - Investing News
31

Views Today
Oil is trading positive for the second day in a row as investors are hoping that the new COVID-19 vaccine announced by Pfizer and BioNTech will fuel demand. In addition, oil extended its rally from 33.67 dollars per barrel traded on November 2nd as an outcome from the US election that would support oil production cuts.
On Monday, global pharmaceutical companies Pfizer and BioNTech reported that an experimental COVID-19 treatment and vaccine was more than 90 percent effective on a large Phase 3 stage trial with the participation of around 44 thousand people.
According to a press release published by Pfizer, "submission for Emergency Use Authorization (EUA) to the US Food and Drug Administration (FDA) planned for soon after the required safety milestone is achieved, which is currently expected to occur in the third week of November."
The lab also said it would produce 30 to 40 million doses of the vaccine before the end of this year. So, they would provide an initial shot and a booster three weeks later for 15 to 20 million people. Pfizer and BioNTech confirmed they would be able to produce 1.3 billion doses a year.
It is essential to understand that even with a vaccine in the making or already in place, people should keep using masks and implementing high hygienic measures standards.
Oil Speculates High Demand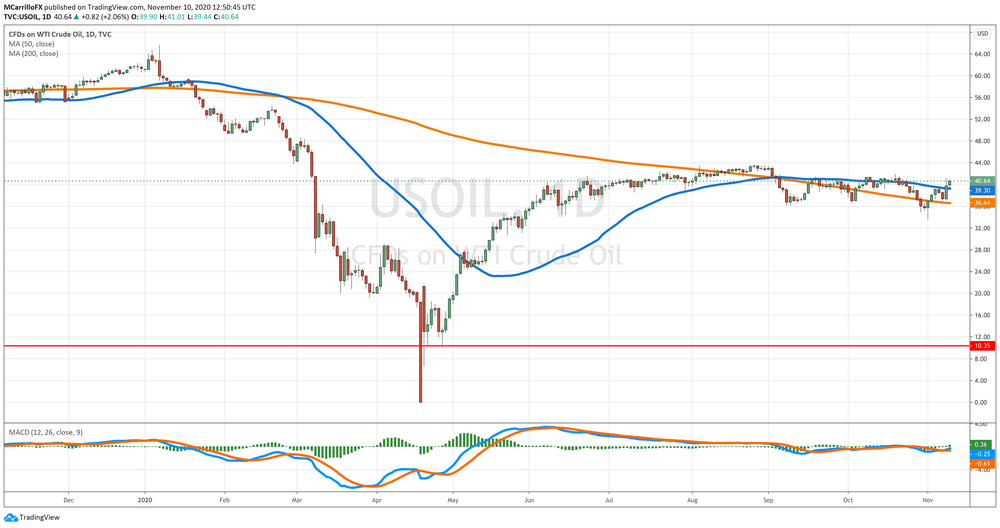 After the news, oil reacted positively with the US WTI barrel bouncing at the 200-day moving average at 36.60 and breaking above the 50-day MA at 39.30, and trading at its highest level since October 21st at 41.29 on Monday. Finally, USOIL closed 6.51 percent up at 3.82 dollars per barrel.
An analyst at New York based firm Again Capital, John Kilduff said:
Oil particularly reacted to the news because of what it means, the pandemic is hitting transportation terrifically and 80% of crude oil barrels go to transportation fuel, so I think this is a logical response.
On Tuesday, WTI oil resumed its advance and it recovered the 40-00 dollars per barrel level and extended gains 2.01 percent to the current 40.61 dollars per unit.
However, some experts highlight current industry situations and supply and demand in the short term. "A viable vaccine is unequivocally game-changing for oil – a market where half of demand comes from moving people and things around," JP Morgan said in a note.
The bank added:
But as we have written previously, oil is a spot asset that must first clear current supply and demand imbalances before one-to-two-year out prices can rise.
The Winds of Change
Oil recovery is not a thing of two days. Before, the United States oil barrel recovered from its lowest level since May 29th at 33.67 dollars per barrel the day before the United States elections.
That day, the WTI barrel started to recover and closed the day with a 3.77 percent gain. Then, with election results and the potentiality of a victory from Joe Biden, USOIL another 5 percent to test the 50-day moving average as the asset waited for more catalysts. It comes very soon with the COVID-19.
However, oil was on the recovery path because they speculated on a Biden victory. With the Democratic candidate as the new president, the country would join the Paris deal, and it would move on greener energies.
In the end, Biden would mean a cut in US oil production, which would lead prices up. That's why the oil barrel was up the days after the US election.
The Tehran Play
On the other side, Iran is watching Biden with good eyes and as a possibility to return to the path of diplomacy with the United States. The chances for a relaxation of US sanctions on Iran oil exports would be higher.
Earlier this year, Joe Biden wrote in an essay in Foreign Affairs that he would offer Tehran a path back to diplomacy.
Biden wrote:
Tehran must return to strict compliance with the deal. If it does so, I would rejoin the agreement and use our renewed commitment to diplomacy to work with our allies to strengthen and extend it, while more effectively pushing back against Iran's other destabilizing activities.
Finally, analysts at Citibank consider that Biden would build bridges between Russia and Saudi Arabia. The bank expects the WTI barrel to reach 49 dollars per unit, while the Brent barrel is going to 54 dollars per unit.
We would expect a Biden presidency to bring Russia and Saudi Arabia closer together, reinforcing their alignment in managing oil markets via the OPEC+ framework.
Meet The Author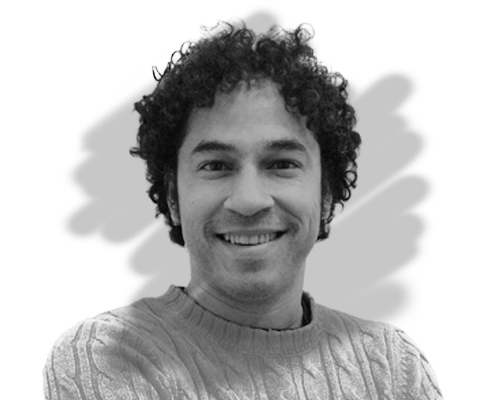 Mauricio Carrillo
Senior Reporter
Mauricio is a newer member of the team and a very welcome addition. He is a financial journalist and trader with over ten years of experience in stocks, Forex, commodities, and cryptocurrencies. This experience means he has an excellent understanding of the markets and current events.
Investing News


Dec 10th, 2020 - 4:32 PM (GMT)


Dec 9th, 2020 - 4:47 PM (GMT)


Dec 4th, 2020 - 4:58 PM (GMT)
Related Pages