S&P Global to Acquire IHS Markit, Both Shares Jump
Nov 30th, 2020 - 3:26 PM (GMT)
Category - Investing News
32

Views Today
Manhattan based data company S&P Global announced the acquisition of the American British information provider IHS Markit in an all-stock agreement worth 44 billion dollars, the most significant corporate purchase of 2020. The merge is expected to be closed in the second half of 2021.
According to a press release published by S&P Global, the transaction values IHS Markit at 44 billion dollars, including 4.8 billion dollars of net debt. The deal would also bring together two data giants that will combine attractive markets and cutting-edge innovation and technology capabilities.
Under the terms of the merger agreement, which has been unanimously approved by the Boards of Directors of both companies, each share of IHS Markit common stock will be exchanged for a fixed ratio of 0.2838 shares of S&P Global common stock. Upon completion of the transaction, current S&P Global shareholders will own approximately 67.75% of the combined company on a fully diluted basis, while IHS Markit shareholders will own approximately 32.25%.
After the completion of the deal, S&P Global shareholders would own around 67.75 percent of the combined company, while IHS stock holders would have 32.25 percent.
The deal is expected to be closed in the second half of 2021. "The next steps will be to receive regulatory approvals both in the U.S. and the EU, which we expect to take between six to nine months, and receive approval by our respective shareholders," IHS Markit Chief Executive Officer Lance Uggla said in an internal memo seen by Reuters.
Markit is better known in the investing markets as the provider of the Purchasing Managers Index report, published every month for 40 economies worldwide. However, IHS Markit provides advanced information, analytics, and expert solutions for business, finance, and governments.
The Expert Investor Takeaway
Having the biggest corporation acquisition of a year such as 2020 in December is a huge signal for the market in terms of economic recovery confidence, mainly as the deal includes net debt from IHS.
Both companies are masters of financial data. So, they should have seen green broths for the economy and the recovery in 2021. New vaccines, a more peaceful transition in the White House, and potential economic stimulus are paving the route for better social and industrial performances.
S&P Global and IHS Markit will become one of the largest data providers and analytics in the financial market. The strategic rationale for the deal was "powering the markets of the future."
It would enhance both businesses as it combines two different approaches and core segments so that it would create a solid offering. On the other hand, it would strengthen the growth profile, increase profitability, synergies, and free cash flow.
Also, as Jack Denton, analysts at Barron's said, "looking ahead. The merger between S&P Global and IHS Markit signifies the latest consolidation in the financial information space, and would create a data giant rivaling dominant platforms like Bloomberg and Refinitiv."
Denton said:
But it isn't done yet. Regulators, especially in Europe, have been paying close attention to competition issues in the information space.
S&P Global Stock Analysis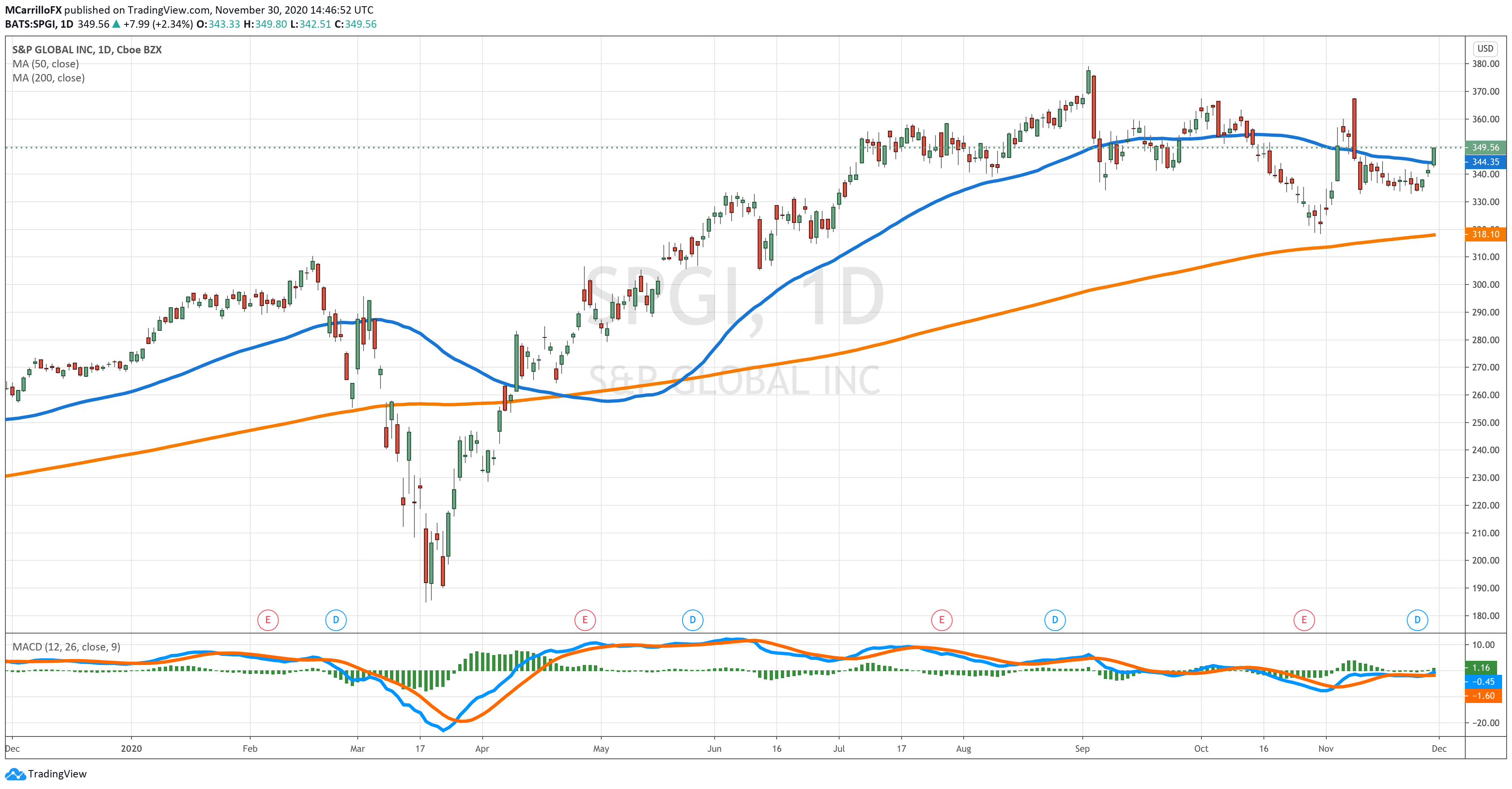 Shares of S&P Global reacted positively to the news as investors are expecting that the new combination will provide the company with a more global presence.
Currently, SPGI is trading 2.34 percent positive on the day at 349.76 dollars per unit. The share just broke above the 50-day moving average at 344.32 dollars per unit, and technicals are switching from neutral to bullish.
Previously, SPGI was trading in a narrow range between 333.60 and 333.60, but it changed on Friday when the unit broke above the range and on Monday when it extended gains after the deal announcement.
According to TheStreet Quant Ratings, the stock of S&P Global Inc is a "buy" with a target price of 443.68 dollars per unit.
Net operating cash flow has slightly increased to $809.00 million or 6.16% when compared to the same quarter last year. Despite an increase in cash flow of 6.16%, S&P GLOBAL INC is still growing at a significantly lower rate than the sub sector average of 60.80%.
On the other hand, CFRA considers SPGI as a "three stars hold" share with no target price. "The Indices revenue, while durable due to SPGI's brand, is also leveraged to the level of equity markets and while the data business is growing, its margins are showing signs of plateauing given the highly competitive and fragmented market."
IHS Markit Stock Analysis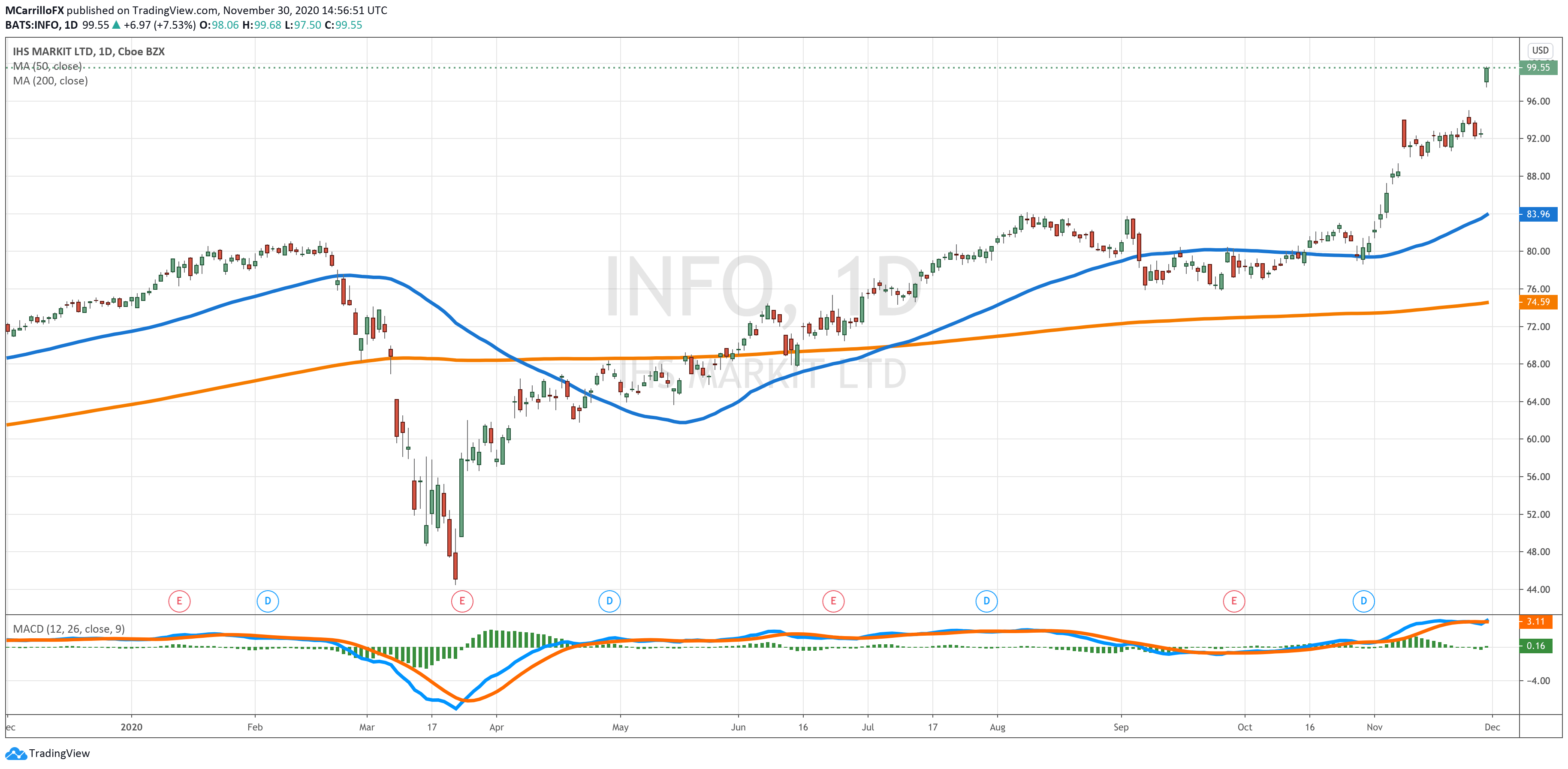 Shares of IHS Markit are rallying on Monday after the merger announcement. Also known as INFO, the unit jumped to its all-time highs of around 99.68 dollars per unit. It is currently being exchanged at 99.55 dollars per unit, which is 7.53 percent positive on the day.
TheStreet Quant Ratings has IHS Markit LTD as a stock to "buy" with a target price of 121.14 dollars per unit.
The company's strengths can be seen in multiple areas, such as its solid stock price performance, compelling growth in net income, expanding profit margins, impressive record of earnings per share growth and notable return on equity. We feel its strengths outweigh the fact that the company shows weak operating cash flow.
CFRA, on the other hand, has INFO as a "three stars hold" share with no target price.
We lifted INFO to Strong Buy in mid-March to reflect a favorable view of sticky customers, resilient earnings during recessions, and severe undervaluation at the time.
Our rating is now Hold, as we believe INFO demonstrated its earnings resiliency and shares have been restored to near fair value. EPS fell only 3% YoY in the May-Q, despite what were likely the three worst months of the pandemic, subsequently growing 15% YoY in the Aug-Q with the economy in recovery.
Meet The Author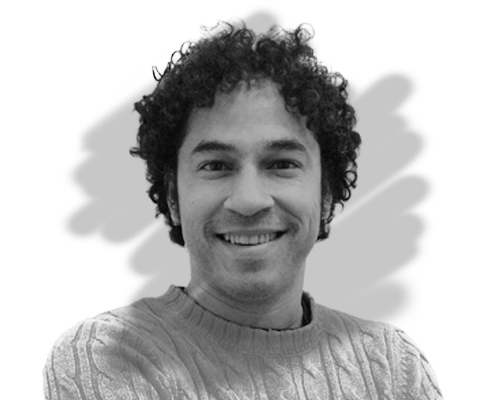 Mauricio Carrillo
Senior Reporter
Mauricio is a newer member of the team and a very welcome addition. He is a financial journalist and trader with over ten years of experience in stocks, Forex, commodities, and cryptocurrencies. This experience means he has an excellent understanding of the markets and current events.
Investing News


Dec 10th, 2020 - 4:32 PM (GMT)


Dec 9th, 2020 - 4:47 PM (GMT)


Dec 4th, 2020 - 4:58 PM (GMT)
Related Pages