Tesla at All Time High; Musk Hints at European Compact Car
Nov 25th, 2020 - 1:16 PM (GMT)
Category - Investing News
34

Views Today
American electric vehicle maker Tesla is generating new headlines every day. A few days ago, the S&P Dow Jones Indices announced the inclusion of TSLA as a new member of the S&P 500 index as soon as December 21. This week, Tesla shares reached all-time highs, and Elon Musk, its owner, became the second richest person in the world, and yesterday, the CEO talked about a Tesla compact for Europe.
No, Musk did not announce a new model for its beloved Tesla company, but it hinted that it would take a different approach if they decided to move forward with a European focused model.
Elon Musk at a virtual conference on batteries hosted by the German government said:
In the U.S., the cars tend to be bigger for personal taste reasons, in Europe, (they) tend to be smaller.
So, when talking about the possibility of a new Tesla model more in the compact version, Musk said that "possibly in Europe it would make sense to do, I guess, a compact car, perhaps a hatchback or something like that."
Musk also clearly stated that Europe's new potential model would be made by Europeans with European concepts, not a European version of what Tesla did in California. "I think there's a lot of talent, talented designers and engineers, in Europe. And a lot of the best people, they want to work somewhere where they are doing original design work. They don't want to just be doing the European version of something that was designed in California. So, I think it's important in order to attract the best talent to do original design."
Musk also acknowledged that he got some problems while driving a Model X in Berlin. "I was driving a Model X around Berlin and we had quite a bit of trouble finding a parking space where we could fit."
Today, the company produces four car models, including a mid-sized Model 3 and a medium Model Y; it will make a Cybertruck in two years. However, as early reported by Expert Investor, the Californian carmaker is stopping selling the Model 3.
The Expert Investor Takeaway
Tesla is shining these days with its addition to the S&P 500 and solid corporate reports. Also, new eco friendly and anti fossil energy regulations are lifting the share due to potential business expansion.
It looks like Tesla has recovered its mojo and brand as an innovative and "cool" company. It will pay off. But let's talk about numbers.
A new compact car in Europe would be very welcome for all Europeans as they would see Tesla as an accessible and easy to drive car, a key point for business in Europe. Now, they tend to see Tesla as a huge pretentious luxe.
However, a more appropriate model made in Europe would help the company to gain market share in the continent.
Besides, a compact car would get traction not only in the European countries but also in China, Japan, and other Asian countries as well as in Latin American markets.
As Dan Ives, managing director of equity research and an analyst at Wedbush Securities, highlighted in a recent article on Fortune, electric cars demand "is really starting to inflect, especially in China."
Experts believe that electric vehicles' global demand would rise from 3 percent of total car sales to 10 percent by 2025. As Tesla is the EV leader at the moment, it would increase China's sales for Tesla from 15 percent today to 40 percent by 2022.
On the other side, we can consider that a Joe Biden presidency would bring a more eco friendly scenario for Tesla's network of companies such as solar panels and batteries. It would increase business for them, and obviously earnings for clients.
Ives faces that with Tesla's valuation at such high levels, "They need to continue to execute ahead of the Street, there's higher expectations, there's competition coming from all angles, so any hiccups in either production or demand would be viewed as a clear negative for the stock."
But in that case, be alert as it could be a potential buying opportunity if you can afford the volatility.
Tesla Stock Analysis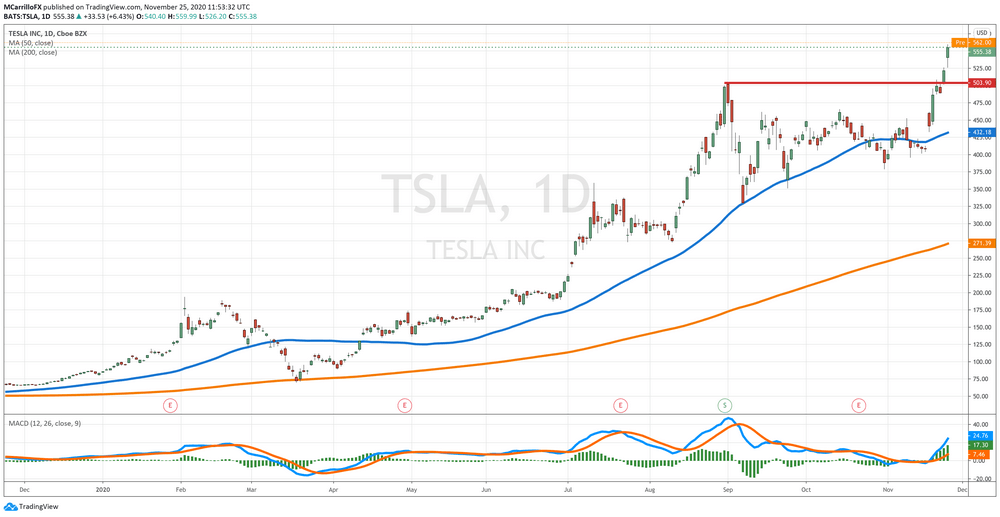 After two days of rally, shares of Tesla are trading in consolidation mode that brought the unit from the 500 dollars per share area to its all-time highs at 560.00 dollars per unit.
In the past two days, TSLA has jumped 13.4 percent. In November, Tesla is 43.12 percent, and in 2020, it is above 500 percent up. Impressive.
Technically, Tesla looks like the bearish days are gone as it is above critical levels. MACD is confirming that a new uptrend is beginning and momentum is solid. The new critical support is 500.00 dollars per unit.
However, according to TheStreet Quant Ratings, the Tesla Inc stock is a "hold" right now with no price target.
The company's strengths can be seen in multiple areas, such as its robust revenue growth, largely solid financial position with reasonable debt levels by most measures and impressive record of earnings per share growth. However, as a counter to these strengths, we also find weaknesses including premium valuation and poor profit margins.
On the other hand, CFRA considers Tesla Inc as a "five stars strong buy" stock with a 12-month target price of 550.00 dollars per unit. "TSLA's risk/reward is highly favorable at current levels, with both near- and long-term catalysts."
The firm says:
On November 16, the S&P Dow Jones Index Committee announced TSLA will be added to the S&P 500 Index effective December 21, making it the largest company ever added to the index, at TSLA's recent Battery Day, it outlined a plan to reduce battery costs on a $/kWh basis by 56% and boost vehicle range by 54%, which we think will help widen the competitive gap between Tesla vehicles and other EVs. TSLA is constructing new factories in Germany and Texas, both of which should be completed in 2021.
Meet The Author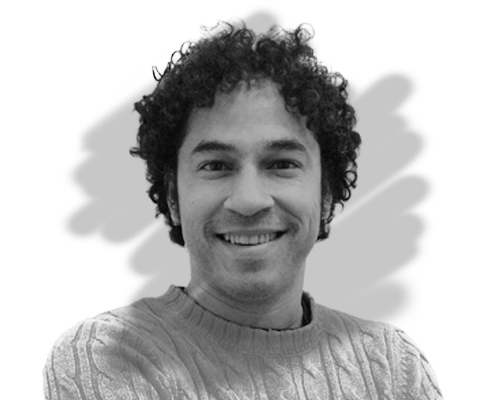 Mauricio Carrillo
Senior Reporter
Mauricio is a newer member of the team and a very welcome addition. He is a financial journalist and trader with over ten years of experience in stocks, Forex, commodities, and cryptocurrencies. This experience means he has an excellent understanding of the markets and current events.
Investing News


Dec 10th, 2020 - 4:32 PM (GMT)


Dec 9th, 2020 - 4:47 PM (GMT)


Dec 4th, 2020 - 4:58 PM (GMT)
Related Pages