IBM Launches Cloud Platform For 5G Telcos; 35+ Partners Join Project
Nov 5th, 2020 - 4:37 PM (GMT)
Category - Investing News
37

Views Today
"Collaboration, not competition," is the new philosophy for IBM, and it is acting accordingly. American multinational technology and consulting company just announced the launching of a new cloud platform focused on 5G technology for telecommunication operators.
According to a press release published by International Business Machines, the New York based company introduced Thursday a new ecosystem that would accelerate the 5G implementation and help drive business transformation.
Over 35 companies have already joined the venture, including Nokia, Samsung, and Cisco. IBM is willing to share information and/or build bridges with other platforms such as Microsoft or Amazon.
All of it because "collaboration, not competition, is the way forward as customers will consume from more than one cloud service provider, be it Amazon or Microsoft," Howard Boville, IBM's senior vice president for Hybrid Cloud, told Reuters.
The new ecosystem will allow companies to run their networks from the cloud, lower costs, and sell customized services such as SaaS products to clients. IBM said it would help clients to build services and monetize it.
One of the exciting topics in the ecosystem is that the new platform will integrate and enhance IBM Edge Application Manager and IBM Telco Network Cloud Manager.
The press release says:
The holistic hybrid cloud offering will be complemented by our ecosystem partners' software and technology, and enable mission critical workloads to be managed consistently from the network core to the edge to position telecom providers to extract more value from their data while they drive innovation for their customers.
The Conclusion
IBM is expanding its market share in the cloud industry while focusing on 5G technology. The new 5G technology is called to become the new standard in telecommunications, and the United States government is pushing companies to bet on it.
Before, Microsoft and Amazon, among other companies, developed their own platform. Today is the turn for the hybrid cloud ecosystem by IBM.
A bold move for the new IBM that will result following the spin off announced months ago and that it is trying to enhance the high-margin cloud computing business for the company.
IBM Stock Analysis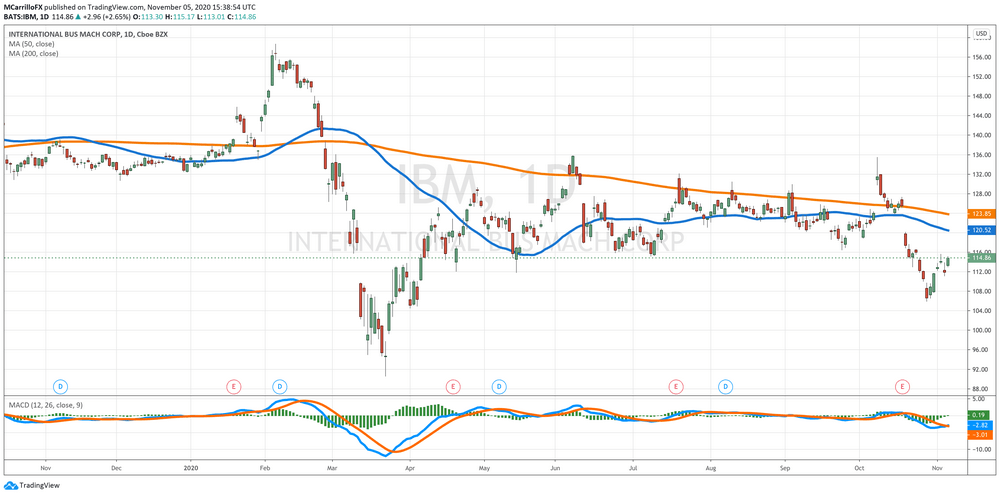 Shares of IBM are trading higher on Thursday as investors welcomed the cloud platform for 5G technologies. Besides, the post-election rally in Wall Street is also fueling the IBM stock.
Currently, IBM is trading at 114.73 dollars per share, which is 2.53 percent positive in the day. The unit is performing positively for the fifth day in the last six.
Technically, IBM conditions favor the downside with lower lows and weak volumes in the long term. However, the short term picture shows some revival. The 116.00 dollars per share looks like a crucial level that, if broken, it can restore bulls' confidence.
According to TheStreet Quant Ratings, IBM is a stock to "buy" with a target price of 125.79 dollars per share.
The net income growth from the same quarter one year ago has significantly exceeded that of the S&P 500 and the Other Information Services subsector. The net income increased by 1.6% when compared to the same quarter one year prior, going from $1,672.00 million to $1,698.00 million.
CFRA considers IBM as a four star "buy" with a 12-month target price of 144.00 dollars per unit.
IBM is on the correct (albeit slow) path towards improved revenue growth and profitability. Although Covid-19 has masked progress, IBM's recent signings and backlog trends validate its cloud strategy, in our view, and should help provide a backstop to further growth setbacks going forward.
Meet The Author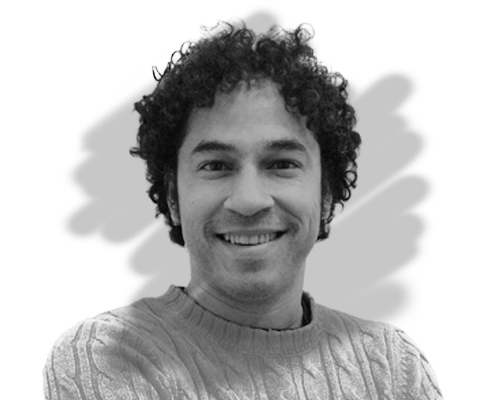 Mauricio Carrillo
Senior Reporter
Mauricio is a newer member of the team and a very welcome addition. He is a financial journalist and trader with over ten years of experience in stocks, Forex, commodities, and cryptocurrencies. This experience means he has an excellent understanding of the markets and current events.
Investing News


Dec 10th, 2020 - 4:32 PM (GMT)


Dec 9th, 2020 - 4:47 PM (GMT)


Dec 4th, 2020 - 4:58 PM (GMT)
Related Pages