Election 2020: California Approves Prop 22 Uber And lyft Rally
Nov 4th, 2020 - 2:44 PM (GMT)
Category - Investing News
39

Views Today
Shares of Uber and Lyft are rallying on Wednesday after Californians approved proposition 22, a new law that says drivers are considered independent contractors, not employees. Paving the way to secure more earnings for both companies and a massive move for the "gig economy."
The Prop 22 "considers app-based drivers to be independent contractors and enacts several labor policies related to app-based companies." In that line, it also suggests that companies such as Uber and Lyft should be exempt from specific labor laws in the state.
On election day, people in California voted 58 percent in favor of the proposition 22, while 42 percent of votes went against the idea. 95 percent of precincts are reported, but results must be certified.
According to Ballotpedia, the proposition supported the following measures:
Classifies drivers for app-based transportation (rideshare) and delivery companies as "independent contractors," not "employees," unless the company: sets drivers' hours, requires acceptance of specific ride and delivery requests, or restricts working for other companies
Independent contractors are not covered by various state employment laws—including minimum wage, overtime, unemployment insurance, and workers' compensation
Instead, independent-contractor drivers would be entitled to other compensation—including minimum earnings, healthcare subsidies, and vehicle insurance
Restricts certain local regulation of app-based drivers
Criminalizes impersonation of drivers
Prop 22 was one of the more expensive state propositions in the history of the United States. Companies such as Uber, Lyft, DoorDash, Instacart, and Postmates "invested" over 205 million dollars into the campaign.
On the other side, the opposition campaign raised 19.7 million dollars.
Analyst at Bank of America said in a note:
We would expect other states to now be less aggressive in trying to pass similar legislation to AB5, which would be an important win for Uber and its peers, overall, while Uber still faces regulatory challenges in the UK and other US States, the vote helps alleviate a big uncertainty, and could open the stock to new investors, potentially aiding valuation.
Internationally, Uber and Lyft are facing legal disputes about their condition as a technology platform or a transportation provider. Both companies are in the middle of conflicts in the European Union, Brazil, the United Kingdom, and Canada, among others.
Uber Stocks Analysis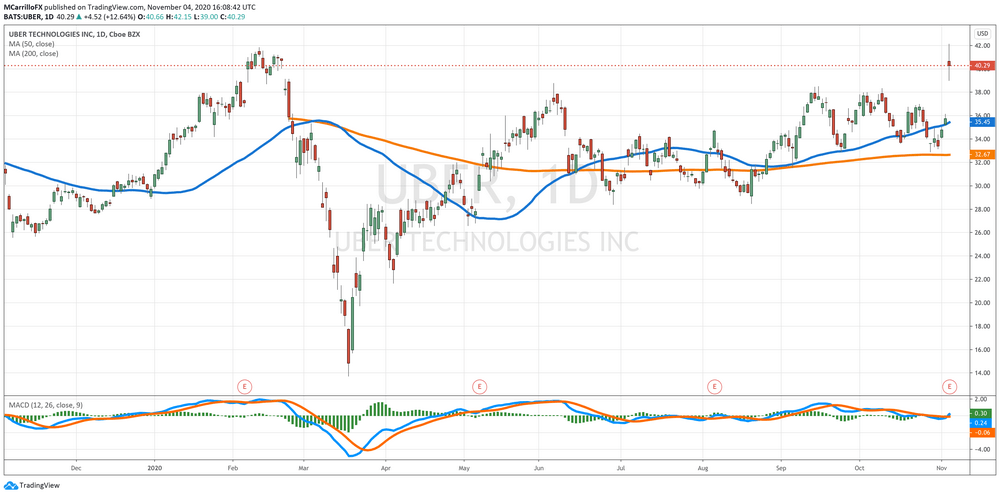 Shares of Uber jumped over 13 percent on Wednesday following the approval of Proposition 22 in California. After closing below 36.00 dollars per share on Tuesday, UBER jumped to test the 42.15 dollars per unit level on Wednesday, which is its fresh highest level since August 2019.
Currently, the UBER share is trading at 40.82, which is 13.89 percent positive in the day. The chart looks disruptively positive, but the market should wait for the dust to settle. In any case, the news helped the stock to break above the 38.00 dollars level that was tested several times in the past five months.
CFRA considers UBER as a "four stars buy" with a 12-month target price of 36.00. "We are encouraged by early signs of a recovery in ridesharing markets that are seeing economies reopen while cost cuts in Rides and Eats now allows the potential for adjusted EBITDA profitability in 2021 even in an environment where total trips could be sharply lower."
CFRA said in a note to clients:
We think UBER remains better positioned than peers ahead of a recovery in ridesharing given its scale/market share lead position and greater geographic reach, but we note regulatory uncertainty, we are optimistic about the long-term trajectory given the secular shift to transportation as a service.
Lyft Stock Analysis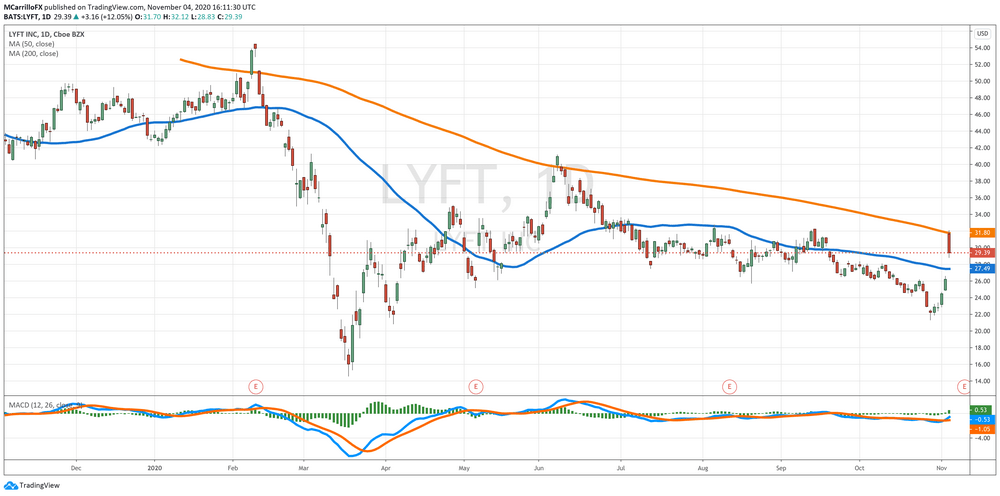 Shares of Lyft are also rallying on Wednesday as a result of the approval of the Prop 22 in California. The LYFT unit jumped to trade at 32.12 dollars per unit, its highest level since September 15.
However, the unit was rejected at that level, which is also the 200-day moving average, and it gave back some gains. LYFT is currently 12.05 percent positive in the day at 29.38 dollars per share.
Interesting that LYFT broke the 50-day moving average at 27.49, which was containing the share since early September, but it was rejected by the mentioned 200-day MA, which also rejected the unit on June 8.
According to CFRA, LYFT is a share to "hold" with a 12-month target price of 32.00 dollars per unit. It reflects CFRA's "view of the uncertainty of a ridesharing recovery as well as cash burn ahead, partly offset by positive view on cost cutting and belief that fundamentals have found a bottom."
We question the magnitude of the recovery in the second half of the year and in 2021, as we see consensus expectations as overly aggressive. That said, we remain optimistic about the long-term trajectory of the industry given the secular shift to transportation as a service.
Meet The Author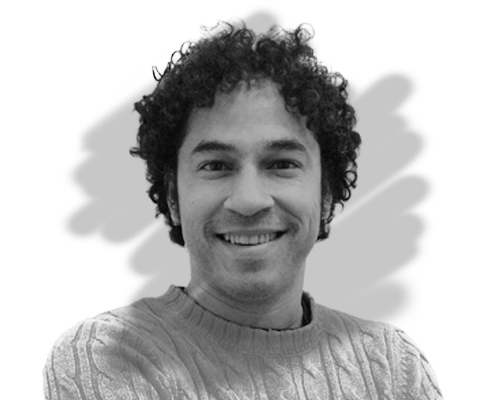 Mauricio Carrillo
Senior Reporter
Mauricio is a newer member of the team and a very welcome addition. He is a financial journalist and trader with over ten years of experience in stocks, Forex, commodities, and cryptocurrencies. This experience means he has an excellent understanding of the markets and current events.
Investing News


Dec 10th, 2020 - 4:32 PM (GMT)


Dec 9th, 2020 - 4:47 PM (GMT)


Dec 4th, 2020 - 4:58 PM (GMT)
Related Pages