PNC Buys BBVA US Business; PNC And BBVA Shares Jump
Nov 16th, 2020 - 2:24 PM (GMT)
Category - Investing News
31

Views Today
American bank and financial holding company PNC Financial Services Group acquired the United States's subsidiary of the Spanish bank BBVA for 11.6 billion dollars in cash, according to press releases published by both PNC and BBVA.
In a transaction worth 11.6 billion dollars, PNC is buying 105 billion dollars in assets under management and 637 branches operated by BBVA in Texas, Alabama, Arizona, California, Florida, Colorado, and New Mexico.
The deal becomes the second-largest banking acquisition in the United States since the financial crisis in 2008. According to BBVA, it represents 19.7 times the business's 2019 earnings and almost 50 percent of current BBVA market capitalization.
BBVA Group executive chairman Carlos Torres Vila in the press release published by BBVA said:
This is a very positive transaction for all sides. PNC has recognized the great value of our unique client franchise and of our great team in the US, who will be part of a leading financial services group in the country, the deal enhances our already strong financial position. We will have ample flexibility to profitably deploy capital in our markets strengthening our long-term growth profile and supporting economies in the recovery phase, and to increase distributions to shareholders.
On the other hand, the BBVA US business acquisition will allow PNC to have a coast-to-coast presence in 29 of the 30 largest markets in the United States.
PNC Chairman, President, and CEO William S. Demchak, in a press note published by PNC said:
Our acquisition of BBVA USA will accelerate our growth trajectory and drive long-term shareholder value through a strategic deployment of the proceeds from the sale of our BlackRock investment.
The deal is expected to be closed by mid 2021.
It looks like PNC is more confident about the future of the economy in the United States in a post-COVID-19 than before. Six months ago, the bank sold its stake in global asset manager BlackRock for 17 billion dollars as it was looking to increase its balance sheet in a dark coronavirus forecast.
It now seems that it was just a relocation and change of strategy. As CEO Demchak told the Financial Times in a recent article, the bank has successfully traded its BlackRock ownership stake for a business that takes the company coast to coast.
Demchak highlighted news regarding a COVID-19 vaccine and post-US election stability as useful catalysts for the deal.
We have in effect put a floor under the worst [Covid-19] downside, and the Federal Reserve and the US government have responded forcefully.
The bank expects a 20 percent EPS accretion in year number two after the merger, and it would generate about 900 million dollars in cost savings related to regulatory costs and overlap of global management.
The Expert Investor Takeaway
The deal is a win-win agreement for both banks. PNC is watching the future with better eyes as they see the United States political and social situation better than before. Especially as it looks like the presidential transition will be calm.
PNC will use BBVA branches as an expansion for both financial and banking business, which would lead to more earnings, especially in stimulus packages and money transaction related industries.
On the other side, BBVA is consolidating its balance sheet more, especially in times where the Spanish and the European economy are in the middle of a problematic COVID-19 pandemic related situation. It will give BBVA more room to comply with stress tests requirements and will provide better earnings and a better positioning for future ventures and potential acquisition opportunities in the post COVID-19 banking industry.
BBVA Stock Analysis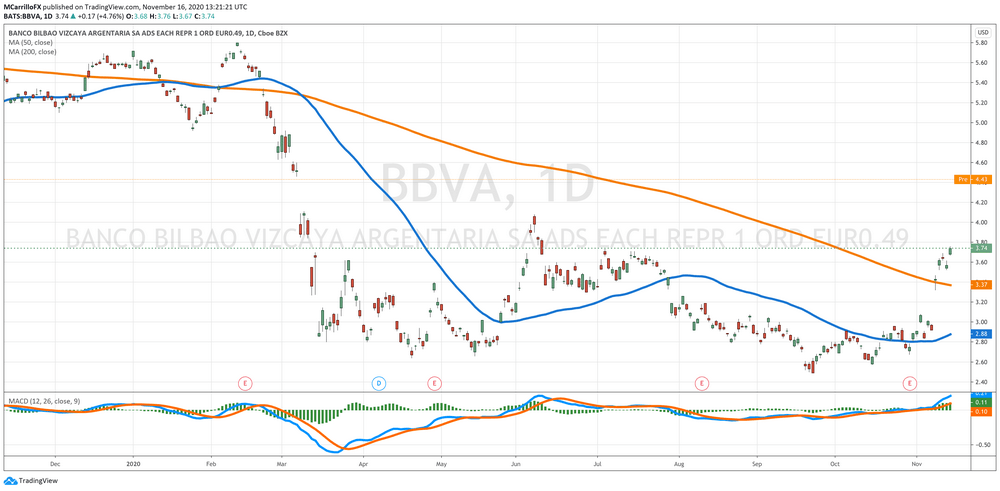 Shares of BBVA are trading positive on Monday, and it is consolidating a multi-day rally that drove the unit from 3 dollars per share to the current 4.44 dollars per unit, which is an 18 percent jump from Friday's close. The stock is trading at its highest level since March 6.
Technically, current conditions for BBVA are strong, with the chart pattern suggesting that the upward Momentum should continue. MACD is bullish in the middle term, while Momentum is positive according to the 9-day RSI indicator.
According to Ford Equity Research, Banco Bilbao Vizcaya Argentaria SA is a two out five buy shares as the firm projects that "BBVA will outperform the market over the nest 6 to 12 months".
BBVA has posted better than expected results. Based on operating earnings yield, the company is undervalued when compared to all of the companies we cover. Share price changes over the past year indicates that BBVA will perform very poorly over the near term.
PNC Stock Analysis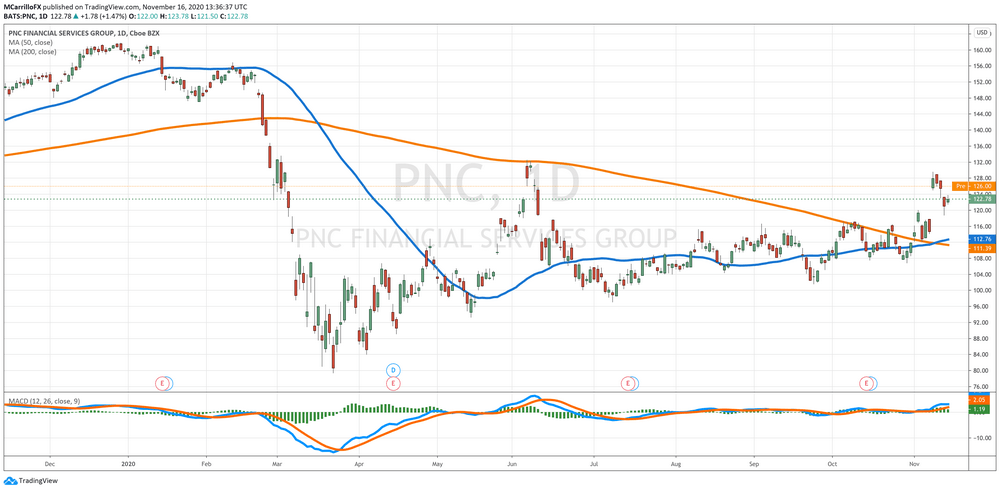 Shares of PNC are trading positive on Monday as investors are welcoming the news of the acquisition of BBVA. The unit is reverting most of the losses suffered last week, with the company trading at 126 dollars per share, which is 2.62 percent up in the session.
Current technical conditions for PNC suggest that the uptrend should continue. MACD and Momentum are pointing to the upside while RSI is starting to slowing, but it looks healthy. A break above the 132 dollars per share will be fundamental for upside confirmation.
According to TheStreet Quant Ratings, PNC Financial SVCS Group Inc is a stock to "buy" with a target price of 139.76 dollars per unit. "The company's strengths can be seen in multiple areas." TheStreet feels "its strengths outweigh the fact that the company has had lackluster performance in the stock itself."
The gross profit margin for PNC FINANCIAL SVCS GROUP INC is currently very high, coming in at 94.55%. It has increased significantly from the same period last year. Along with this, the net profit margin of 33.95% is above that of the sub sector average.
CFRA considers PNC as a "four stars buy" with a 12-month target price of 127.00 dollars per unit as "PNC's diversified revenue stream and a "flight to safety" depository status."
PNC's retail national expansion strategy coupled with efforts to extend its middle market franchise into new markets should support growth and profitability going forward. Monetizing its BLK stake also allows PNC to be opportunistic as accretive M&A target(s) become available.
Meet The Author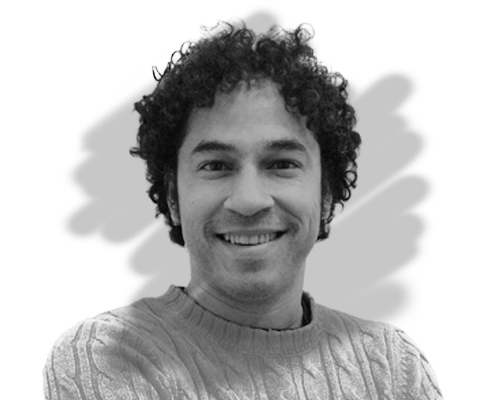 Mauricio Carrillo
Senior Reporter
Mauricio is a newer member of the team and a very welcome addition. He is a financial journalist and trader with over ten years of experience in stocks, Forex, commodities, and cryptocurrencies. This experience means he has an excellent understanding of the markets and current events.
Investing News


Dec 10th, 2020 - 4:32 PM (GMT)


Dec 9th, 2020 - 4:47 PM (GMT)


Dec 4th, 2020 - 4:58 PM (GMT)
Related Pages