NAGA Reports Solid Q3, Neo Bank And Shares Rally 19%
Oct 5th, 2020 - 2:42 PM (GMT)
Category - CFD News
33

Views Today
Social trading platform and brokerage NAGA Group announced that its digital bank NAGA Pay would be launched on November 15, finally. According to a press release published by the company, NAGA reported a solid third quarter corporate report.
In the period between July and September, NAGA Group experienced a record volume of 33 billion euros, with around 1.6 million transactions. The platform registered 40,000 new accounts in the Q3, while sales numbers jumped 506 percent in the last twelve months to 7.1 million euros from the 1.17 million euros in the third quarter of 2019.
We are happy with Q3. Especially in light of the seasonality and the lower client activity during summer, we once again have shown that our growth strategy pays off and is sustainable," Benjamin Bilski, CEO of NAGA, said. "Also, we have delivered a very solid EBITDA ratio despite increased expenses in growth. Given the growth in our active user base, we managed also to improve our platform experience and internal processes significantly to ensure further scalability. Looking at all our metrics it's clear by now that NAGA can grow even without the COVID-effect.
Sales of €7.1M (Q3 2019: €1.17M)
EBITDA of €1.9M (Q3 2019: -€1.04M)
40,000 new accounts (Q3 2019: 7,100)
User base grew by 70% to the previous quarters
Monthly trading volume in Q3 2020 up 22 percent, well over 33 billion compared to Q2. (Q3 2019: €13 Billion)
1.6 million real-money transactions (Q3 2019: 947,000)
NAGA PAY to go Live on November 15
The broker also announced that its new venture in the digital banking industry, the challenger Bank NAGA PAY, will be officially released on November 15. The launch comes after the company said it was working on a new digital bank back on May 20.
The app will be available in Apple and Google stores, and it has gotten thousands of pre-registrations according to the company, and it will be one of the cornerstones for NAGA's FinTech platform growth in the next few years.
NAGA Stock Analysis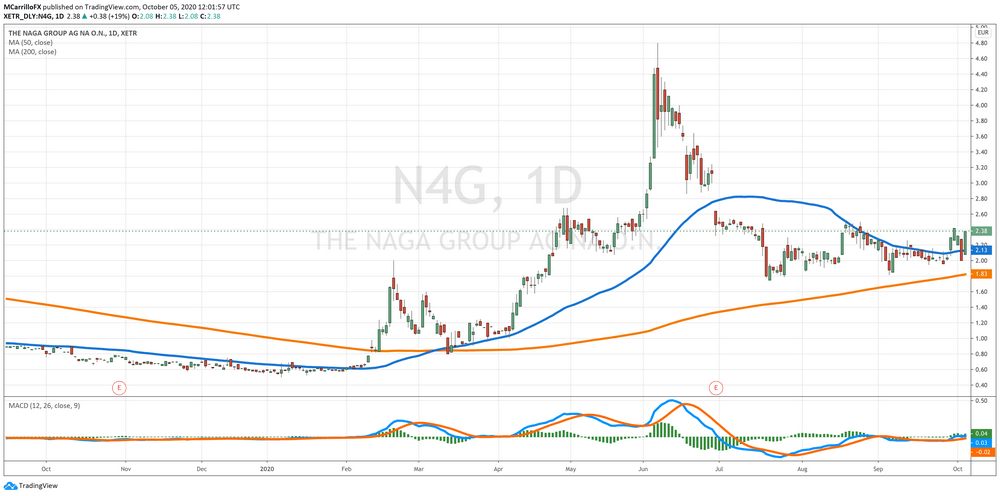 The NAGA stocks are traded in the XETRA market under the code of N4G. On Monday, the share is rallying 19 percent following the Q3 corporate report's release and the announcement of the new bank launching.
N4G is currently trading at 2.38 euros per unit, which is 19 percent positive on the day. The share is now testing September 30 highs at 2.42 euros per unit.
Technically, NAGA is building an upside trend that needs to clear out the mentioned 2.42 euros area. Above it, it would see strong resistance at 2.50 euros, and then it would have room to rally up to the 3.00 euros per share.
Meet The Author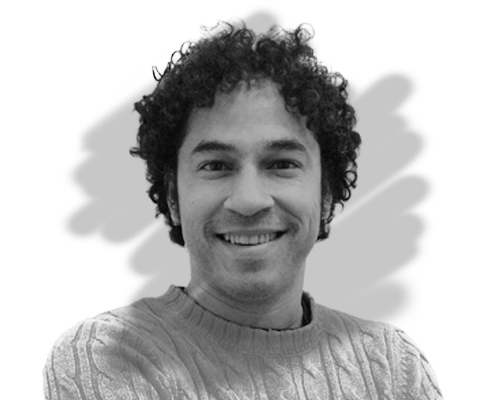 Mauricio Carrillo
Senior Reporter
Mauricio is a newer member of the team and a very welcome addition. He is a financial journalist and trader with over ten years of experience in stocks, Forex, commodities, and cryptocurrencies. This experience means he has an excellent understanding of the markets and current events.
Investing News


Dec 4th, 2020 - 5:13 PM (GMT)

Sep 16th, 2020 - 3:43 PM (GMT)


Aug 25th, 2020 - 4:02 PM (GMT)
Related Pages