A Week to Define The Investing End of The Year
Oct 9th, 2020 - 4:29 PM (GMT)
Category - Investing News
38

Views Today
It looks like the week the market is starting today will determine the rest of the year in terms of investments and trading. Even the presidential elections in the United States would be determined by what the following four days will bring in terms of data, development and announcements.
As a matter of context, the Dollar index is trading slightly positive on Monday. Still, it has accumulated two weeks of declines due to speculations that Joe Biden will be the next US president. Therefore, a stimulus package will be approved sooner or later.
In that framework, euro and gold look like ready to resume its uptrend against the Greenback. Experts even talk about a EUR/USD at 1.2000 and an XAU/USD above 2,000 by the end of the year.
Stocks are now trading positive after a period of correction a few weeks ago. Last week, major indexes in the United States closed with substantial gains and it looks that gains will be extended this period.
However, we will have a week full of news and events that would determine the market's sentiment and, therefore, the fate of risky assets and safe investments. Let's take a look.
Banks Corporate Earnings Report
On Tuesdays, big banks will start the corporate earnings seasons for their third quarter results. Experts are anticipating a better than expected earnings season, with financial and tech sectors leading the recovery. If that happens, earnings could be a positive driver for stocks even when the US Congress doesn't agree regarding the stimulus package.
Ed Keon, chief investment strategist at QMA to CNBC said:
It looks like earnings season might turn out better than expected, based on early reports, the guidance looks pretty good. So, we have earnings season upon us, the stimulus talks go back and forth, and it looks like maybe there's a will to get something done.
On Tuesday, JP Morgan Chase and Citigroup will release their reports. They will be followed by Goldman Sachs, Wells Fargo and Bank of America on Wednesday. Morgan Stanley will report on Thursday.
Apple Mayor Event
iPhone maker Apple will host an event Tuesday. Experts say that it would be the first major exterior redesign since 2017 when the Cupertino based company introduced facial recognition.
A new set of iPhones would fuel Christmas sales for the company and drive market sentiment up. Today, Apple is trading strongly positive after the court ruled in its favor against Fortnite.
"We expect this fall's launch to be the most significant iPhone event in years," Morgan Stanley analyst Katy Huberty wrote in a note this week. She's forecasting Apple to ship about 220 million iPhones in its fiscal 2021, which would be up 22% year-over-year according to the Morgan Stanley model.
Amazon 2-Day Prime
It is not just one but two days! Also, on Tuesday, Amazon will host its Prime-Day with this time will last 48 hours. It would boost not only Amazon sales this time, but also competitors such as Walmart, Target and Best Buy that have added significant sales events surrounding Prime day.
The attempt to divert customers from Prime Day to their websites and stores would drive business up, and the market is cheering that. Again, lifting market sentiment.
Dude, Where's my Stimulus!
Investors are betting on risky assets amid stimulus hopes. But, what's if the package is not approved or the Congress focus goes to another place? Well, markets are betting on a blue wave that would bring a more significant stimulus sooner or later.
Paul Donovan, global chief economist of UBS's wealth management business said:
US fiscal policy negotiations are starting to look a lot like the EU-UK divorce negotiations, being both tedious and interminable.
However, according to recent surveys in Wall Street, Joe Biden will be the next US president by a 75 percent of probabilities. Also, the Senate would change color to blue by 70 percent of chances.
As the market perceives the Democratic party as a defendant for a bigger stimulus, rather than the Republican position to a reduced one, Wall Street is performing substantial gains.
Dollar on The Defensive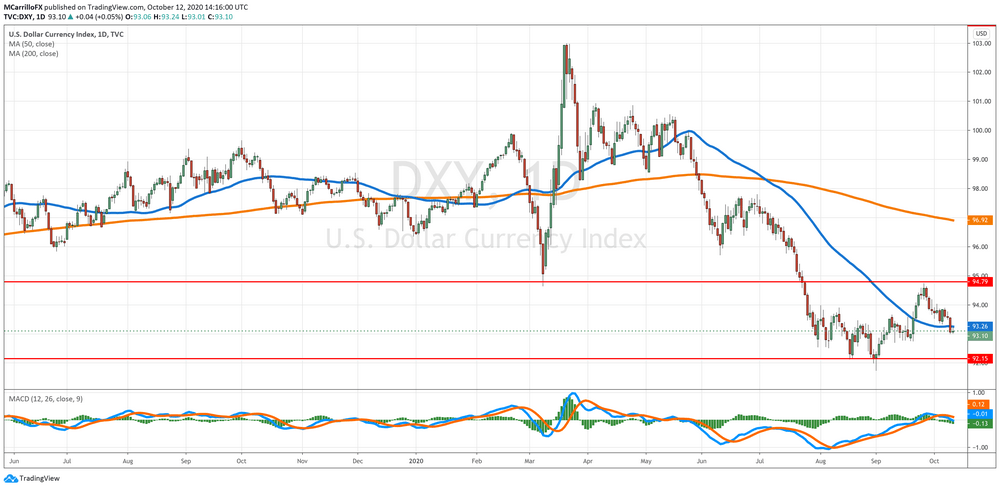 In that framework, the dollar is trading on the defensive and despite it being moving positive on Monday, the DXY has logged two negative weeks in a row. The reason is no other than the stimulus hopes.
The dollar is currently trading at 93.08, which is 0.02 percent on the day as Columbus Day in the United States is keeping volume low. Keep an eye on the 50-day moving average at 93.26, which is now adding pressure to the DXY downside.
That being said, dollar's buyers will not give up easily and the 93.00 level is still an important support. A break below it would be an important catalyst that would send the dollar toward the 92.00 area and drive EUR/USD and gold to further highs.
Gold Ready to Shine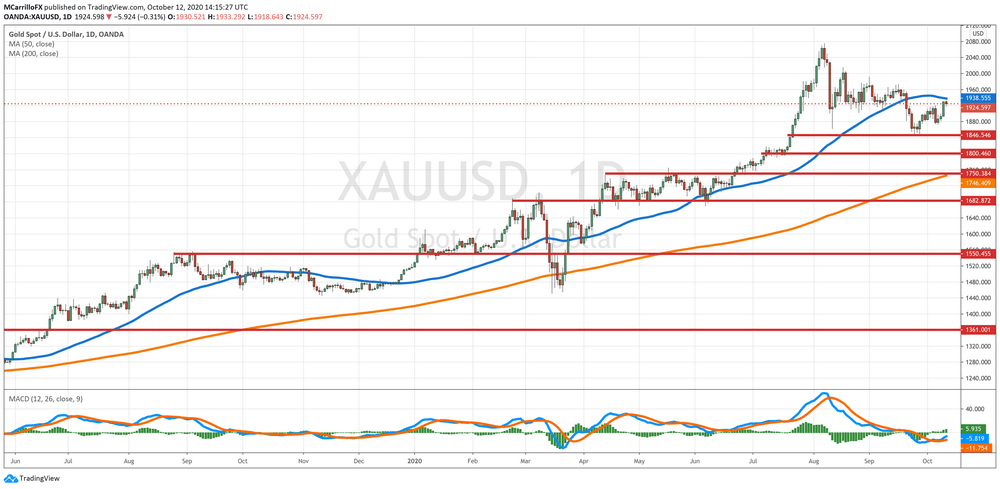 Gold is trading slightly negative on Monday but it is mostly in consolidation mode after the recent positive weekly close. Currently, XAU/USD is trading at 1.922, which is 0.42 percent negative on the day.
Investors are betting on stimulus approval and now on a Biden victory that would flood the United States with cash. Money that would be used to buy gold and depreciate the dollar, as it happened in March.
According to TD Securities, gold will go up no matter who wins the election. Big, small, or no short term deal will produce the same bullish gold trade. The size of the movement is the difference.
TD Securities said:
With the Trump and Biden agendas estimated to cost between nearly $5.0 trillion and $5.6 trillion over the next decade, both would provide substantial tailwinds for the long gold trade, barring a split government outcome, both administrations are likely to push through a large-scale fiscal deal in no time that would help de-bottleneck the real rate suppression, lifting precious metals in the process.
Finally, The US Election
And here comes the US presidential elections. The current week will play a fundamental role in the outcome of the November 3rd day and who will be the next President of the United States.
A positive market sentiment would fuel US stocks, which would make people think that the economy is not that bad. It could be not very clear, but you do know how news works. Also, Apple's new iPhone would raise American pride and a lot of sales on Prime day and competitors would make America more comfortable before the crucial month of November.
Besides, a set of good corporate earnings reports would push market sentiment even higher, and the headlines would give people the notion that everything is better than expected.
And finally, the stimulus. An approval would be critical. It could be Trump's October surprise to make people go to the polls with a check inside their pockets.
However, don't forget the COVID-19 pandemic. With over 7.7 million cases confirmed in the United States, almost 215 thousand people killed by the novel coronavirus, and more and more leaders of the Republican Party getting infected every day, COVID-19 is expected to play a fundamental role in the November 3rd election.
And, therefore, going into the end of the year.
Meet The Author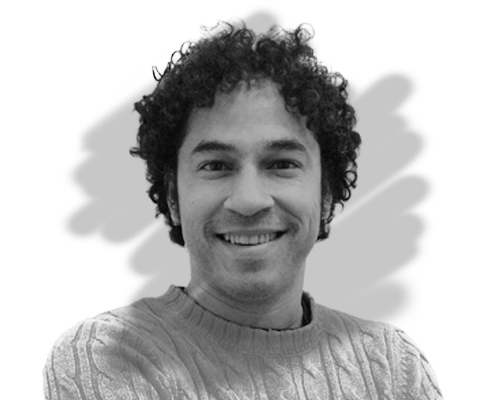 Mauricio Carrillo
Senior Reporter
Mauricio is a newer member of the team and a very welcome addition. He is a financial journalist and trader with over ten years of experience in stocks, Forex, commodities, and cryptocurrencies. This experience means he has an excellent understanding of the markets and current events.
Investing News


Dec 10th, 2020 - 4:32 PM (GMT)


Dec 9th, 2020 - 4:47 PM (GMT)


Dec 4th, 2020 - 4:58 PM (GMT)
Related Pages