AMD to Acquire Xilinx, Expanding in Data Center Chip Market
Oct 27th, 2020 - 3:24 PM (GMT)
Category - Investing News
35

Views Today
American multinational semiconductor company Advanced Micro Devices, also known as AMD, announced Tuesday the acquisition of California Based processing platform company Xilinx in a 35 billion dollars all-stock deal.
According to a press release published by the San Jose based company, the operation will strengthen AMD's industry leading technology portfolio. As for the market, it is another step in the data center chip market war that AMD is fighting against Intel Inc.
The deal will have four significant highlights, according to the press release:
Expands AMD's rapidly growing data center business
Xilinx, the No. 1 provider of adaptive computing solutions, increases AMD TAM to $110 billion
Immediately accretive to AMD margins, cash flow, and EPS
All stock transaction with a combined enterprise value of approximately $135 billion
While the deal is expected to be closed at the end of 2021, it will create a company with over 13 thousand engineers but outsourced manufacturing processes. The press release also said that the combined company would enhance AMD market opportunities and push growth in segments from the data centers to Personal Computers, Gaming, automotive, communications, industrial, defense, and aerospace.
AMD President and CEO Dr. Lisa Su said in the press release:
Our acquisition of Xilinx marks the next leg in our journey to establish AMD as the industry's high performance computing leader and partner of choice for the largest and most important technology companies in the world, This is truly a compelling combination that will create significant value for all stakeholders, including AMD and Xilinx shareholders who will benefit from the future growth and upside potential of the combined company.
Xilinx CEO Victor Peng will join AMD as President in charge of the Xilinx business and strategic growth initiatives. The deal also said that two Xilinx directors would join the AMD board.
AMD Beats EPS And Revenue
Advanced Micro Devices reported a third quarter Non-GAAP earning per share of 41 cents, beating by 6 cents market expectations. GAAP EPS for the Q3 will be 32 cents, a beat by 2 cents from estimates.
Revenues in the Q3 were reported as 2.8 billion dollars, a beat of 240 million dollars from estimates, and a 55.6 percent increase from the same period in 2019.
AMD Confident on a Strong Fourth Quarter Sales
On the other hand, CNBC reporters highlighted in a separate article that AMD forecasts fourth quarter sales above estimates.
According to CNBC, AMD is anticipating a fourth quarter revenue of around 3 billion dollars, above experts estimates of 2.63 billion dollars.
The CNBC article says:
Total revenue jumped 56% to $2.80 billion in the third quarter ended Sept. 26, above analysts' expectations of $2.57 billion.
AMD Stock Analysis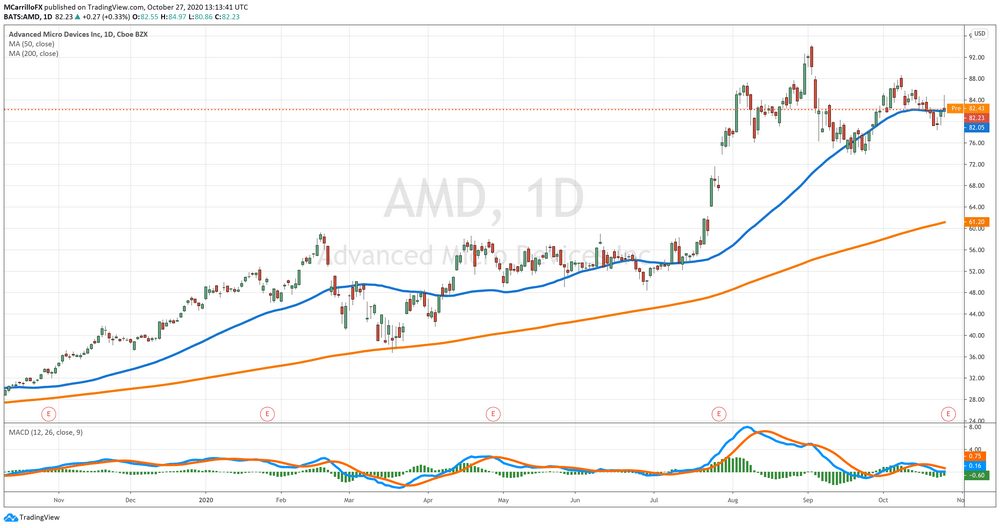 Shares of Advanced Micro Devices are trading slightly higher on Tuesday as investors are still digesting the Xilinx acquisition news. Currently, AMD is trading at 82.51, which is 0.34 percent positive on the day.
In the long term view, AMD is on a recovery phase following the decline started on October 8 at $88.72 and finished on October 22 at $78.42. Now, three sessions later, the unit is halfway from the previous highs.
According to TheStreet Quant Ratings, AMD is a share to "buy" with a target price of 104.24 dollars per unit.
47.62% is the gross profit margin for ADVANCED MICRO DEVICES which we consider to be strong. It has increased from the same quarter the previous year. Regardless of the strong results of the gross profit margin, the net profit margin of 8.12% trails the sub sector average.
CFRA has Advanced Micro Devices as a stock to "buy" with a 12-month target price of 90.00 dollars per share.
Our Buy reflects our expectation for significant share gain on the CPU data center side from the ramp of its next generation EPYC processor, greater momentum for AMD's GPU offerings and our expectation for balance sheet improvement. We continue to remain optimistic about gross margin expansion, as AMD shifts to next generation processors that will generate higher volume as well as command higher prices and margins. We anticipate rising demand for GPUs, reflecting the growing need for these processors for machine learning and gaming. We see better free cash flow generation supporting a more robust balance sheet while a resurgence in new gaming platforms will act as a growth catalyst in the second half.
Meet The Author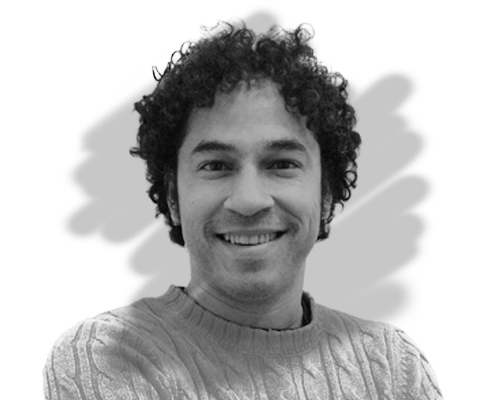 Mauricio Carrillo
Senior Reporter
Mauricio is a newer member of the team and a very welcome addition. He is a financial journalist and trader with over ten years of experience in stocks, Forex, commodities, and cryptocurrencies. This experience means he has an excellent understanding of the markets and current events.
Investing News


Dec 10th, 2020 - 4:32 PM (GMT)


Dec 9th, 2020 - 4:47 PM (GMT)


Dec 4th, 2020 - 4:58 PM (GMT)
Related Pages