Beyond Meat to Sell Products in China With Alibaba's Freshippo
Jul 2nd, 2020 - 3:41 PM (GMT)
Category - Investing News
35

Views Today
Plant-based meat alternative products maker Beyond Meat has decided to go to China and open a whole market niche there with a new expansion for its products via Alibaba's futuristic grocery store Freshippo.
According to a report published by Alizila, Beyond Meat is teaming up with Freshippo to address the increasing demand for plant-based products in China. Starting this weekend, people in China will be able to buy the Beyond Burger for the first time ever.
Freshippo is an Alibaba's initiative to "help merchants, brands and small businesses around the world reach and engage consumers," as a press release published by Alibaba said.
The idea is to have a seamless integration of online and offline worlds by digitizing the whole retail value chain.
Freshippo: A Dominant Futuristic Venture
Launched in March 2015, Freshippo opened its first store in Shanghai in January 2016. Now, the venture has 207 stores in over 20 cities in China. All of that is powered by 846 million mobile monthly active users in Alibaba network.
Freshippo has a high online penetration with about 60 percent of gross merchandise value coming from online purchases. It also has a global product offering with about 40 percent of merchandise being imported.
Long story short, Beyond Meat is making a huge step to expand its business with a new potential user base in China.
Ethan Brown, founder and CEO of Beyond Meat, knows the importance of the move as he highlighted the dominant position of Freshippo and Alibaba in China. Now, the strategy for Beyond Burger will be to adapt its products to Chinese recipes, including noodles and dumplings.
We are proud to partner with Alibaba's Freshippo, a dominant player in the retail space, to introduce our hallmark Beyond Burger to home cooks throughout China.
Said Brown.
Beyond Meat is offered in around 94 thousand retail stores and food services in 75 countries.
Beyond Meat Shares Analysis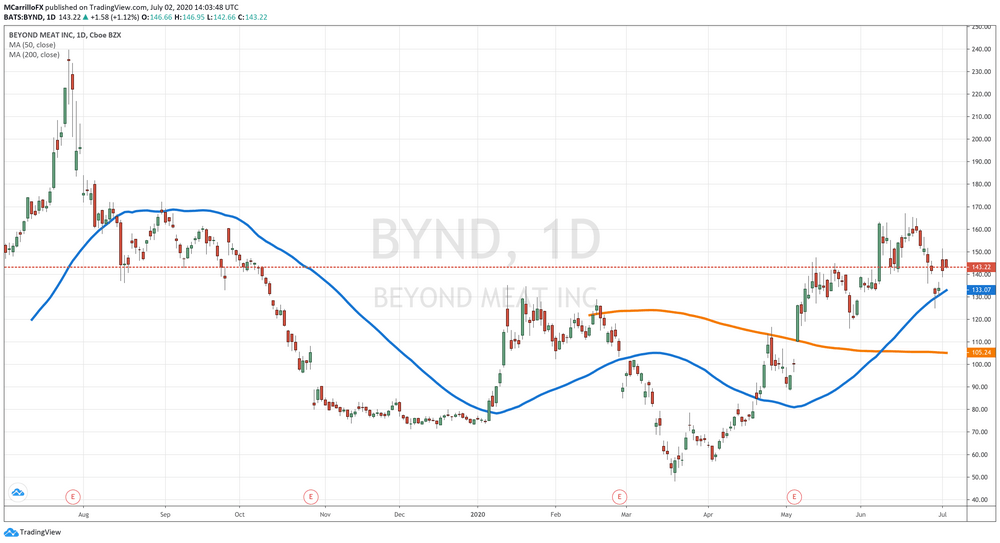 Shares of Beyond Meat are trading positive on Thursday after jumping hard on Wednesday following the news.
On Wednesday, the BYND stock jumped to its highs since June 25 at $151.53 and then traded on consolidation mode to close at 141.64, which was 5.72 percent positive on the day.
Currently, the unit is trading at $144.98, which is 2.36 percent positive and a piece of good news as the stock seems to be working on building a new support at $140.00.
The chart still looks bearish in the middle term, mostly because the 23 percent sell off performed between June 22 and June 29 due to the COVID-19 pandemic impact. But now, a consolidation above the $140.00 level would work as a new leg for further recoveries.
However, analysts are not in the same mood at least in the long term. TheStreet Quant Ratings has BYND as a "sell" stock as they see weak operating cash flow.
In the same line, CFRA has Beyond Burger as a "sell" as "the impact of Covid-19 could be material for BYND given that roughly half of its net sales in 2019 were to the restaurant and foodservice channel."
On the other side, Credit Suisse offers a more moderate vision as it has BYND as "neutral" with a 12-month target price of $142.00.
Beyond may emerge as a net beneficiary of the pandemic in the near-term due to strong demand in retail channels (48% of sales) and in the long-term due to rising consumer interest in healthier foods.
Alibaba Shares Analysis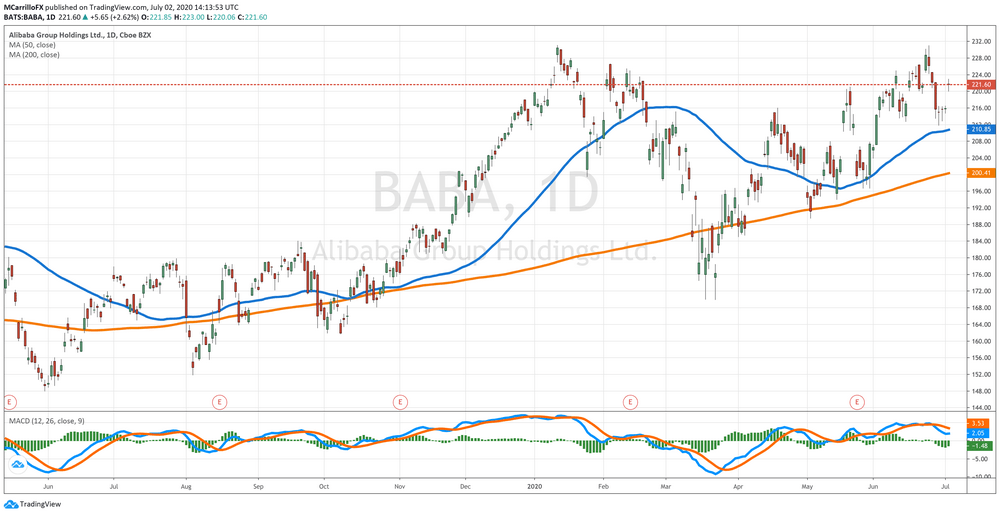 Alibaba is rallying on Thursday but for different reasons than Beyond Burger. The Chinese giant is posting gains as investors are welcoming news on its cloud services.
According to recent news, two in five Fortune 500 companies are choosing Alibaba Cloud. In other words, the company supported around 38 percent of all 500 Fortune companies over the past fiscal year.
So, BABA is currently trading 2.84 percent positive at $222.34. At the top of it, the share broke above the critical $216.50 short term resistance that contained the BABA stock in the last four sessions.
TheStreet Quant Ratings gas BABA as a "buy" share with a target price of $256.59.
BABA's revenue growth trails the sub sector average of 27.9%. Since the same quarter one year prior, revenues slightly increased by 1.6%. This growth in revenue does not appear to have trickled down to the company's bottom line, displayed by a decline in earnings per share.
Ford Equity Research considers BABA as a "buy" too. According to the firm, Alibaba has neutral earning strength and relative valuation, while a positive price movement.
Meet The Author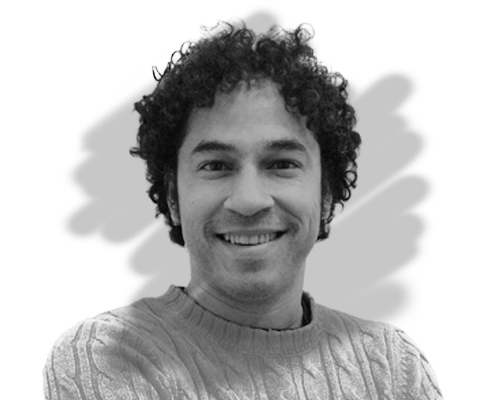 Mauricio Carrillo
Senior Reporter
Mauricio is a newer member of the team and a very welcome addition. He is a financial journalist and trader with over ten years of experience in stocks, Forex, commodities, and cryptocurrencies. This experience means he has an excellent understanding of the markets and current events.
Investing News


Dec 10th, 2020 - 4:32 PM (GMT)


Dec 9th, 2020 - 4:47 PM (GMT)


Dec 4th, 2020 - 4:58 PM (GMT)
Related Pages