Bitcoin to Test 2020 Highs Amid Gold Correlation
Jul 27th, 2020 - 4:10 PM (GMT)
Category - Crypto News
40

Views Today
Bitcoin is trading positive for the third day in a row on Monday as investors are welcoming further steps on stimulus plans in the United States and the rally in gold prices.
In recent months, Bitcoin has shown a positive correlation with gold prices, and obviously, it has been influenced by dollar weakness. As you may know, the dollar index is in the middle of a heavy downtrend, which is at the same time, fueling gold to record highs and the crypto king above the $10,000 mark.
In addition, market sentiment is not that strong as investors are concerned about rising COVID-19 cases and deaths, a second wave that is currently undergoing in the United States and expectations for the same in Europe during autumn.
Besides, political turmoil between the United States and China in the framework of a trade war that is now escalating into a political and consulates conflict is pushing risk aversion over the table.
US Dollar Index at 1-Year Lows
As a matter of context, the US dollar is trading negatively for the seventh day in a row, and it is now even falling faster. After breaking March 9 lows at 94.65, the DXY touched minimums since June 14 around 93.50.
The Dollar index is trading under pressure on expectations of new stimulus and inflationary pressures. Low real yield performance in the 10-year US treasury bond is pushing the dollar down. Currently, DXY is trading at 93.56, which is 0.84 percent.
Technically, the forecast is dark.
Gold at Record Highs
On the other side, gold is rallying and reaching fresh all-time highs around $1,945.38 as investors are buying the metal in a mix of safe haven, safe investment, and interest rates hedging conditions.
In any way, both technical and fundamental pictures suggest that gold will continue with its rally. Some banks are even calling for $2,000 next year, as Citibank said, and $3,000 per ounce as Bank of America stated in recent notes.
Long story short, dollar weakness and bullish gold are fueling Bitcoin to break above the critical $10,000 level.
Bitcoin Breaks Above $10,000 And Tests $10,400 Highs
As mentioned above, Bitcoin is enjoying a weak dollar and a strong gold environment. During the weekend, the crypto king finally broke above the $10,000 mark after almost two months; then, BTC/USD extended gains on Monday to test June 1 highs near $10,400.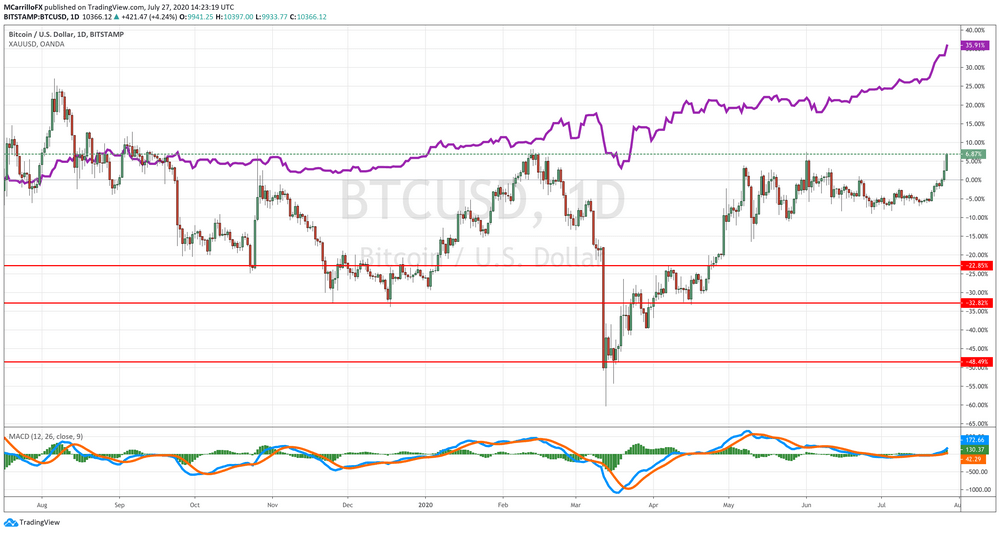 As you may see in the above chart, Bitcoin seems to be following gold prices in the last swings. It could be explained due to a weak dollar, but as for now, BTC/USD and XAU/USD are developing a positive correlation.
In that framework, Bitcoin could be an even more bullish forecast as the crypto could be following gold prices, which are heavily fueled to the upside.
Currently, BTC/USD is trading at $10,409.30, which is 4.74 percent in the day. Analysts now expect the digital asset to break above current levels and test 2020 highs $10,500 in the near term.
Technicals agree with that vision. How much can it go in the middle-term? The area at $11,000 seems reachable, but keep an eye on the $11,100 as a critical resistance.
Market analyst filbfilb told subscribers of his dedicated Telegram trading channel on Monday:
Overall bullish but just throwing it out there that a big volume move and close across 10500/11000 will result in the continuation everyone else wants.
Meet The Author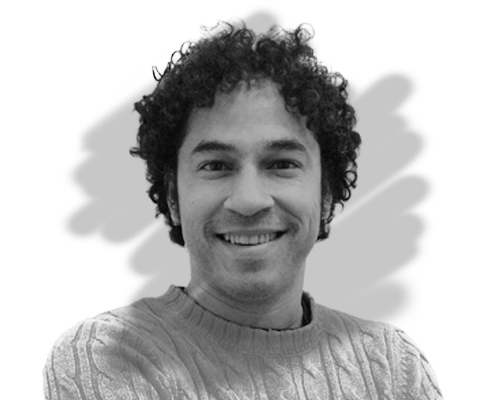 Mauricio Carrillo
Senior Reporter
Mauricio is a newer member of the team and a very welcome addition. He is a financial journalist and trader with over ten years of experience in stocks, Forex, commodities, and cryptocurrencies. This experience means he has an excellent understanding of the markets and current events.
Investing News


Dec 9th, 2020 - 4:48 PM (GMT)


Dec 8th, 2020 - 4:22 PM (GMT)


Dec 7th, 2020 - 4:48 PM (GMT)
Related Pages