Disney Jumps Over 5% After Reporting 50 Million Streaming Subscribers
Apr 9th, 2020 - 3:46 PM (GMT)
Category - Investing News
31

Views Today
Disney announced this week that after only five months of its streaming video service Disney+, it had reached the 50 million users milestone, putting the company almost near its subscribers' goal four years ahead of schedule.
The company confirmed that its platform is available in more than a dozen countries in the world, and rising.
The new number is almost twice the subscribers reported on February 4, when the Mickey Mouse's company said the streaming service had 26.5 million subscribers in the Q1 report.
Also in the Q1 report, former CEO Bob Iger acknowledged that 20% of the subscribers reported in February came from its distribution partnership with Verizon, where the service was offered for free.
Now, the 50 million milestone has been fueled by another partnership, this time in India, where Disney agreed with Hotstar to offer the service to 8 million new subscribers.
The Video Streaming Phenomenon in The Coronavirus Age
Coronavirus effect? With theme parks, movie production, experiences, and live sports close, Disney's new streaming service is becoming a key element on the happiness conglomerate.
The company is facing an existential financial crisis in the age of COVID-19. Disney is a legendary company built on social interaction where people meet massively. All that is forbidden in the days of the coronavirus pandemic crisis.
Parks in California, Florida, Paris, Shanghai, and Hong Kong are closed. Disney cruises are docked near my house in Cape Canaveral, experiences and merchandising are down, and all live-action film productions were stopped in the company's movie division.
At the top of all, Bob Iger, 15-year long CEO of Disney, announced his resignation last month. Bob Chapek, the head of parks, experiences and products division, was nominated as his successor. As you may well know, a new boss is always a pandora's box to be open, or as we all say in Spain, it is a melon still to open, nobody knows how it is going to work yet.
But Disney+ subscribers jump is a silver line for the company, especially in the middle of the coronavirus COVID-19 pandemic. But Disney is not the only one who is profiting from stay-in-home measures.
Recently, we reported a 775% jump in Microsoft cloud usage. Also, Verizon's web traffic spiked 20% last week, Nielsen said that streaming viewership jumped 22% during the week of March 16 and, according to that report, most people spend their time streaming Netflix.
It's Just The Beginning
Disney+ launched services in the United Kingdom, Ireland, France, Germany, Italy, Spain, Austria, and Switzerland in the past two weeks, according to the company. However, India was a massive contributor to the 50 million users as Disney launched its service through Hotstar service less than a week ago, adding 8 million users at once.
So numbers are expected to explode in the next few months. As a matter of context, Netflix launched its streaming service in 2007. But according to a timeline on its website, it took the company almost seven years to surpass the 50 million members number in 2014.
However, in the case of Mickey Mouse's company, Disney+ is almost near its subscribers' goal four years ahead of schedule.
Kevin Mayer, Chairman of Walt Disney Direct-to-Consumer & International said:
We're truly humbled that Disney+ is resonating with millions around the globe, and believe this bodes well for our continued expansion throughout Western Europe and into Japan and all of Latin America later this year, Great storytelling inspires and uplifts, and we are in the fortunate position of being able to deliver a vast array of great entertainment rooted in joy and optimism on Disney+.
Disney Shares Analysis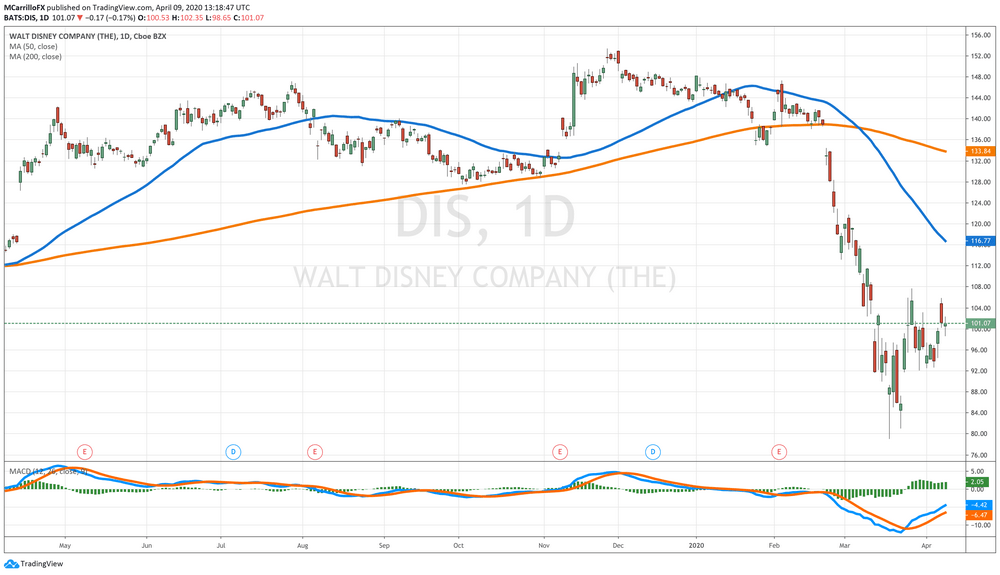 The Walt Disney Company, or DIS in the stock market, is trading positive on the day and the week as investors are welcoming the news about the 50 million subscribers of its streaming service.
However, the outlook for Disney is not that bright as coronavirus has shut down its core businesses in America, Asia, and Europe.
Experts have revised revenues and earnings expectations to the downside. Average revenue expectations were $19.56 billion at the beginning of the year, but now it has been revised down to $18.4 billion in April.
The same story for earnings, analysts are expecting now a $1.02 per share in April, down from $1.20 per share early this year.
Shares of Disney are currently trading at $106.17, 5.05% positive on the day, and above yesterday highs of 105.90, where the unit was rejected. Actually, DIS was a bad boy in the middle of a wave of green in Wall Street that day; however, it seems that everything has changed after the subscription news.
Today, the unit was fighting to keep prices above the psychological 100.00 level. But after the news, it exploded and jumped over 5% to break yesterday's highs and to trade above the 106 area. Now, the next resistance lies at 107.70, March 26 highs.
The chart looks bullish, at least in the middle term. However, momentum is not that strong. From the rating agencies, CFRA has DIS as a buy, TheStreet points out Disney as a hold, while Market Edge has it as an avoid.
In that line, Wells Fargo Securities analyst Steven Cahall downgraded Disney to equal weight from overweight on April 7 and at the same time, he slashed his price target to $107 from $155.
We don't think Parks can get back to anything close to full capacity until testing and/or vaccines are far more ubiquitous. It could take up to 24 months before attendance normalizes.
However, Mickey Mouse always wins. Remember it.
Meet The Author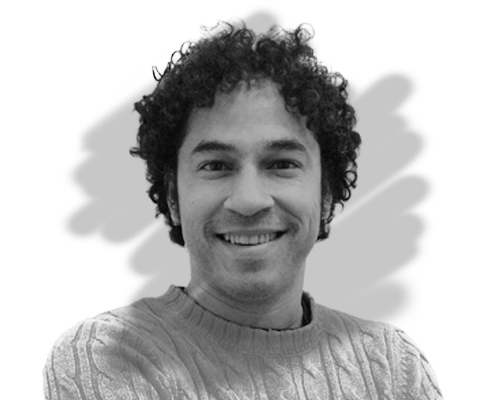 Mauricio Carrillo
Senior Reporter
Mauricio is a newer member of the team and a very welcome addition. He is a financial journalist and trader with over ten years of experience in stocks, Forex, commodities, and cryptocurrencies. This experience means he has an excellent understanding of the markets and current events.
Investing News


Dec 10th, 2020 - 4:32 PM (GMT)


Dec 9th, 2020 - 4:47 PM (GMT)


Dec 4th, 2020 - 4:58 PM (GMT)
Related Pages