Microsoft Sees 775% Spike in Cloud Demand on COVID-19; MSFT Ready to Jump
Mar 30th, 2020 - 4:49 PM (GMT)
Category - Investing News
30

Views Today
Microsoft cloud computing service, including Azure, OneDrive, Teams, Xbox Live, and Office 365, among others, have experienced a 775% increase in cloud demand during the last week, according to a blog post published by the company.
The post also says that clouds have experienced more surge in regions that have enforced shelter in place and social distancing orders in the United States.
Besides, the company is also experiencing a spike in Microsoft Teams usage with more than 44 million daily users that have generated over 900 million meetings and calling minutes just in the last week.
Windows virtual desktop has tripled its usage, and the government use of public Power BI to share COVID-19 dashboards with citizens rose 42% in a week.
Microsoft's Rise in Cloud Demand is a Sign of The Winds of Change
Microsoft is reportedly prioritizing cloud access for first responders, critical medical and safety organizations, and emergency services. In that line, the company started tweaking cloud services to non-essential solutions.
As the blog post highlighted, Microsoft is working to support all customers but especially in critical health and safety organizations, not only in the United States but also across the globe. It is providing the cloud services and tools needed to support operations during the Coronavirus pandemic crisis.
In a recent Xbox support note, the company announced moderation in streamline and custom uploads, including turning off the ability to upload gamerpics, club pics, and club backgrounds. Existing custom Xbox gamerpics will work fine.
Walter Silin, CEO at born-in-the-cloud technology solution provider The Bauen Group, acknowledges that the COVID-19 crisis will change the labor market forever as companies will modify the way they interact with their staff and other organizations.
The current rise in cloud services is a sign of changing times and a powerful tool to fight against global threats such as the coronavirus pandemic outbreak. People need to stay home, and cloud-powered services are giving them tools to maintain their productivity. It is just the beginning; the whole job landscape and way of companies interacting are changing forever.
Microsoft Equities Analysis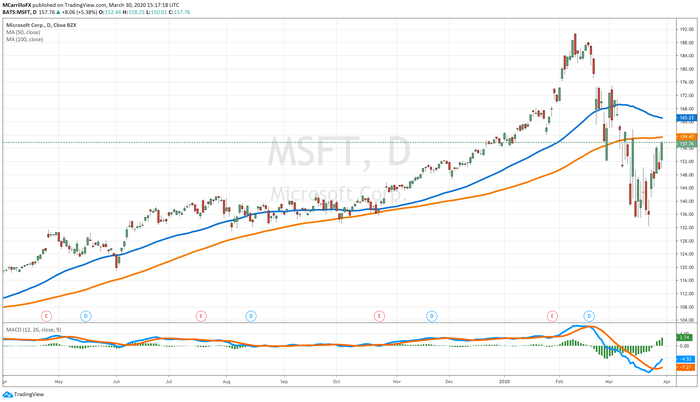 MSFT daily chart - Microsoft shares in the last year to March 30 2020
Shares of Microsoft are trading higher this week, including a jump of over 5% in the price of MSFT just on Monday. The catalyst behind the move is the surge in cloud services usage and the company position in the current coronavirus crisis.
Just in the last week, MSFT rose almost 20% from the 132.50 traded on March 23 to the current 158.50 on March 30. The unit is now testing the 100-day moving average level, so it is taking a pause, but it looks like it is just the beginning of an uptrend.
As TheStreet analyst Michael Wiggings de Olivera pointed in a recent article, Microsoft is perfectly positioned to weather a recession. He highlighted that despite valuation has been hit during the past few weeks amid an overall risk aversion environment, Microsoft's diverse operations and cash-rich balance sheet are a solid base for future rises.
As the world continues to digitize, Microsoft's leadership in numerous critical verticals means that it's very well suited to navigate the economic downturn. As investors flee to safety, Microsoft makes for a highly compelling investment.
In that framework, MSFT would see resistance at 159.50, where the 100-day moving average lies right now. Above there, check 160.00 as a critical level to break if the share wants to consolidate gains in the middle term. Then, it would have free wat until the 170-172 area.
Meet The Author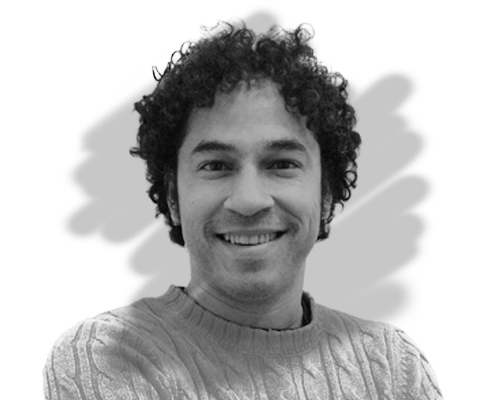 Mauricio Carrillo
Senior Reporter
Mauricio is a newer member of the team and a very welcome addition. He is a financial journalist and trader with over ten years of experience in stocks, Forex, commodities, and cryptocurrencies. This experience means he has an excellent understanding of the markets and current events.
Investing News


Dec 10th, 2020 - 4:32 PM (GMT)


Dec 9th, 2020 - 4:47 PM (GMT)


Dec 4th, 2020 - 4:58 PM (GMT)
Related Pages