Euronext Buys Borsa Italiana; Confirms Pan-European Plans
Oct 9th, 2020 - 3:41 PM (GMT)
Category - Investing News
34

Views Today
Euronext, the largest stock exchange in Europe, has confirmed its expansion plans after announcing the acquisition of Borsa Italiana Group in a deal worth 4.3 billion euros, or 5.1 billion dollars.
According to a press release published by the French based operator, the purchase of Borsa Italiana is another step of its plans for consolidating a leading pan-European market infrastructure.
The press release says:
Creation of the leading player in European capital markets infrastructure, strengthening Euronext's leadership in European cash equities, while adding significant capabilities in fixed income trading and increasing post trade activities with a fully-owned, multi-asset clearing house and a scale CSD, widening of the product offering across the value chain and deepening of the liquidity pool to bring significant benefits for European capital markets and the Italian financial ecosystem.
According to the operator, as Borsa Italiana reported €464 million revenue and €264 million EBITDA in 2019, it will become Euronext's largest revenue contributor.
The deal expects to generate a total of 60 million euros pre-tax run-state synergies in 2023 and "to be double digit accretive in year 3 after synergies." Investors will see a positive impact on adjusted EPS immediately.
On the back of the deal, "Euronext will significantly diversify its revenue mix and its geographical footprint by welcoming the market infrastructure of Italy, a G7 country and the third largest economy in Europe," Euronext CEO Stéphane Boujnah said.
London Stock Exchange Sells Borsa Italiana as it Focuses on Refinitiv
LSE accepted the selling of Borsa Italiana as it would generate significant capital gains from the 1.6 billion euros paid in 2007 when it bought the Italian exchange.
In that line, "the deal could bring LSE a step closer to winning approval for its $27 billion purchase of data provider Refinitiv, which is 45% owned by Thomson Reuters, the parent company of Reuters News. LSE put Borsa up for sale to alleviate the European Commission's concerns about its control over the European bond market," As Maya Nikolaeva, Rachel Armstrong pointed out in a Reuters' article.
Euronext Stock Analysis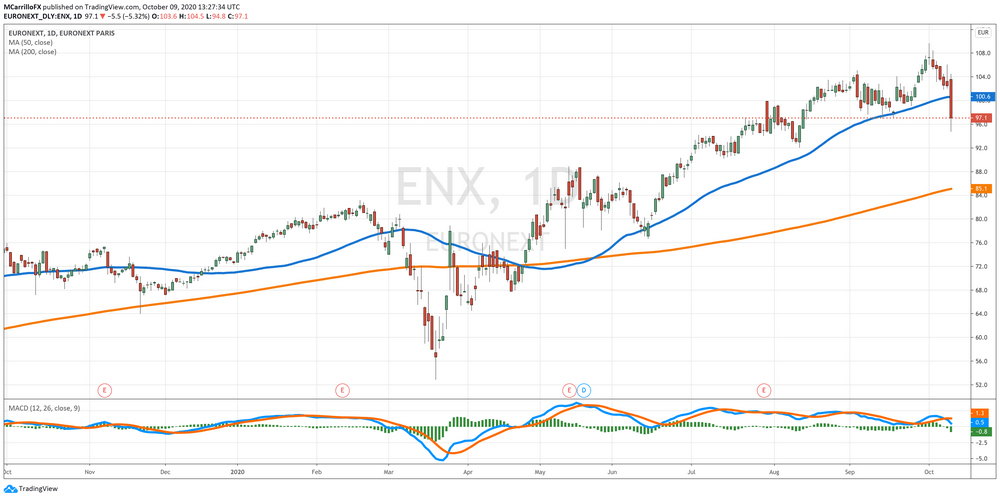 Shares of Euronext reacted negatively following the news of the Borsa Italiana acquisition. On Friday, ENX is trading down for the sixth day in a row, confirming rejection of the 109.70 euros per unit level.
ENX traded at minimums since August 12 at 94.80 euros per unit on Friday. Now, Euronext is exchanged at 97.10 euros per share, which is 5.32 percent down on the day.
Technical conditions are unfavorable for the stock with MACD now pointing down and momentum accelerating to the south.
Meet The Author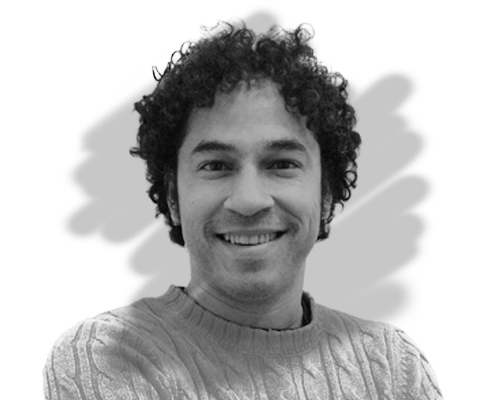 Mauricio Carrillo
Senior Reporter
Mauricio is a newer member of the team and a very welcome addition. He is a financial journalist and trader with over ten years of experience in stocks, Forex, commodities, and cryptocurrencies. This experience means he has an excellent understanding of the markets and current events.
Investing News


Dec 10th, 2020 - 4:32 PM (GMT)


Dec 9th, 2020 - 4:47 PM (GMT)


Dec 4th, 2020 - 4:58 PM (GMT)
Related Pages