NVIDIA Rallies on Data Center Sales And Price Target Increases
Aug 18th, 2020 - 4:13 PM (GMT)
Category - Investing News
36

Views Today
NVIDIA is trading strongly bullish this week as experts are expecting a better than anticipated quarterly report, including the confirmation that data-center sales have surpassed gaming for the first time. In addition, several rating agencies have lifted NVDA stock price targets.
American multinational technology company NVIDIA is scheduled to release its corporate results for the second quarter of 2020 today after the bell. It is expected to have strong sales in gaming, data center, and overall chip departments.
Today, experts are anticipating a crucial shift in balance, and core business for NVIDIA as Wallace Witkowski from MarketWatch said in a recent article.
Witkowski highlights:
Up until now, Nvidia's gaming segment has always been its largest source of revenue, but that's expected to have changed significantly with the second quarter.
This data would be the confirmation that NVIDIA is in the crossroads of several industries that are expected to boom in the next few years. The chipmaker is well positioned in business like cryptocurrency mining, data centers, automated driving cars, and next generation gaming.
NVIDIA was always viewed as a long term bet with immediate results, and the company confirmed it every single quarter in the past years with strong business and revenue growth. However, the COVID-19 pandemic has accelerated everything, and it looks that the company based in Santa Clara, California, is at the core of every technology segment.
Analysts at Rolland said:
While Intel and others prognosticate a 2H data center slowdown, we believe the setup remains more favorable for NVIDIA, helped by the relatively new launch of the A100.
In the end, it is one of the most important chip makers in the world, powering hardware made by tech titans like Apple, Microsoft, Tesla, and Google, but also traditional companies such as Porsche, Goldman Sachs, and Sony.
NVIDIA's GeForce Cloud Gaming Services Available in Chromebooks
Today, NVIDIA launched GeForce Now cloud streaming service for Chrome OS, providing access to new games to all chrome laptops users.
Cameron Faulkner from The Verge tried the new service, and he said in a recent article that "it is pretty good, even if you barely meet the requirements."
What's cool about the beta is that Nvidia isn't preventing any Chromebook user from going to play.geforcenow.com and giving it a try themselves, although the company does offer some recommended specs that it says ensure a good experience.
With this new move, NVIDIA is increasing its potential user base.
NVIDIA Gets Price Target Increases
Experts are monitoring NVIDIA, and they like what they see. In that framework, several companies have raised price targets for the NVDA stocks just ahead of today's corporate earnings report.
Oppenheimer raised the price target from $400 to $500
Susquehanna increased the price target from $450 to $540
Wells Fargo improved the price target for NVIDIA to $510 from $430
BMO raised its price target on Nvidia from $425 to $565
The Street Quant Ratings considers NVDA as a share to "buy" with a target price of $600,76.
Analysts at TheStreet said:
The gross profit margin for NVIDIA CORP is rather high; currently it is at 68.57%. It has increased from the same quarter the previous year. Along with this, the net profit margin of 29.77% is above that of the sub sector average.
Credit Suisse has NVDA as an "outperform" stock with a 12-month target price of $425. The firm is waiting for the result to decide on potential increases in price targets.
However, Credit Suisse says:
We continue to see NVDA as the best secular growth stock in Semis with an almost open-ended TAM enabling AI, protected by first movers advantage and wide/deep moats in both silicon AND software – providing for continued upside to both earnings and multiple. Reiterate Outperform.
NVDA Shares Analysis: NVDA Test The $500 Area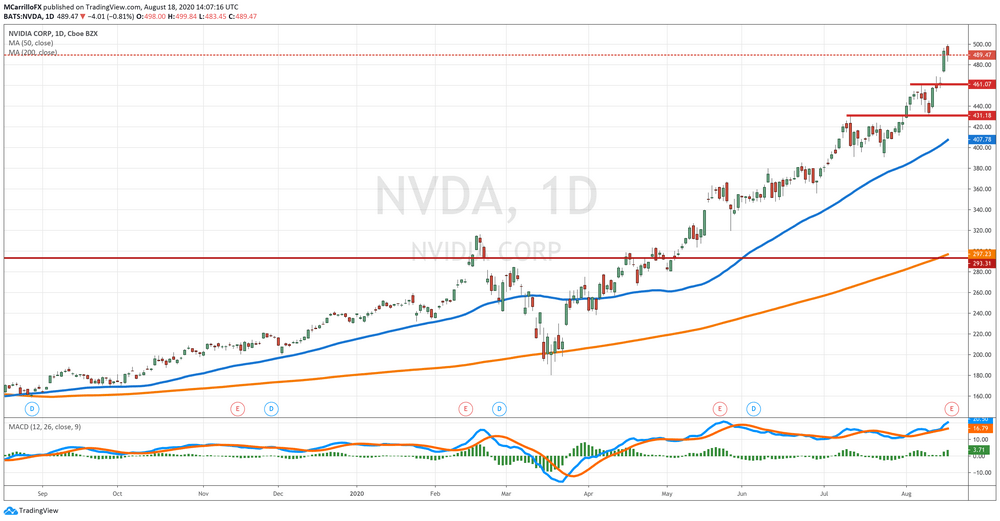 Shares of NVIDIA are trading lower on Tuesday as investors are digesting Monday's rally and today's all time high of $500.
In a profit taking movement, NVDA is expected to have experienced a consolidation phase above $460.00. But overall, the chart looks bullish.
From the technical approach, NVDA condition is strong and indicators suggest that the bullish trend remains healthy. MACD is bullish, momentum and RSI is strong, and moving averages are aligned to the north.
Meet The Author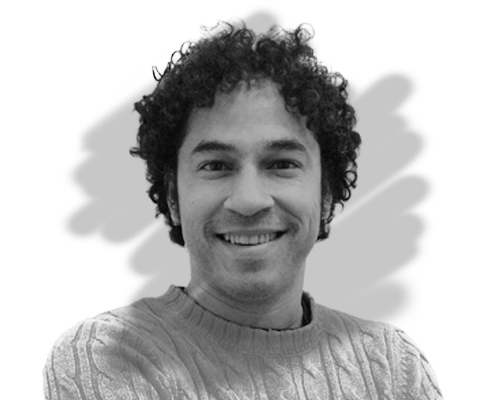 Mauricio Carrillo
Senior Reporter
Mauricio is a newer member of the team and a very welcome addition. He is a financial journalist and trader with over ten years of experience in stocks, Forex, commodities, and cryptocurrencies. This experience means he has an excellent understanding of the markets and current events.
Investing News


Dec 10th, 2020 - 4:32 PM (GMT)


Dec 9th, 2020 - 4:47 PM (GMT)


Dec 4th, 2020 - 4:58 PM (GMT)
Related Pages