Shopifys Sellers to be Integrated Into Walmarts 120M User Marketplace
Jun 16th, 2020 - 2:48 PM (GMT)
Category - Investing News
40

Views Today
E-commerce shopping software company Shopify and Walmart announced a new partnership to integrate its over 1 million small businesses into the 120 million monthly visitors online marketplace of Walmart.
The goal for Shopify is to bring 1,200 Shopify sellers to Walmart marketplace in 2020, and more in the years to come. A shy target, however, for most experts, it is "a direct shot at Amazon," the giant online seller conglomerate.
The deal arrives in a no better time with the COVID-19 pandemic pushing online marketplaces to the sky and beyond.
A Deal For The COVID-19 Pandemic Age
According to the company's Q1 2020 revenues report, online sales in Walmart rose by 74% in the first quarter of the year as customers ran to buy essential goods like food and cleaning products due to COVID-19 concerns.
Everybody remembers the toilet paper crisis around the world in February and March. Well, in the United States, the same happened and among other products, Walmart made a lot of money from extra concerned customers.
The growth positioned Walmart as the second choice for online customers behind Amazon. Now, its partnership with Shopify is providing a modern, contemporary look to an old giant. Also, Walmart will get access to Shopify's user base and its cool, digitally-native brands.
Jeff Clementz, Vice President, Walmart Marketplace, said in a press note:
As we launch this integration with Shopify, we are focused on U.S.-based small and medium businesses whose assortment complements ours and have a track record of exceeding customers' expectations.
In the same line, the vice president of Product at Shopify, Satish Kanwar, affirmed in another press release that Shopify is focused on helping entrepreneurs to take your products from the idea to a business.
Kanwar said:
By partnering with Walmart, we will be able to connect merchants with consumers across America within a trusted marketplace, helping merchants drive new sales while consumers discover new products they'll love.
How to Sell Products in Walmart
If you are a Shopify customer, you have only to install the Walmart marketplace app from Shopify's app store and check your eligibility. After being approved, you will be able to add unlimited products to the Walmart marketplace.
All editions and changes on your products or inventory will be automatically reflected in the marketplace.
According to the Shopify press release, by activating Walmart channel, merchants will have the three following key differentiators:
Inventory and order management from within Shopify
Bulk editing marketplace listings
No additional monthly fees
Returns? You can set your returns by email or just leave your package in your closest Walmart store. Easy peasy!
TechCrunch reporter Sarah Perez goes beyond the news and the impact on Amazon as she believes it could be a bold move and anticipation of "a potential Shopify acquisition further down the road."
Perez highlights the purchase of Shopify as one of the most significant options that Walmart has to compete against Amazon.
But in the near-term, it turns Shopify's seller network from one that rivals Walmart's Marketplace to one that now fuels it. Over time, this can boost Walmart's bottom line as it will benefit not only from marketplace listing fees but also from the increased traffic and sales that marketplace items will bring.
Shopify Shares Jump on The News of The Agreement With Walmart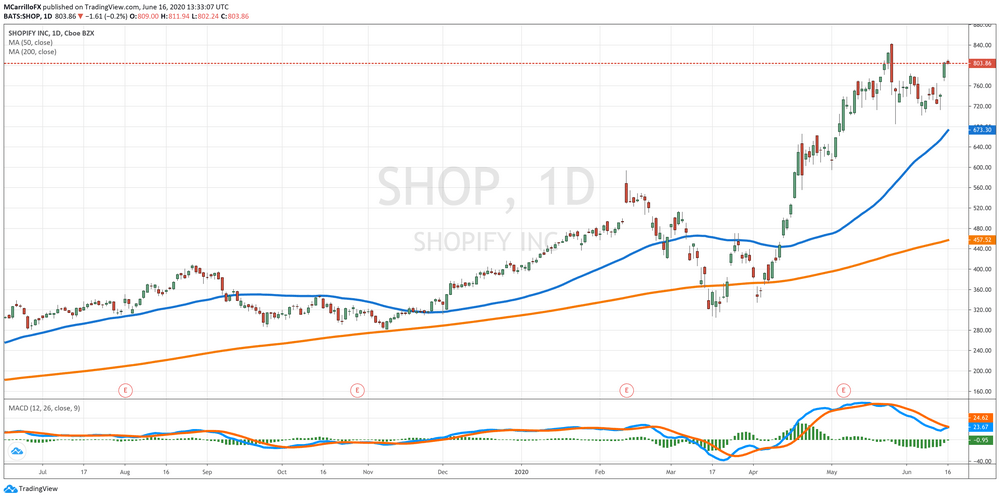 SHOP, the share of Shopify, is extending on Tuesday the rally performed on Monday following the news about its new partnership with Walmart.
After jumping 8.47% to $805.47 on Monday, SHOP is now trading around $807.45, which is 0.25% positive on the new session. Besides the rally, significant is the break above the $780 level performed Monday. It was a definite upside breaking event.
Technically, bullish conditions for SHOP are healthy and indicators suggest the unit should keep the uptrend intact. Volume indicates that Shopify is under accumulation, and moving averages are aligned to the upside.
Walmart Recovers Ground After Finding Support at $117.00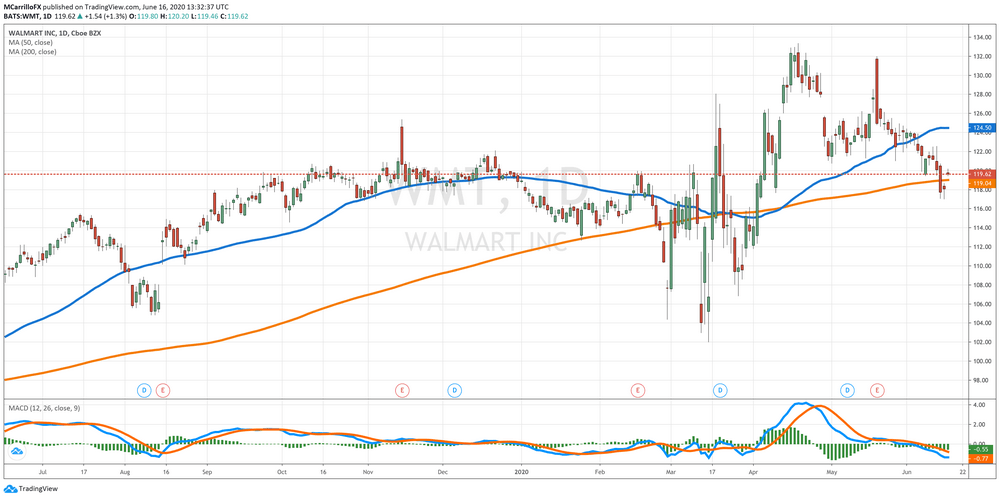 On the other hand, Walmart didn't react as positively as Shopify on Monday, but it did find support in the $117.00 area. On Tuesday, WMT is trading positive 1.75% as the unit has recovered the $120.00 level, at least for now.
The chart pattern looks bearish for Walmart; however, indicators suggest a neutral position in the middle term. The unit broke below the 200-day moving average on June 12, which is at 119.01. WMT needs a close above that level to provide reasons to start believing in a sustainable recovery.
Meet The Author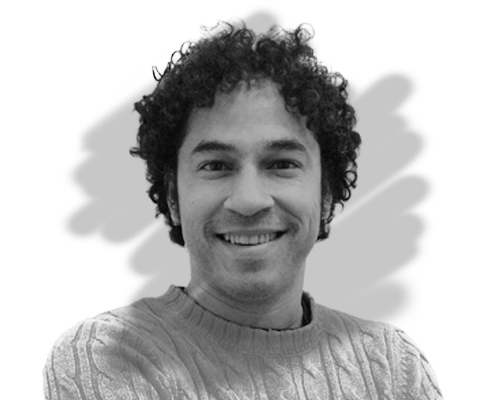 Mauricio Carrillo
Senior Reporter
Mauricio is a newer member of the team and a very welcome addition. He is a financial journalist and trader with over ten years of experience in stocks, Forex, commodities, and cryptocurrencies. This experience means he has an excellent understanding of the markets and current events.
Investing News


Dec 10th, 2020 - 4:32 PM (GMT)


Dec 9th, 2020 - 4:47 PM (GMT)


Dec 4th, 2020 - 4:58 PM (GMT)
Related Pages