Zoom Reports a 3,330% Profit Jump And ZM Shares Jump
Sep 2nd, 2020 - 4:37 PM (GMT)
Category - Investing News
36

Views Today
American communications technology company Zoom published an outstanding 3,330 percent jump in its profits between the first and the second quarter of 2020, according to a press release issued by the company.
Zoom Video confirms, in this way, its condition as one of the champions of the COVID-19 pandemic new world. As you may have noted, the world is an entirely different place after the advent of the COVID-19 pandemic, and with all work and study from home measures, Zoom has cashed out.
The Zoom numbers are critical not only to the company itself but for all the work-from-home industry. The world has indeed been making steps into a global digitalization and virtual reality spheres where people can stay wherever they want and, at the same time, communicate with others in real time is more common every day.
Most companies are rethinking its idea of huge working hubs, and even big cities such as New York or London are seeing how their citizens start moving to more rural areas.
In the end, as far as you have a reliable connection, you will be in the new "real world." Well, Zoom is one of the most prominent exponents in this new world. And it is just the beginning.
Todd Shriber, Benzinga Staff Writer, agrees with the importance of Companies like Zoom in the new world.
Plenty of big-name companies are looking to fill remote roles and plenty of employees are finding they enjoy the home office life. It's no wonder so many market observers are concerned about the fate of office real estate in this country. That's a win/lose scenario whereby the winners are clearly some WFH components.
The Right Place at The Right Moment
Based in San Jose, California, the company also smashed market expectations in almost every single line, including revenue and earnings. And now it is trading near its all time highs.
Zoom's CEO Eric Yuan highlighted that remote work has accelerated in the last months, and the future looks like a work and learn anywhere society.
Yuan said in the earnings call:
As remote work trends have accelerated during the pandemic, organizations have moved beyond addressing immediate business continuity needs to actively redefining and embracing new approaches to support a future of working anywhere, learning anywhere, and connecting anywhere.
Zoom Video Second Quarter Numbers
Zoom reported a Non-GAAP earning per share of 0.92 dollars in the second quarter. It is a beat of 0.47 dollars from the market's estimate. GAAP earning per share was 0.63 dollars, 0.26 dollars above expectations.
Revenues in the second quarter rose 355 percent in the year to 663.5 million dollars in the second quarter. It was a beat of 163.13 million above the 5000 million expected.
The company revealed two essential details in its Q2 results: the number of customers contributing more than 100 thousand dollars and number of employees with more than ten employees.
The report says:
Number of customers contributing more than $100,000 in TTM revenue up 112% year-over-year. Approximately 370,200 customers with more than 10 employees, up 458% year-over-year.
According to its financial outlook, the company expects another great period in the third quarter and a full 2020 better than initially anticipated.
Zoom expects revenues of 685-690 million dollars, above the previously expected of 492.9 million dollars, and an EPS of 0.73-0.74 dollars, considerably above the consensus of $0.35.
Zoom Video Stock Analysis - ZM Price Action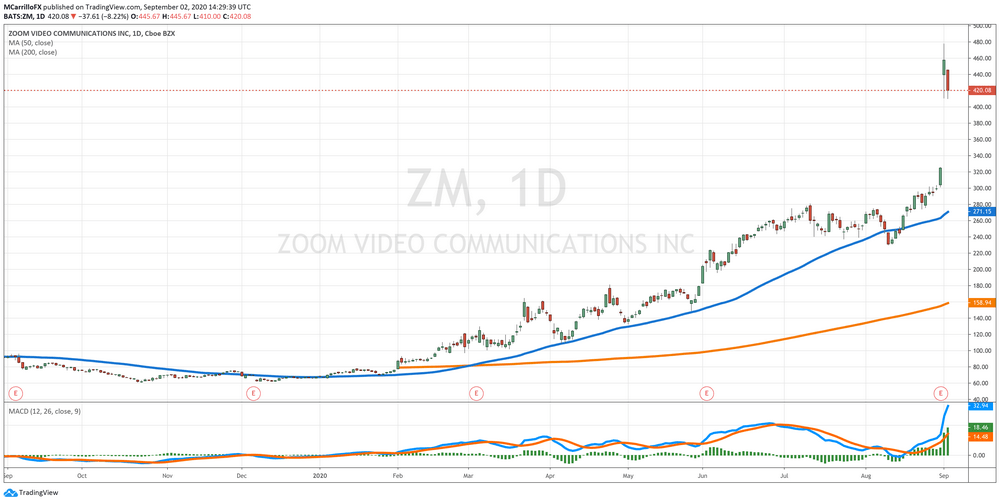 Shares of Zoom are trading down on Wednesday as investors digest Tuesday's 40 percent rally as a reaction for the corporate earnings report.
On Tuesday, ZM rose to its all time high at 478.00 dollars per unit. Then it retraced a bit to close the day at 457.69 dollars, 40.78 percent in the day. On Wednesday, Zoom is trading lower on a clear consolidation and profit taking phase. Currently, ZM is trading at 420.66, which is 8.47 percent down on the day.
Finally, It is just because the numbers that Zoom shares rallied on Tuesday? Yes, and no. ZM investors believe people will be Zooming in the short and long term even after the COVID-19 pandemic calms down. No matter if they stay remote or return to the office.
Meet The Author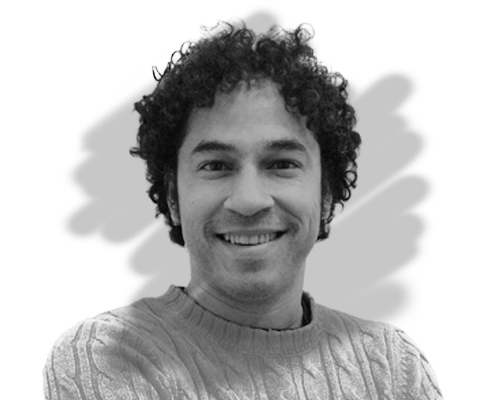 Mauricio Carrillo
Senior Reporter
Mauricio is a newer member of the team and a very welcome addition. He is a financial journalist and trader with over ten years of experience in stocks, Forex, commodities, and cryptocurrencies. This experience means he has an excellent understanding of the markets and current events.
Investing News


Dec 10th, 2020 - 4:32 PM (GMT)


Dec 9th, 2020 - 4:47 PM (GMT)


Dec 4th, 2020 - 4:58 PM (GMT)
Related Pages