BDSwiss Review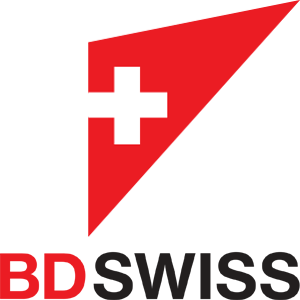 Introduction
Updated Feb, 2020
Category - Reviews
69

Views Today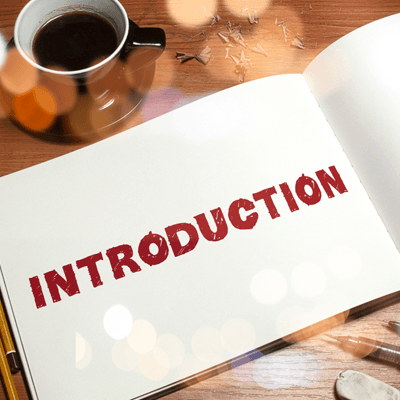 Licensed and regulated by CySEC and established in 2012, BDSwiss originally began as a binary options broker. In recent years, they have diversified into Forex and CFD trading and, as a popular choice among traders, have continued to grow their popularity as a safe and reliable platform.
There are several reasons that BDSwiss continue to be popular with their traders with numbers now exceeding 700,000. One of these is the technically advanced, MT4 trading platform. In addition to this they offer excellent customer support, various trading features like a free demo account and good spreads and payouts.
Even though they may have a reputation for an excellent all-round trading experience, you may still have questions about whether this is the right broker for you. We have reviewed numerous Forex brokers so that we can offer you a detailed and unbiased analysis of the benefits of using them. Our team of experts investigate all aspects of trading to bring you this information so that you can make an informed decision.
In this review, you will learn:
What BDSwiss offers their many Forex traders
Details of the platform and what to expect
The types of accounts and bonuses they offer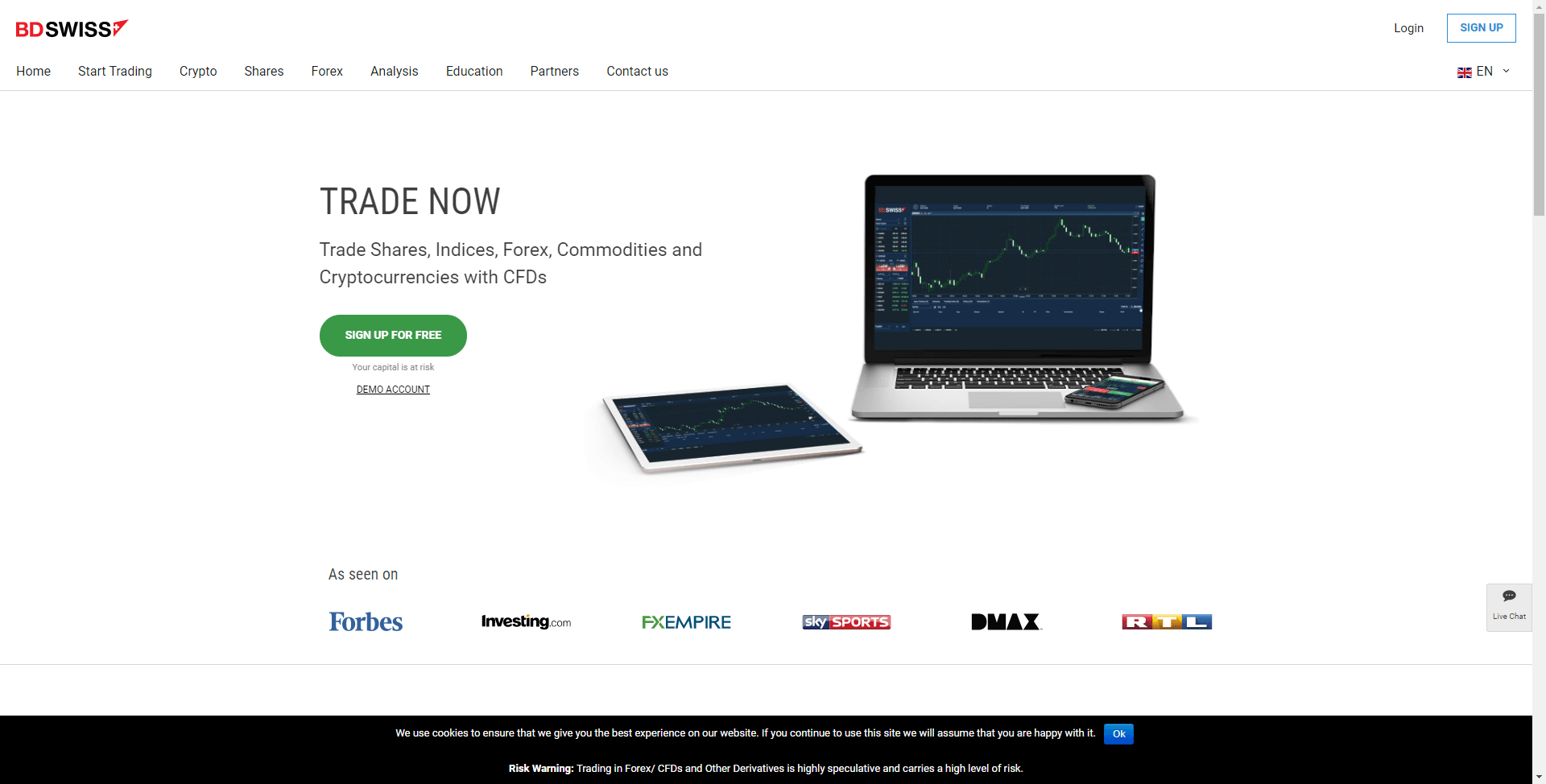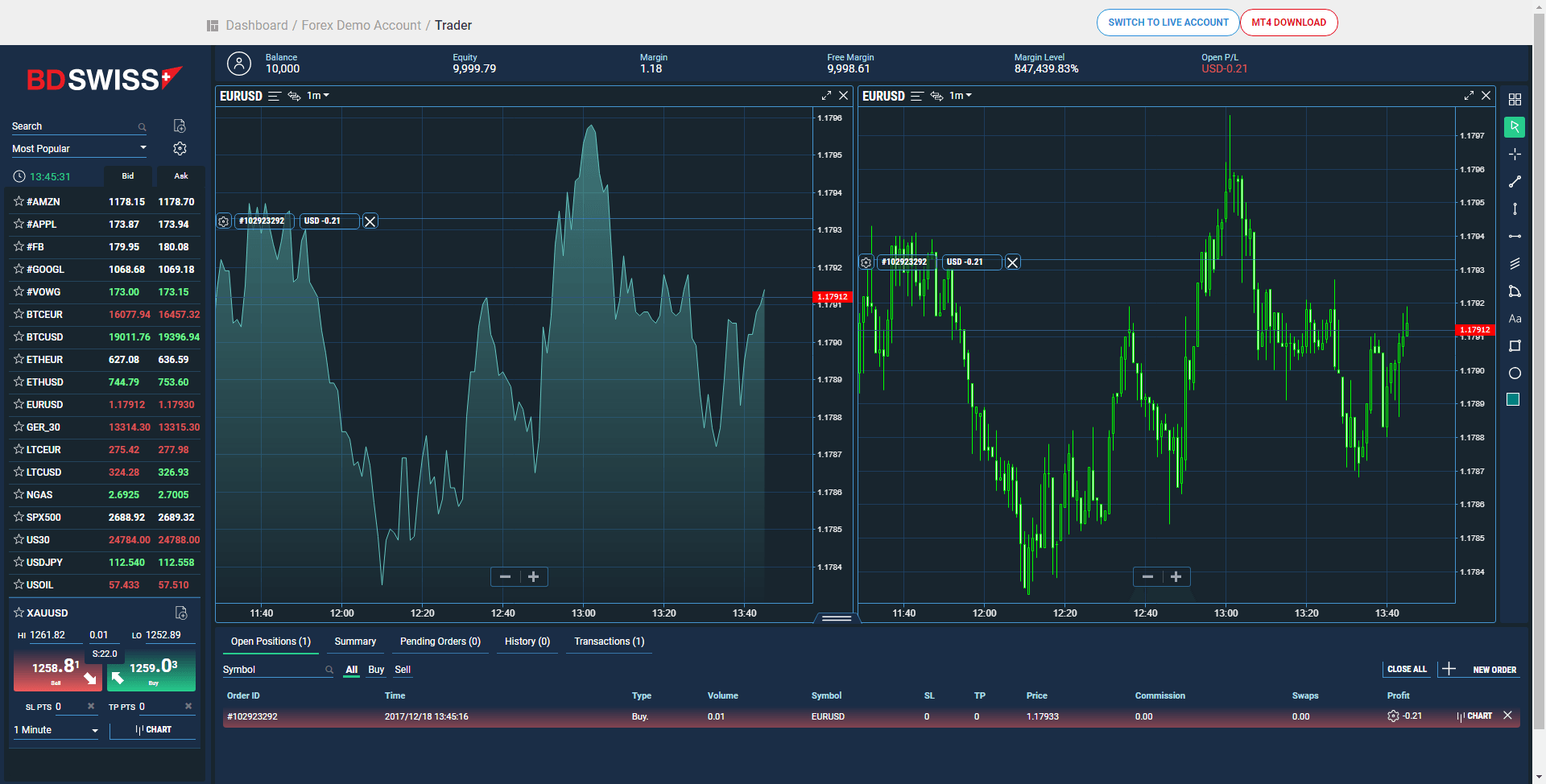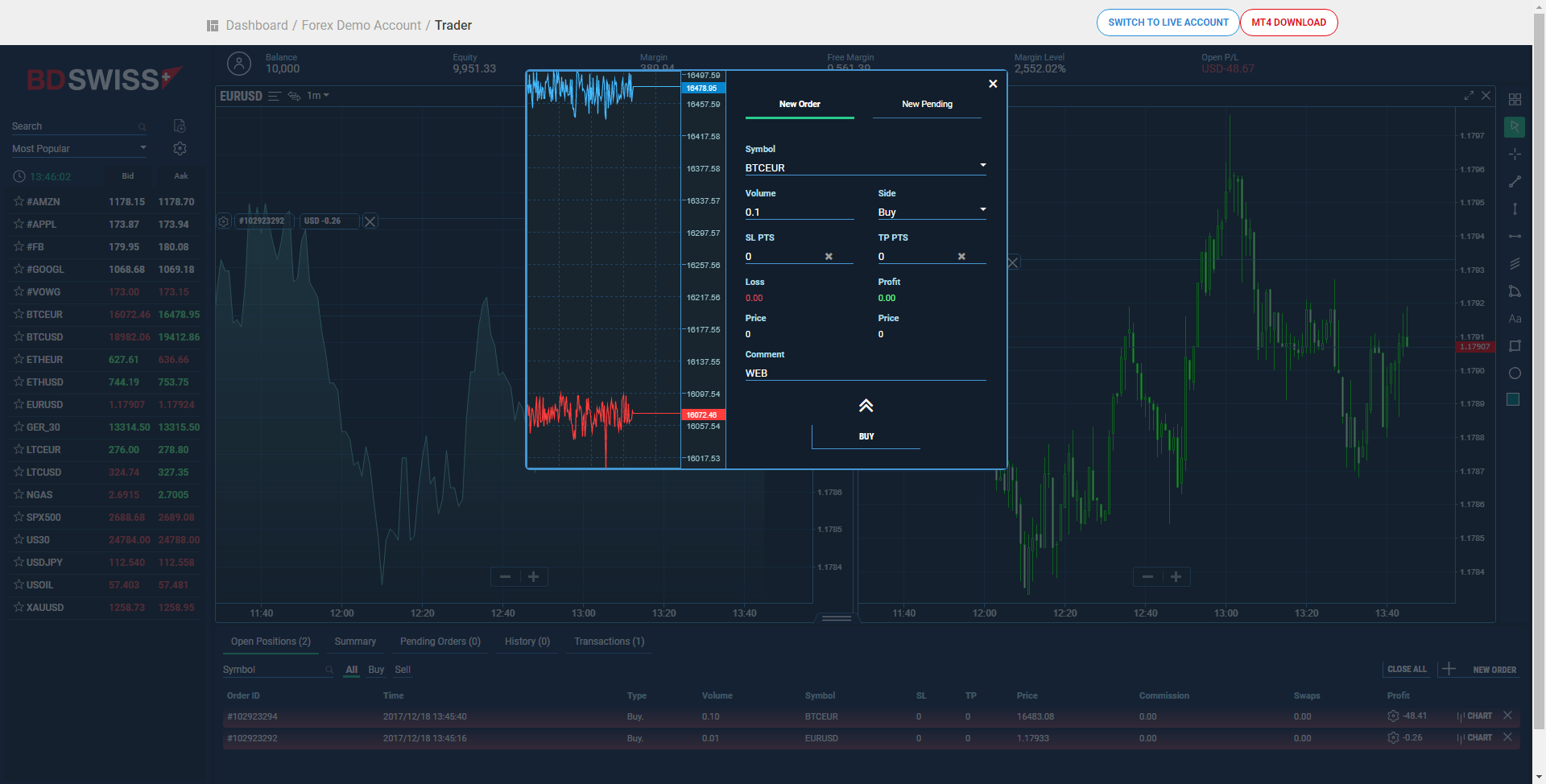 Risk Warning
/
Ad Disclosure
Risk Warning: The products offered by the companies listed on this website carry a high level of risk and can result in the loss of all your funds. You should never risk money that you cannot afford to lose.
Ad Disclosure: Some of the links that you will find on this website are advertisements for which we do receive financial gain from referring new customers.
Account Types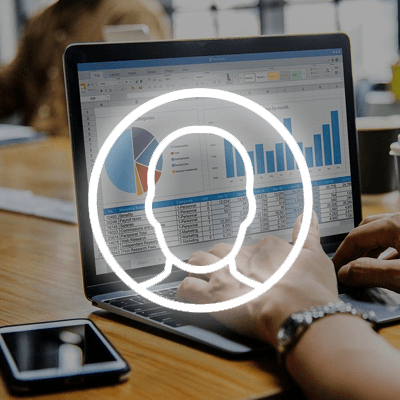 There are two types of accounts available from the broker; the Basic Account and the Black Account. They offer many similar benefits, but these are increased with a Black Account.
Basic Account
This account requires a minimum deposit of $200 and offers average spreads of 1.3. The leverage available is up to 1:400. There is a minimum lot size of 0.01.
Black Account
To open a Black Account, you need a deposit of $10,000. This account offers many benefits not available with the Basic Account and offers spreads on average of 1.0. The same leverage of 1:400 is available. The minimum lot size is 0.1
Demo Account
Use the demo account to use the simulated version of the platform before you commit any funds. This is a free account which requires your email address and a few other details.
Trade Features And Payouts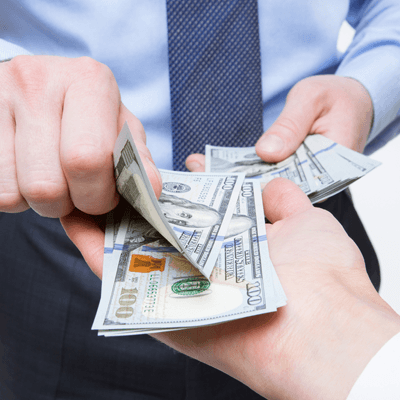 While there may be only one type of trading account, there are several trading features available on the BDSwiss trading platform. We take a look at what you can expect:
Leverage
For traders with small balances, you can grow your capital by using leverage. This will enable you to multiply your investment and build up your capital. The leverage offered by BDSwiss is 1:400. You should be aware though that your investment is at risk and that you should be confident in what you are doing.
Spreads
The broker offers good spreads with no commission, and this information is highly visible on their website. The live newsfeed and prices mean that you can get access quickly to the data. If you scroll to the bottom of their main Forex page you can see, for example that EUR/USD offers spreads from 1.0 pips while GBP/USD offers spreads from 1.6 pips.
Stop Loss
To protect your profit, the broker offers Stop Loss. What this means is that you can set an auto close position so that when your price levels are reached, your trade will automatically close.
Platform Types
BDSwiss uses the MT4 trading platform which is one of the industry-leading technologies. They couple this with the BDSwiss interface to give traders the best experience. They offer it in several formats; MT4 for web, Windows, Mac, Android and IOS. This is excellent news if you want to trade on the go from a mobile device.
The BDSwiss platform is fully optimised for all types of mobile device.
Bonuses And Promotions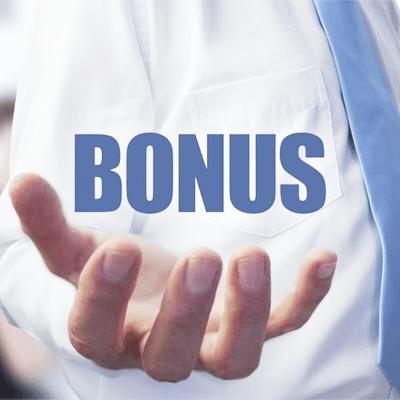 Unlike most brokers there are no bonuses offered by BDSwiss. If this is important to you and your trading experience then they may not be the broker for you however you do need to look at the bigger picture here. They seem to focus all of their efforts into the trading experience and making it accessible to all traders. If it is an excellent all-round trading experience that you are looking for, then they more than make up for their lack of bonuses.
If you are looking to be able to try the platform before you commit funds then they do offer a free demo account. While this won't give you access to the live trading platform, it will allow you to practise trading so that you can familiarise yourself with everything
Mobile Trading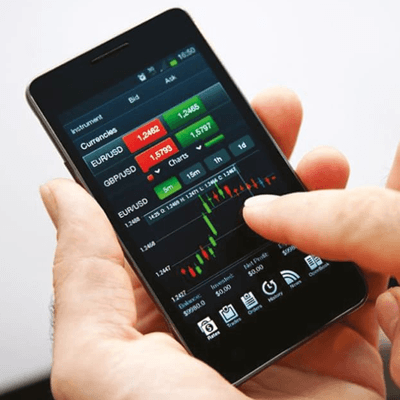 Most of you undoubtedly prefer to trade on the move. Gone are the days of being glued to a laptop during trading hours. Now you can trade wherever you are in the world, as long as you have an internet connection. The BDSwiss platform is optimised for all types of device including Mac, iOS and Android. This means that whether you are trading from a small phone or even a Macbook, you can trade on the go.
If you want to test the platform and ensure that it ticks all of your boxes for mobile trading, then visit the website on whatever device you are using and have a look for yourself.
Deposits And Withdrawals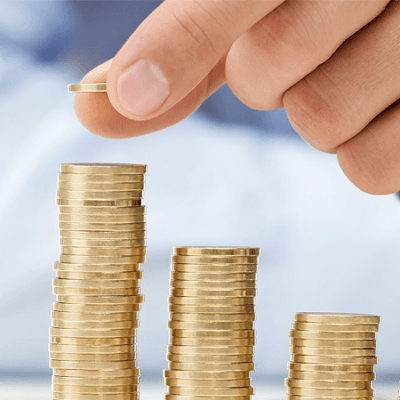 As long as you have a method of making an online deposit then you can sign up, deposit your funds and start trading immediately. BDSwiss accepts many forms of payment including Visa and Mastercard as well as the many electronic wallets like Skrill and Neteller.
When it comes to withdrawals, while BDSwiss offer no commission trading, they do state that there may be some withdrawal fees. This is relatively standard across brokers although not always so prominently displayed. You can find a detailed breakdown of their withdrawals fees on their site so that you don't get any surprises when you request to withdraw your funds. They will be returned to the source of deposit when you do.
Special Features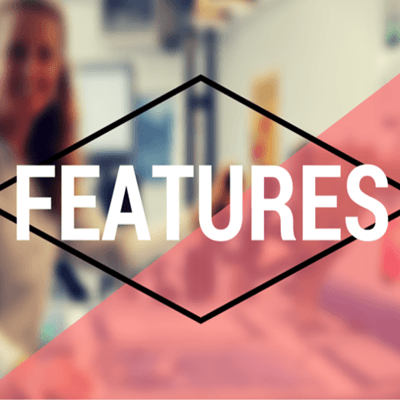 While BDSwiss may not offer several accounts and a variety of bonuses, they do provide several unique features which make them a wise choice for many:
Appropriateness test so that you can be tested for your suitably to trade
Free demo account, enter your email address to begin trading
Live prices feed which is displayed on the Forex main page of the website
Trending Pages
Customer Support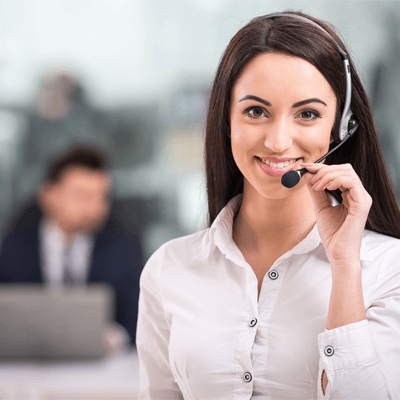 There are several ways that you can get in touch with the customer support team. Their support is available in 20 different languages. You will notice a live chat link at the bottom of the screen. This will open up a chat box for you to speak to someone about any questions or queries you might have. There are also several telephone numbers so that you can contact someone by phone. In addition to this there is a support email address.
If you visit the contact page you will see the various options for contacting the broker which includes their postal addresses, fax and a contact form for you to select your reason for contacting them and multiple fields to input your information. It is always a good sign when the broker is so visible.
Here are the contact details for BDSwiss:
Email - [email protected]
Phone - +44 203 670 5890
Address - BDS Markets Ltd, 6th Floor, Tower 1, Nexteracom Buidling 72201 Ebene, Mauritius
Conclusion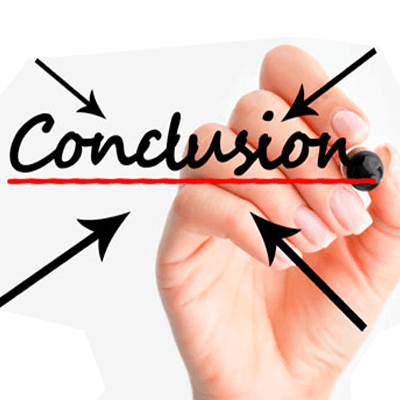 BDSwiss is a serious contender when it comes to Forex trading. They have worked hard to establish themselves as a reliable and reputable broker and have built a strong, technically advanced platform. Their visibility and number of ways in which to contact their customer support team is also a strong sign of a good broker.
They offer competitive spreads and payouts with no commission and several currency pairs in which to trade. They are also committed to making sure that you know what you are getting into and that you understand the risks of trading. While there are no bonuses, their free demo account means that you can try the platform before you make a decision.
Risk Warning
/
Ad Disclosure
Risk Warning: The products offered by the companies listed on this website carry a high level of risk and can result in the loss of all your funds. You should never risk money that you cannot afford to lose.
Ad Disclosure: Some of the links that you will find on this website are advertisements for which we do receive financial gain from referring new customers.
Meet The Author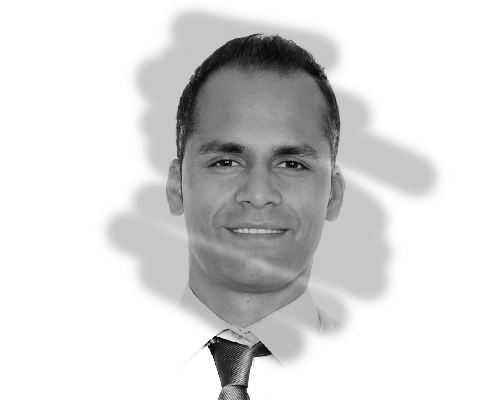 Ben Morratt
Portfolio Manager
Ben's contributions as a freelancer to the site since 2013 are highly valued. He has a real talent particularly within short-term speculation, making many successful trades on the directions of the global financial markets.
Related Pages
Popular Pages

Other Investing

More Info