Forex.com Review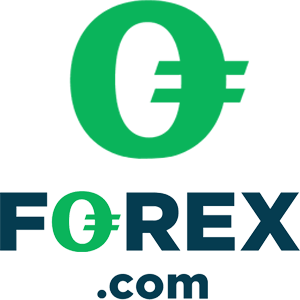 Introduction
Updated Feb, 2020
Category - Reviews
40

Views Today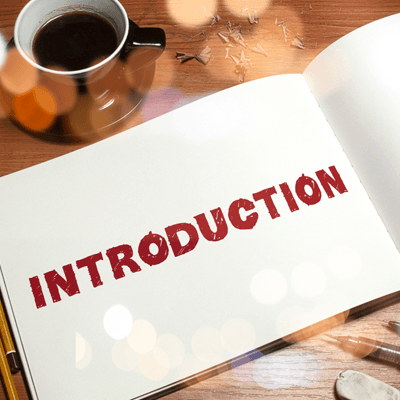 When it comes to experience, Forex.com have a lot. They are owned by Gain Capital Holdings Inc., which was established in the UK in 1999. Forex.com was launched in 2001. Not only are they licensed and regulated by the Financial Conduct Authority in the UK, but they also hold several licenses from regulatory bodies around the world.
Their platform is technically advanced, easy to use and offers a choice of trading platform. From the app for Android and iOS to their choice of web trading platforms, there is a lot to choose from. With many currency pairs available to trade in, they offer competitive spreads and a free demo account. They also ensure that there are educational tools for traders to improve their experience.
So how do you know if Forex.com is the trader for you, and how can you ensure that they offer all of the features that you expect? Our experienced experts research and analyse every Forex broker to ensure you that we bring you the information that you need. What can be challenging to find for you is not a problem for us and we save you time finding the answers to your questions.
In this review, you will learn:
More about Forex.com and their background
The bonuses and incentives that they offer
How to know if they are a reliable broker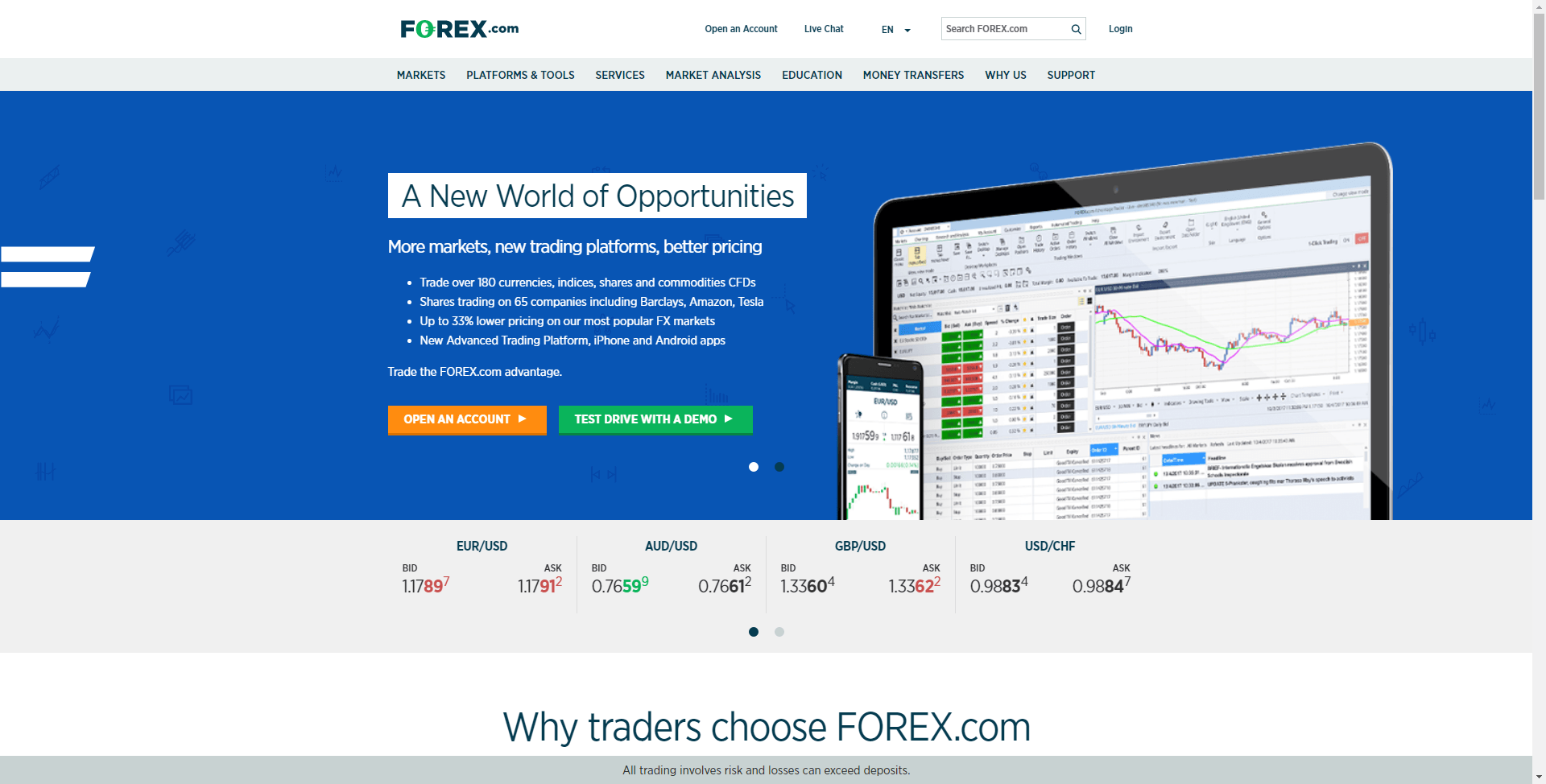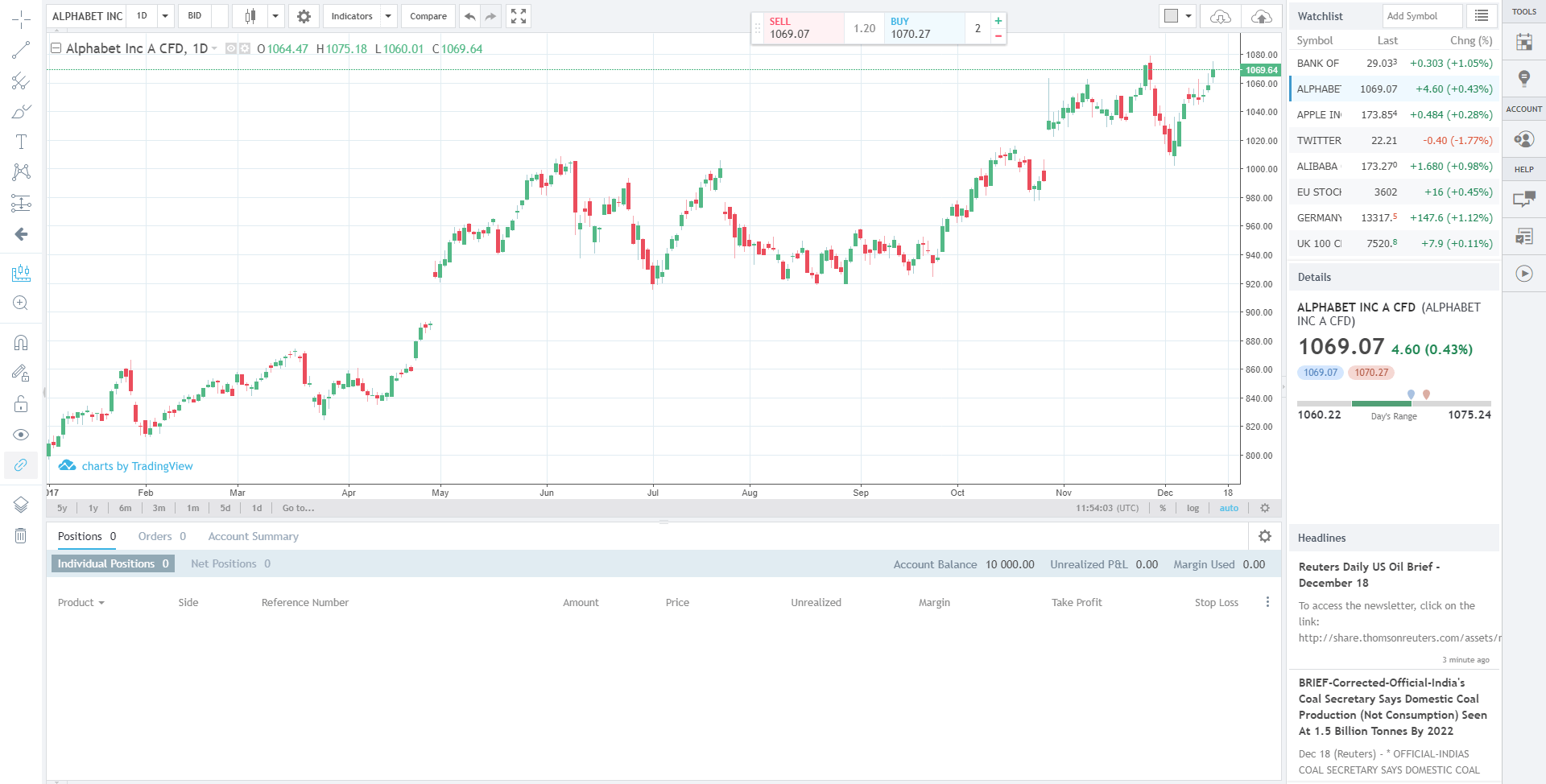 Risk Warning
/
Ad Disclosure
Risk Warning: The products offered by the companies listed on this website carry a high level of risk and can result in the loss of all your funds. You should never risk money that you cannot afford to lose.
Ad Disclosure: Some of the links that you will find on this website are advertisements for which we do receive financial gain from referring new customers.
Account Types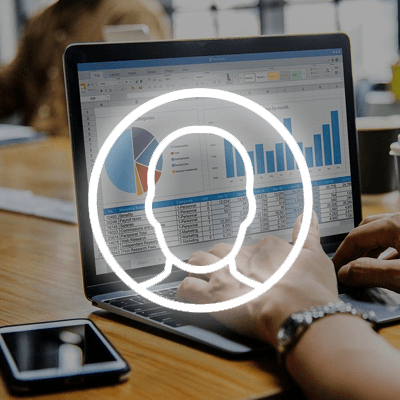 Most brokers offer a choice of accounts. Some only offer one while many offer, two or more. Forex.com don't have a list of fancy accounts. They have just two in addition to the Demo Account for those who aren't quite ready to trade yet:
Standard Account
To open a Standard Account, all you need is an email address and $500. The rest is easy. You open your account and begin trading. The spreads are competitive, and there are plenty of educational tools to help you get to grips with the platform.
Active Trader Account
This account requires a little more deposit. An Active Trader Account requires a $20,000 deposit. In return for this, you have access to a dedicated relationship manager, and the spreads are as low as 0.7 pips.
Demo Account
Forex.com actively encourage you to test their demo account with a link to the platform right below the link to open an account. They state that if you aren't ready to invest yet, you can try the demo account. Their demo account is available to all traders whether you have a real-money account or not and will give you access to $50,000 in virtual funds.
Trade Features And Payouts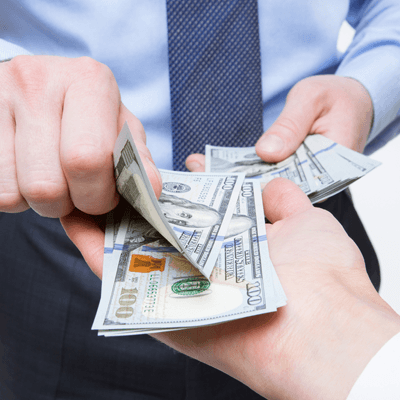 There are many different features offered across the many brokers with varying payouts. The main features to consider are the leverage and the spreads along with whether they offer a Stop Loss and what sort of trading experience they offer. In the case of Forex.com, their features include the following:
Leverage
What is leverage? Well if you don't have a significant capital to invest you can leverage your money or "multiply" it. Forex.com seem keen that their investors don't get themselves into too much of a predicament when trading without experience and that they don't risk too much capital. They keep the leverage low ranging from 1:25 to 1:50 and not 1:400 or 1:500 as you get with some brokers.
Spreads
The spreads range depending on the currencies that you are trading in and the type of account that you have. Looking at an average across the pairs, it would seem that a floating spread of 1.7 pips appears to be the average on the EUR/USD spread and 2.1 pips with the GBP/USD pair. This is with a Standard Account. An Active Trader Account has considerably better spreads.
Stop Loss
The Stop Loss feature is accessible in the "positions" tab in the account manager window. You can set your trade to Stop Loss and Take Profit. This means that when the spread reaches the desired level, the trade automatically stops.
Platform Types
There are a few different types of trading platform available from Forex.com that allow you to trade on either a mobile, tablet or laptop, whether it be Mac or web-based. The first is the FOREXTrader PRO platform. Then there is the industry-leading MetaTrader4, with an app for Android and iOS. Dealbook has also recently been added which allows you to trade from 120+ currency pairs in Forex and other types of trading.
By searching bonus in their search bar, we were able to find a $50 bonus.
Bonuses And Promotions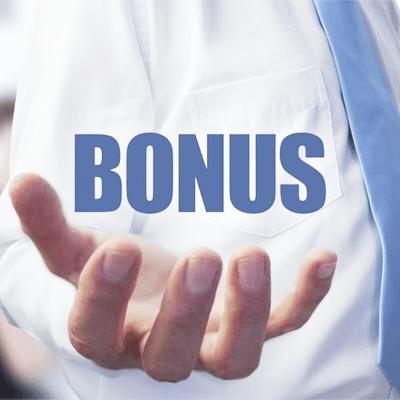 There isn't much evidence of a bonus on the Forex.com website unless you search for it. By typing in bonus to the search bar at the top of the site, we were able to find a $50 bonus and its terms and conditions. The bonus was valid for 6 weeks at the time of writing this review.
To qualify for the bonus, you have to deposit a minimum of $250 in one sum to a qualifying account. The bonus is then credited to the account within five business days of the end of the month in which you make the deposit. There are other terms and conditions applied to the bonus which will you need to read if you want to take advantage of the offer.
Mobile Trading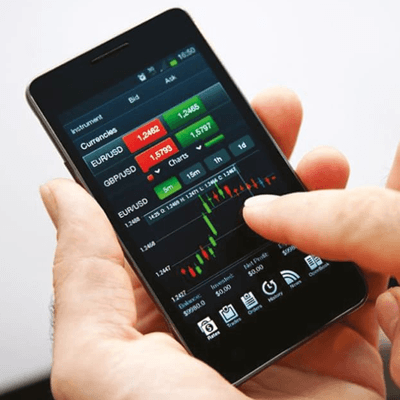 If you prefer to transact on the go then you probably rely on your mobile phone or tablet for quite a lot. When it comes to trading, you don't want to be sat in front of a desktop; you need the freedom to trade on the go just as you do your shopping or banking. When choosing a Forex broker, the platform must be optimised for mobile use.
This can be either via an app that is suitable for both Android and iOS devices or a mobile responsive website that recognises what device you are using and delivers the optimal experience. Many traders prefer to use an app as it doesn't need you to continually sign in, and you can receive notifications on the go. Before you choose your broker make sure you check what sort of mobile trading experience they deliver.
Deposits And Withdrawals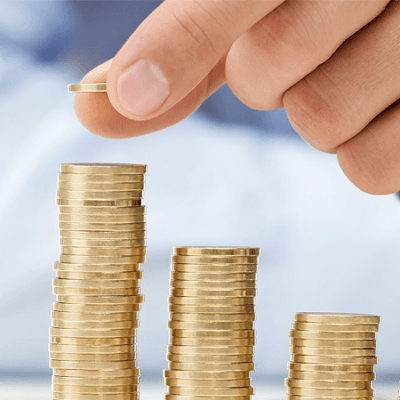 To deposit funds into your Forex.com account, you will need to use a credit or debit card. They also accept wire transfer with a minimum deposit of $30 and a maximum of $10,000. Be advised that wire transfer means that it takes longer for your funds to clear and become available to trade.
Withdrawals are made using the same account that you used to make the deposit. It can take a few days for the funds to reach your account and you may be charged a transaction fee for the withdrawal.
Special Features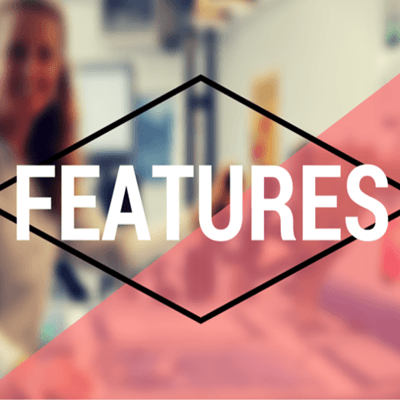 In addition to competitive spreads, a good mobile trading experience and a $50,000 demo account, Forex.com also offer the following:
Tradable, Forex.com's inhouse tools package, is something that can be used by all traders, whatever your level of experience. It comes as a package of apps that are used to enhance your trading experience
Award-winning research and analysis provided by industry experts
Trade orders accepted by telephone in market hours by Forex.com UK
Trending Pages
Customer Support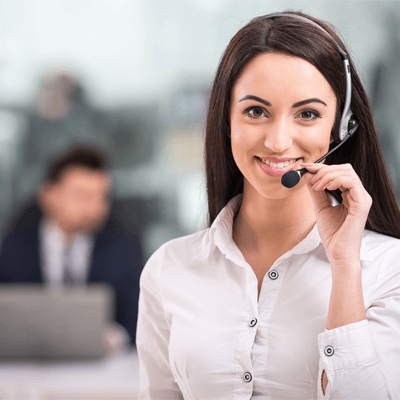 Whatever you need, whenever you need it, the Forex.com customer support team is available 24 hours a day, 7 days a week. The live chat assistant does not automatically up; instead, it allows you to click if you require assistance. There are also the options to email and telephone.
You can contact the Client Support team; the Money Transfers Support team and the Account Opening Department. You can also write to their London address if this is your desired method of communication.
Here are the contact details for Forex.com:
Email - [email protected]
Phone - +44 0800 032 1948
Address - FOREX.com, Park House, 16 Finsbury Circus, London, EC2M 7EB, UK
Conclusion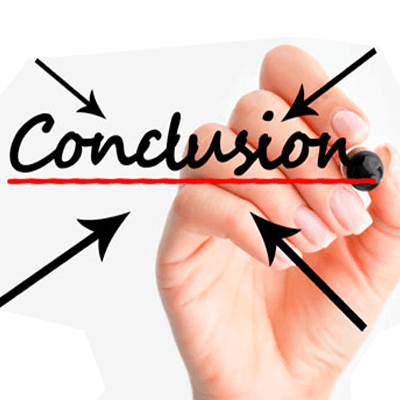 Forex.com have been trading for many years now and long before many of their newer competitors. Their website is advanced and perfect for those who want the option to trade on the move. They have a good, solid offering along with trading tools for all levels of experience. In addition to this, they offer competitive spreads and other trading features.
If you are looking for a reliable broker, their long-standing reputation in the Forex community is a strong indication of their commitment to their clients. In addition to this they are licensed and regulated by many of the key regulatory bodies across the globe. If you want a reliable trading experience with everything you need from a broker, then Forex.com is a good pick. Whether you are new to trading and looking to open your first account or whether you are seeking to change brokers, there is a strong argument for making this your choice.
Risk Warning
/
Ad Disclosure
Risk Warning: The products offered by the companies listed on this website carry a high level of risk and can result in the loss of all your funds. You should never risk money that you cannot afford to lose.
Ad Disclosure: Some of the links that you will find on this website are advertisements for which we do receive financial gain from referring new customers.
Meet The Author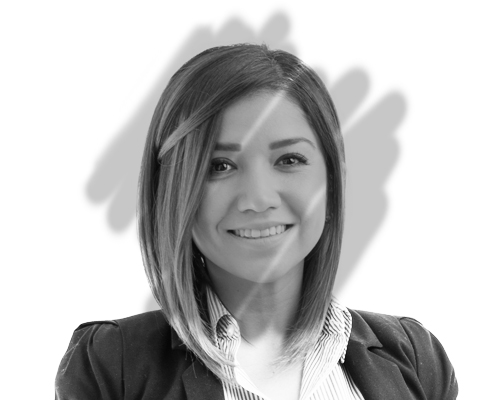 Jessica Green
Financial Analyst
Jessica has written for us for 5 years and offers a unique perspective due to her having worked in the financial industry internationally. In fact, Jessica has worked in a staggering 8 countries including Germany, China and the USA.
Related Pages
Popular Pages

Other Investing

More Info