Etsy, Catalent And Teradyne Added to S&P 500, Tesla Did Not
Sep 7th, 2020 - 4:27 PM (GMT)
Category - Investing News
40

Views Today
The S&P 500 index committee decided to add Etsy, Catalent, and Teradyne to its index on Friday. Still, it chose to exclude Tesla from its decision for new members of the capitalization-weighted index, according to a company's press release.
The changes will be applied to the index before the opening bell on Monday, September 21, 2020, "to coincide with the September quarterly rebalance."
The index said:
S&P Dow Jones Indices will make the following index adjustments to the S&P 500, S&P MidCap 400 and S&P SmallCap 600 to ensure each index more appropriately represents its market capitalization range.
The index contains companies that are qualified in both quantitative but also qualitative basis.
To be included in the S&P 500 index, companies must be based in the United States and listed in the New York Stock Exchange, the Nasdaq, or the Cboe, with a market capitalization of over 8.2 billion dollars. Candidates should have reported four straight quarters of profits according to GAAP standards.
Back to the press release, companies included in the S&P Dow Jones indexes are as follows:
S&P 500: Etsy, Teradyne, and Catalent. They will replace H&R Block Inc, Coty Inc, and Kohl's Corp, "all of which will move to the S&P MidCap 400."
S&P MidCap 400: Wingstop Inc, Medpace Holdings Inc, and Fox Factory Holding Corp will be added. They will replace PBF Energy Inc, Allegheny Technologies Inc, and Mack-Cali Realty Corp, which will move to the S&P SmallCap 600.
The New S&P 500 Members; Why it Matters
Companies included in the S&P 500 enjoy a different consideration from investors are several mutual funds work with indexes and are S&P 500 linked. So, new additions mean a new market for shares and, therefore, increasing demand for the given share. Usually, companies added to the index experience increases in their price due to rebalancing.
Etsy is an eCommerce website based in Brooklyn, New York, and was founded in 2005. It trades under the code ETSY in Nasdaq, and it has an annual gross merchandise sales of 5 billion dollars.
Shares of Etsy are in the middle of a short term downtrend as the unit was rejected by the $130.00 level on September 2. The unit fell to 103.06 on Friday, September 4, but it bounced back to close at 112.04.
Technical conditions for ETSY are deteriorating as demand for the share is falling. MACD suggests that the unit is bearish and momentum is negative. Watch out for the $100.00 support.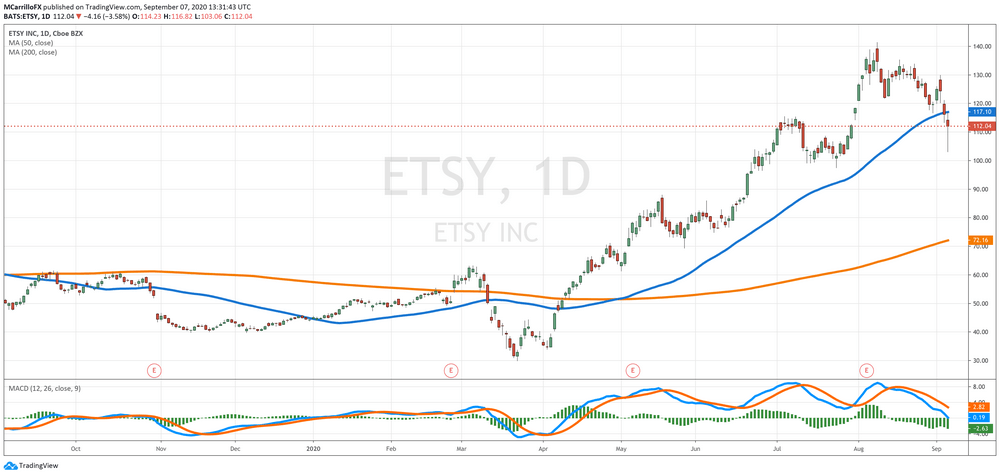 Teradyne is a technology company founded in Massachusetts in the late 1940s. It provides test solutions and collaborative robotics.
Shares of TER closed last week with a negative note as it was under pressure amid the sell off in tech companies. TER fell to its lowest level since June 15 at 75.46, and despite it recovered some ground, it performed its third negative week in a row.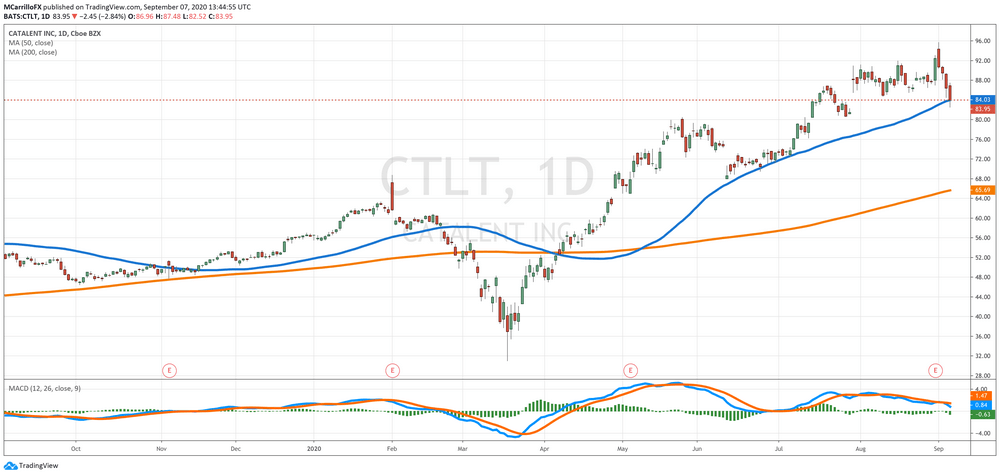 Catalent is a pharmaceutical company founded in 2007 and headquartered in New Jersey, US. Like the other companies, it performed negatively last week after having four days of declines in a row. CTLT fell to 82.52, its lowest level since July 29.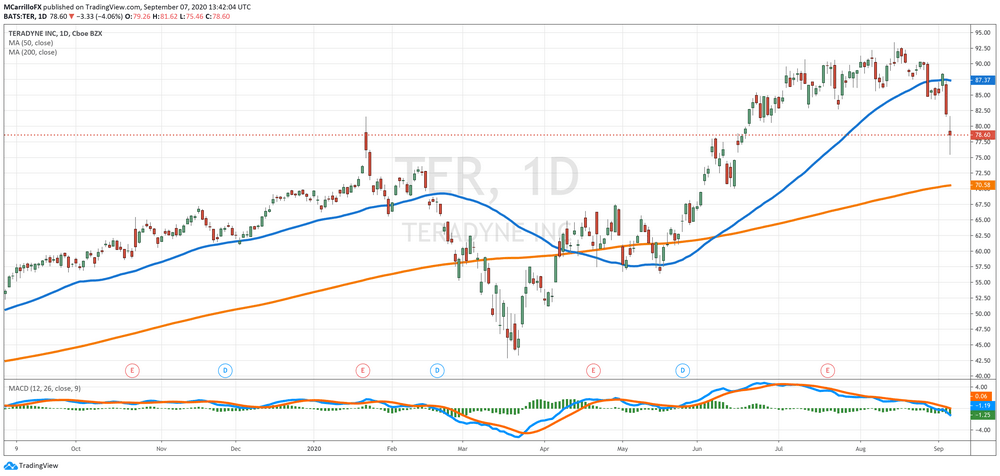 Tesla Wasn't Invited to The Party
Wedbush analyst Dan Ives said to MarketWatch that the decision of not adding Tesla to the S&P 500 index was "a bit of a shocker." Indeed, the market is not happy because almost every single analyst thought that was the moment to include Tesla in the club.
Ives said:
This was a bit of a shocker and the Street assumed this was a foregone conclusion, Tesla not getting into the S&P 500 club is a head scratcher and the stock will likely be down for the indexing implications.
Tesla was seriously considered as a candidate by the market. The company reported four consecutive profitable quarters, one of the requirements to be included in the S&P 500, especially after the carmaker rallied to all-time highs and had a higher market cap than companies such as Toyota.
The decision is a bearish technical event for TSLA shares as the market was pricing Tesla at the S&P 500 starting in October. It would mean that tracking funds would buy more than 120 million shares of Tesla in the next months.
Now, it wouldn't happen, at least not for that reason.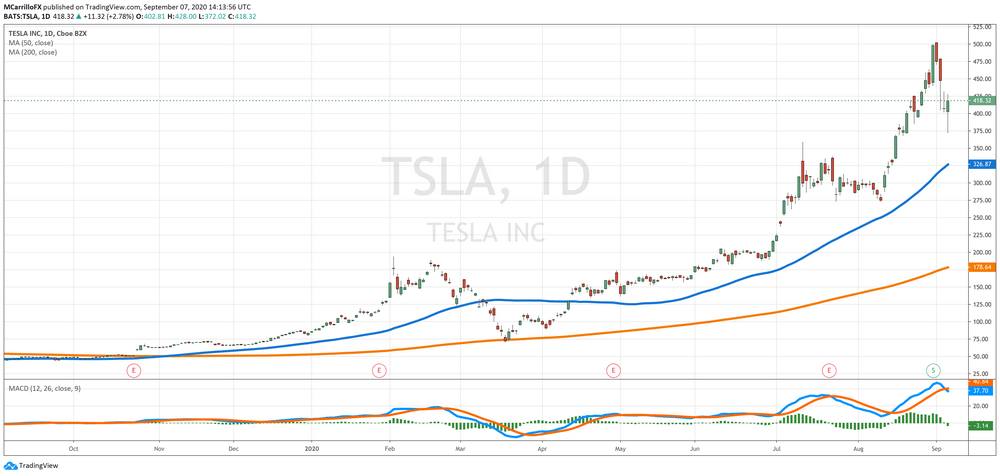 Tesla shares closed its first negative week since the period ending on July 27. The share rose to test the $500.00 area right after the split, but the tech sector's sell-off pushed the stock down.
TSLA fell to $372.00 on Friday; then, it recovered some ground to close the week at $418.32. Current technical conditions for TSLA remain strong. MACD suggests that the uptrend is healthy, and momentum is positive. Tesla looks under accumulation and moving averages are aligned to the north.
Tesla shares are still around 400 percent positive in the year.
Meet The Author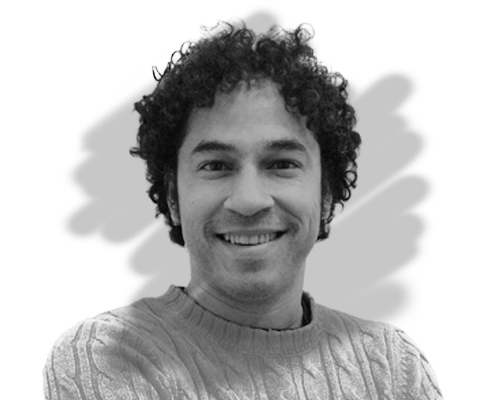 Mauricio Carrillo
Senior Reporter
Mauricio is a newer member of the team and a very welcome addition. He is a financial journalist and trader with over ten years of experience in stocks, Forex, commodities, and cryptocurrencies. This experience means he has an excellent understanding of the markets and current events.
Investing News


Dec 10th, 2020 - 4:32 PM (GMT)


Dec 9th, 2020 - 4:47 PM (GMT)


Dec 4th, 2020 - 4:58 PM (GMT)
Related Pages