Interactive Brokers to Offer Common Shares to New Clients
Jul 28th, 2020 - 3:54 PM (GMT)
Category - Investing News
35

Views Today
The United States based brokerage firm Interactive Broker would offer 990 thousand shares to new users as a part of a promo campaign to attract new customers to one of the largest electronic trading platforms in the country, according to a press release published by the company.
The process seems to be on track as the company registered 990 thousand Class A common stocks to the regulatory bodies.
In a statement filed with the SEC, the shares represent newly issued IBKR shares, and the company will not receive any cash proceeds from the issuance.
Interactive Brokers said in its statement filed with the SEC:
The shares to be issued to eligible persons in the Promotions primarily will represent newly issued shares of Interactive Brokers Group, Inc. Class A common stock, although in limited instances, we may acquire shares through open market purchases or use existing treasury shares subject to applicable law. As a result of the promotional nature of the offering, we will not receive any cash proceeds from the issuance of our shares of Class A common stock.
Interactive Brokers Q2 2020 Corporate Results
Last week, the brokerage firm reported its results for the second quarter of 2020. According to the filings, Interactive Brokers Group registered a Q2 non-GAAP earning per share of 0.57 dollars, a beat of 26 cents from estimations. GAAP EPS was 40 cents, a beat of 3 cents.
IB also bet revenues by 54.93 million dollars to 539 million dollars in the second quarter, a 30.5 percent increase from the same period of 2019.
Finally, Interactive Brokers Group declared a quarterly dividend of 10 cents per share payable on September 14 with an ex-dividend date on August 31.
Business performance:
Customer equity grew 33 percent from Q2 2019 to $203.2 billion
Customer credits increased 30 percent from the year-ago quarter to $71 billion
Customer margin loans decreased 3 percent from Q2 2019 to $24.9 billion
Customer accounts increased 36% from the 2019 second quarter to 876 thousand
Total DARTs2 increased 111% from the Q2 2019 to 1.75 million
Cleared DARTs increased 111% from the year-ago quarter to 1.56 million
2019 Financial Results
Interactive Brokers also published its 2019 financial results this week. According to its filing to the SEC, IB increased net revenues from 1.903 billion dollars in 2018 to 1.937 billion dollars in 2019, a 1.8 percent growth.
Net income fell 3.2 percent in 2019 from 1.125 billion dollars in 2018 to 1.089 billion dollars for the last year.
IBKR Shares Analysis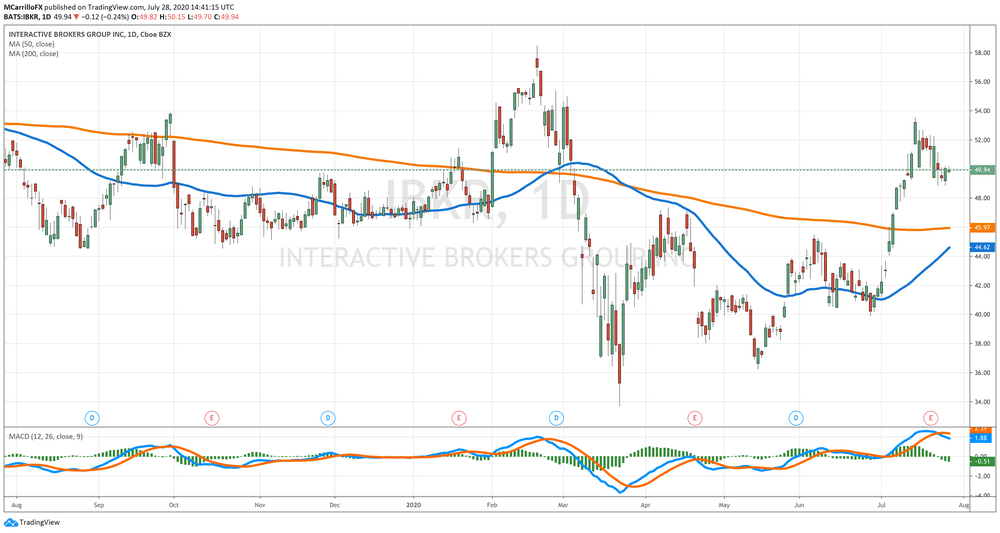 Shares of Interactive Brokers are trading positively on Tuesday but within a small range between $49.70 and $50.15 as the unit is consolidating Monday's 1.38 percent gain. In the whole picture, the unit is retracing from its highs since March 3 at $53.35, reached on July 15.
Currently, IBKR is trading at $49.98, which is 0.16 percent positive on the session. Technically, the share is turning negative after a brief favorable period as a result of a bounce at the $48.90 area. More declines are expected in the short term, but the bigger picture can offer bulls some hopes. The $47.35 support is the point of no return for the share.
TheStreet Quant Ratings has IBKR as a share to "hold" with no price target as the firm highlights the divergences between the top and the bottom lines.
IBKR's revenue growth has slightly outpaced the sub sector average of 0.6%. Since the same quarter one year prior, revenues slightly increased by 0.2%. This growth in revenue does not appear to have trickled down to the company's bottom line, displayed by a decline in earnings per share.
Ford Equity Research has a rating of 2 out of 5 in buying quality for Interactive Brokers as analysts see a "very positive" earnings strength, "positive" relative valuation, but a "very negative" price movement.
Meet The Author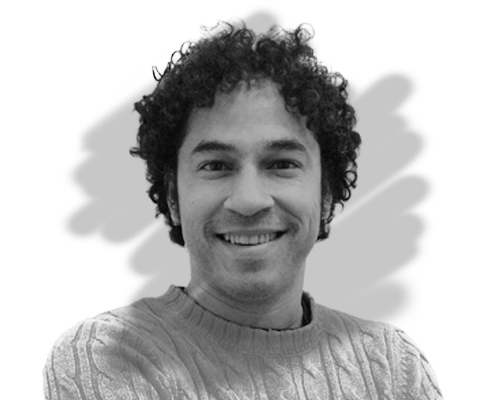 Mauricio Carrillo
Senior Reporter
Mauricio is a newer member of the team and a very welcome addition. He is a financial journalist and trader with over ten years of experience in stocks, Forex, commodities, and cryptocurrencies. This experience means he has an excellent understanding of the markets and current events.
Investing News


Dec 10th, 2020 - 4:32 PM (GMT)


Dec 9th, 2020 - 4:47 PM (GMT)


Dec 4th, 2020 - 4:58 PM (GMT)
Related Pages