Morgan Stanley Beats Estimates And Confirms Trading Boom
Oct 15th, 2020 - 4:34 PM (GMT)
Category - Investing News
32

Views Today
Morgan Stanley announced a strong third quarter this morning, including a boom in trading and wealth management, which means the bank is reporting 25 more profits than the same period of 2019. The investment firm also said that it will restart share repurchasing as soon as the first quarter of 2021.
The report is confirming the trading boom experienced by big banks as the previously reported here by ExpertInvestor with JP Morgan. Like other investment banks, Morgan Stanley took advantage of the disruption caused by the coronavirus pandemic.
The American multinational investment bank and financial services company based in New York reported a third quarter GAAP earning per share of 1.66 dollars, which was a beat of 38 cents from the 1.28 dollars estimated by the market. Non-GAAP EPS was 1.59 dollars in the third quarter.
According to a press release published by the investment bank, reported total revenue was 11.7 billion dollars, a beat of almost a billion from the 10.64 billion dollars expected by the market, and what is more significant, a 16.7 percent increase than the same period last year.
Wealth management rose to 4.66 billion dollars in revenue, above the 4.45 billion dollars estimates by experts. Investment management made 1.06 billion dollars in revenue in the third quarter, well above the 856 million estimates.
Revenue in the trading of equities was 2.26 billion dollars vs 2.19 billion dollars expected. Fixed income revenues were 1.92 billion dollars, above 1.59 billion dollars expected by the market.
James P. Gorman, CEO of Morgan Stanley said:
We delivered strong quarterly earnings as markets remained active through the summer months, and our balanced business model continued to deliver consistent, high returns.
Finally, the bank declared a dividend of 35 cents per share, in line with the previous quarter. It will be payable on November 13 for shareholders on record by October 30 and with an ex-dividend date of October 29.
A Month of Acquisitions
As Hugh Son reported in a previous report, Morgan Stanley "has been Wall Street's most aggressive acquirer with $20 billion in takeovers this year, appeared to be firing on all cylinders."
Besides strong corporate results, Morgan Stanley announced this month the acquisition of investment management firm Eaton Vance and electronic trading platform E*TRADE. The two purchases are in the middle of the bank's strategic transformation with "three world-class businesses of scale: Institutional Securities, Wealth Management and Investment Management."
Gorman said:
Eaton Vance is a perfect fit for Morgan Stanley, this transaction further advances our strategic transformation by continuing to add more fee-based revenues to complement our world-class investment banking and institutional securities franchise.
Regarding E*TRADE, Gorman highlighted the platform's position and how it would make Morgan Stanley as an industry leader in Wealth management.
Morgan Stanley Stock Analysis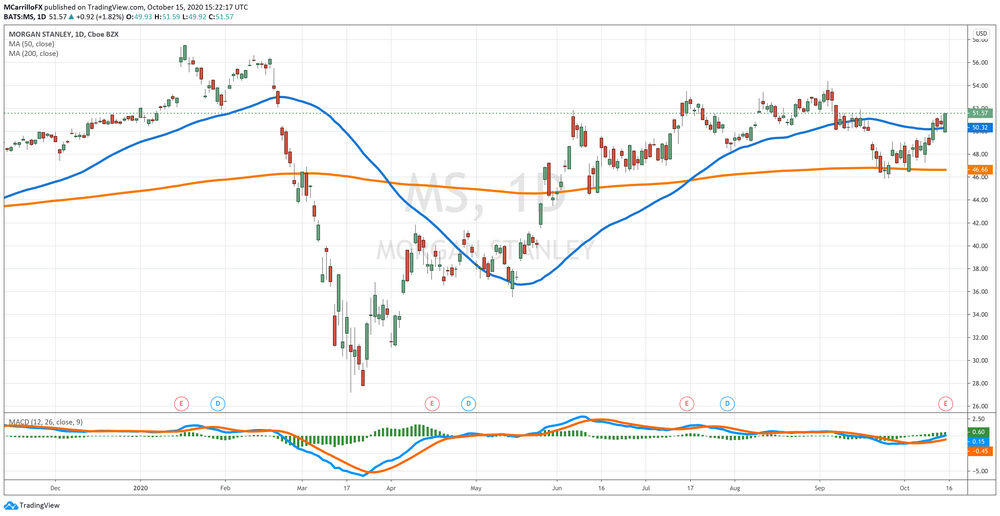 Shares of Morgan Stanley, traded under the code MS in the New York Stock Exchange, are moving higher today following the latest news. The unit managed to recover from early lows in the middle of the current market turmoil, and it is now ready to test highs since September 16 at 51.40 dollars per share.
MS is in the middle of a middle term uptrend started on October 2 when the unit used the 46.50 dollars per share as a floor. It is currently trading at 51.25, which is 1.16 percent positive on the day.
After the news, CFRA reiterated its "strong buy" opinion on Morgan Stanley with a 12 month target price of 60.00 dollars per share.
We have a Buy view based on the firm's leading global rank across all businesses. MS has the top-ranked wealth management franchise that offers stable recurring revenue and cash flow. Strong companies get stronger with great focus and execution, in our opinion. A low rate environment leads to lower cost of capital and higher risk-taking by companies that should boost firm's underwriting and M&A fees.
In another reaction from the report, Credit Suisse believes that "Morgan Stanley continues to deliver to the upside -- a combination of execution and the strength of this business model." The firm has MS as a "outperform" share with a target price of 58.00 dollars.
TheStreet Quant Ratings also has Morgan Stanley as a "buy" with a target price of 56.60 dollars per share. The Street's CEO Jim Cramer considers Morgan Stanley "ridiculously valued" at current prices.
Goldman Sachs (NYSE: GS) and Morgan Stanley (NYSE: MS) should be bought and are being unfairly treated like community banks.
Finally, pay attention to the fact that CEO Gorman said in the conference call that Morgan Stanley is ready to restart share repurchase as early as the first quarter of 2021.
Meet The Author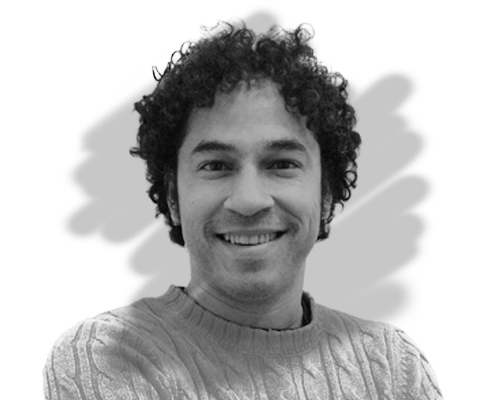 Mauricio Carrillo
Senior Reporter
Mauricio is a newer member of the team and a very welcome addition. He is a financial journalist and trader with over ten years of experience in stocks, Forex, commodities, and cryptocurrencies. This experience means he has an excellent understanding of the markets and current events.
Investing News


Dec 10th, 2020 - 4:32 PM (GMT)


Dec 9th, 2020 - 4:47 PM (GMT)


Dec 4th, 2020 - 4:58 PM (GMT)
Related Pages