Netflix Down on Earning Miss; But Analysts Raise Price Targets
Jul 17th, 2020 - 3:24 PM (GMT)
Category - Investing News
34

Views Today
Netflix is trading sharply lower on Friday after missing analysts' expectations on earnings per share and a weak subscriber guidance in the framework of the new coronavirus. However, most analysts and rating firms are raising their target prices.
American media services provider and production company Netflix reported a Q2 GAAP earning per share of $1.59, a miss of $0.22 from the expected EPS. On the other hand, Revenues rose 25 percent year over year to 6.15 billion dollars in the second quarter, a beat of 70 million dollars above market estimate.
Global paid net subscribers rose by 10.09 million users, above the 8.26 million expected by experts.
However, Netflix revenue guidance for the third quarter was 6.33 billion dollars, below the market estimate of 6.40 billion. The company is now expecting a 3Q EPS of 2.09 dollars, above analyst's 2.01 dollars.
The news that hit the market most was the new subscriber additions expected by Netflix, 2.5 million, well below 5.27 million estimated by markets.
Growth is slowing as consumers get through the initial shock of Covid and social restrictions. Our paid net additions for the month of June also included the subscriptions we cancelled for the small percentage of members who had not used the service recently.
Are The Numbers That Bad?
Quarterly subscribers added by Netflix in both the United States and international markets, rose around 10 million, a significant decline from the extraordinary 15 plus millions of additions in the first quarter of 2020.
However, the second quarter reported good numbers indeed. Q2 Additions were above the first quarter of 2019, which was praised as one of the most successful periods in Netflix history.
So, we should take the April-June numbers in the framework of the COVID-19 influenced the previous quarter when social distancing and lockdowns in major economies fueled new subscriptions to historic levels.

As the Netflix letter to shareholders highlighted, it is all about perspective.
In Q1 and Q2, we saw significant pull-forward of our underlying adoption leading to huge growth in the first half of this year (26 million paid net adds vs. prior year of 12 million). As a result, we expect less growth for the second half of 2020 compared to the prior year. As we navigate these turbulent circumstances, we're focused on our members by continuing to improve the quality of our service and bringing new films and shows to people's screens.
Rating Agencies Maintain Their Stance on Netflix And Raise Price Targets
Despite the recent decline, most rating agencies are raising price targets for NFLX. While Jefferies, Deutsche Bank, and CFRA keep "buy" opinion on Netflix, Credit Suisse, UBS, and Rosenblatt have it as neutral.
Most significant changes in price targets:
Oppenheimer raised the price target from $480 to $515
Deutsche Bank up from $500 to $525
Monness Crespi Hardt from $500 to $600
SunTrust RH from $475 to $530
JPMorgan from $535 to $625
Pivotal Research up from $580 to $600
Netflix Shares Analysis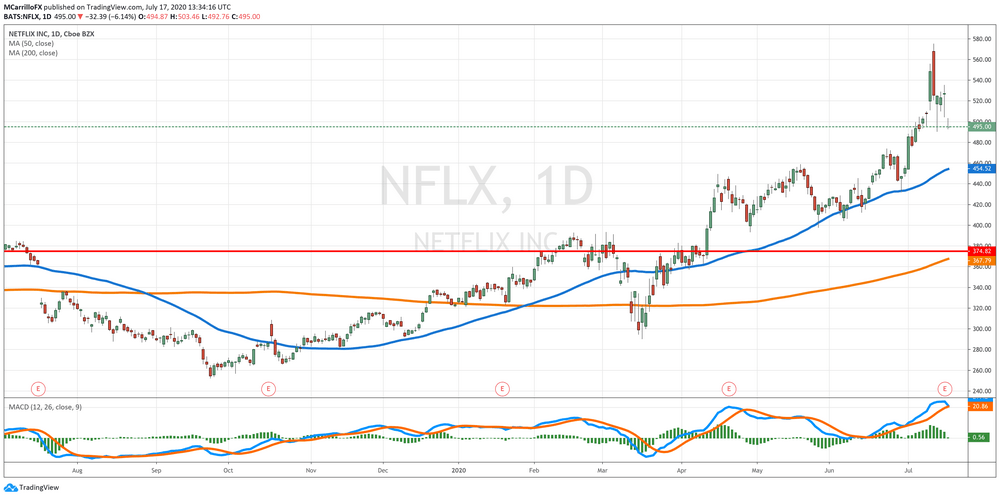 Shares of Netflix are trading sharply low on Friday as investors are digesting mixed quarterly numbers released Thursday.
Investors are selling the NFLX share as they saw weaker than expected guidance about new subscribers in the third quarter of 2020 and the company's expectations that the second half of the year will not be as good as the first half.
However, smart money and rating agencies are raising price targets on the back of outstanding numbers in a historical context for Netflix.
Currently, Netflix is trading at $501.11, which is 4.98 percent negative in the day. A softer reaction than previously expected when the unit traded around 10 percent down in pre-market.
Noteworthy is that the unit is keeping it above the $490.00 level. A price that has been used as a floor for the consolidation and retraction performed after the $575.37 high reached on July 13.
The chart looks bullish but, obviously, traders should keep an eye on today's developments and price action as the unit is now vulnerable. In any case, analysts have reaffirmed their bullish vision for Netflix in the long run.
Meet The Author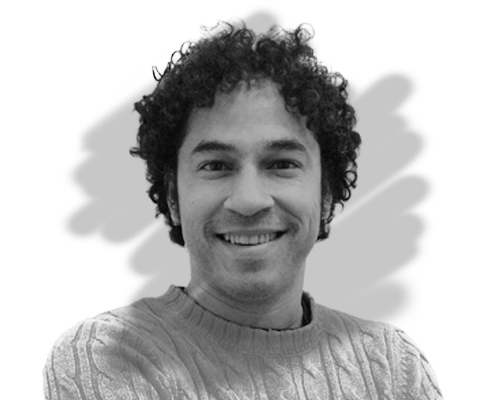 Mauricio Carrillo
Senior Reporter
Mauricio is a newer member of the team and a very welcome addition. He is a financial journalist and trader with over ten years of experience in stocks, Forex, commodities, and cryptocurrencies. This experience means he has an excellent understanding of the markets and current events.
Investing News


Dec 10th, 2020 - 4:32 PM (GMT)


Dec 9th, 2020 - 4:47 PM (GMT)


Dec 4th, 2020 - 4:58 PM (GMT)
Related Pages