NIO Stock up on Revolution Inside The Clean Energy Disruption Trend
Oct 16th, 2020 - 5:07 PM (GMT)
Category - Investing News
38

Views Today
Shanghai-based electric vehicle maker Nio is on the news after JPMorgan analysts said it set to be the "long-term winner" in the Chinese luxury electric car market. However, it seems pretty much more than that as the six-year-old luxury EV maker has developed a revolutionary idea inside the clean energy disruption trend.
Nio is now offering a battery-as-a-service network that allows users to change empty batteries from a charged one in Nio's energy station.
In other words, you don't even have to bother to wait while your battery is charging in your house or in front of a supermarket. Instead, it works like a gas station. Your tank, AKA battery, is empty, then you fill it, AKA change the battery for a charged one.
All of that, thanks to the NIO BaaS solution. It is chargeable, swappable, and upgradable. According to Nio's website, it means "more reassuring car ownership," and a "better resale value."
Unified battery management to keep every battery in its optimal condition. Battery degradation concerns no more. More reassuring and safer experience. no more battery degradation cost on users, and a car fully independent of the battery, which at the end, it would mean only higher car resale value.
It is a plus because although the subscription to BaaS costs around 145 dollars per month, or 980 renminbi, users will get 10 thousand dollars off the car's price since it wouldn't have a long-lasting battery, the most expensive part of the car.
Why Does The Nio Battery Subscription Matter
We all know the efforts Elon Musk has made to put battery manufacturing costs down and the change in the prices he announced along with the new long distance battery a few weeks ago and that we reported here at ExpertInvestor in a report called: Tesla Post Battery Day: It's The Long Run, Stupid.
Well, Nio has introduced a new battery philosophy and structure to put prices down even more. People should understand that it is not about energy transition, but technology disruption.
And Nio Inc has just made a jump in the revolution.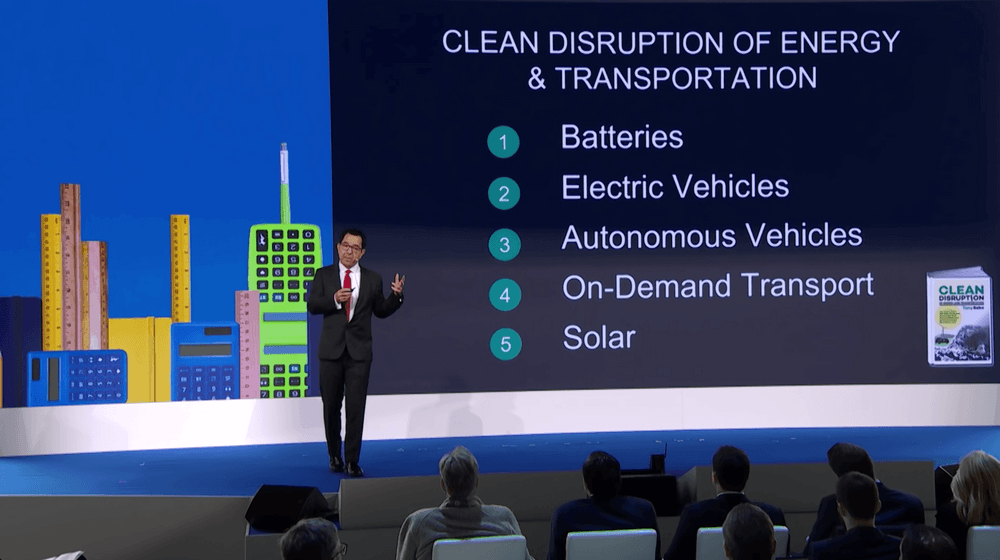 In 2014, Tony Seba, a world-renowned thought leader, author, speaker, educator, angel investor, and Silicon Valley entrepreneur, published his book Clean Disruption of Energy and Transportation.
In the book, Seba explained how outsiders companies would disrupt all industrial sectors by 2030, including the energy and transportation sectors.
In a conference in 2019, Seba also said that:
The Clean Disruption will be the fastest, deepest, most consequential disruption of energy and transportation in history. By analyzing and anticipating these disruptions, we can learn that the benefits to humanity will be immense, but to seize the upside, we will need to mitigate the downside.
Seba commented about a few factors that should be aligned to make the technology disruption of energy and transportation possible. Batteries, electric vehicles, Autonomous vehicles, on demand transport, and solar technologies should be mature and ready for the masses to create a quick disruption and an industrial cataclysm.
We are now seeing that most of those technologies are ready for the masses, including electric vehicles, on-demand transportation, and solar. Now, with Nio and Tesla's steps, batteries are becoming cheaper and cheaper, allowing the other sectors to become more productive and obviously at affordable prices.
In this framework, Tesla's CEO Elon Musk said this week that a full self-driving autopilot system would be released soon. "You'll see what it's like. It's amazing. It's clearly going to work."
So, clean energy companies are resolving the circle-squaring problem.
Nio Stock Analysis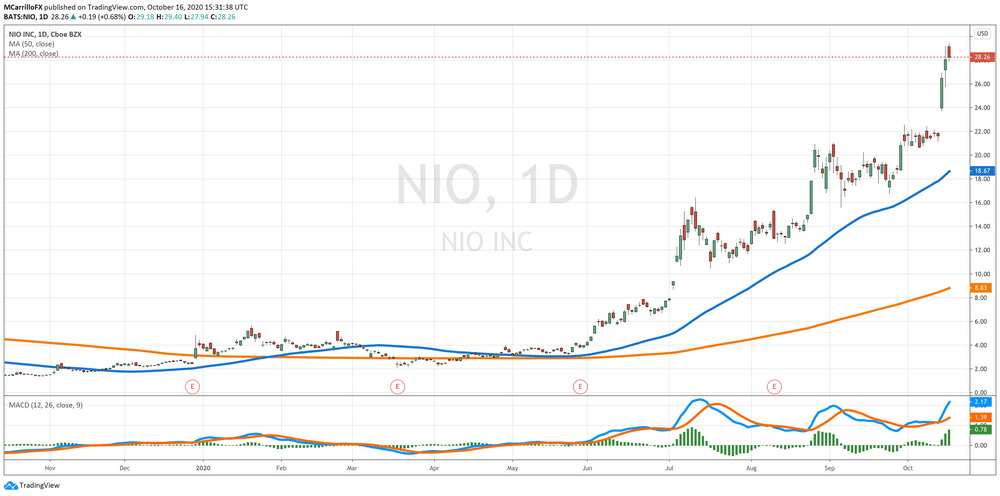 Shares of Nio are trading positive for the fourth day in a row on Friday as the market welcomed the JP Morgan report and upgrade on the NIO share. According to JP Morgan analysts, Nio will be the "long-term winner" in China's luxury electric-vehicle market.
Nick Lai, JP Morgan analyst, upgraded NIO to "buy" with a target price of 40 dollars per share.
In China's smart EV market, we expect Nio to be a long term winner in the premium space among Chinese brands vs. Xpeng Inc. leading the mass market, while BYD Co. should likely see strong EV demand with rising external battery sales from 2022.
Electric car penetration in China is expected to quadruple from less than 5% in 2019 to 20% by 2025, the analysts highlighted.
In the last three days, NIO shares jumped 30 percent from 22.00 dollars per share to the current 28.50 dollars per share. In the rally, Nio reached an all time high of 29.40 dollars per unit.
In that Framework, TheStreet CEO and CNBC analyst and host, Jim Cramer, acknowledges that Nio has potential but also risks.
Oh my god, Nio. OK, so Nio was down ... it's been a straight line up. Nio is the Tesla of China. I've been recommending Alibaba, that's been my Chinese play, But I recognize Nio has been a hot one. I'm not going to stick my neck out, but I'm not going to fight you if you like Nio.
Cramer said that because of Nio's history. In October 2019, Nio shares were trading at 1.19 low, which was an all time low and almost 80 percent down from its IPO price in September 2018. In March 2020, NIO was priced around 2.30 dollars per share, but now it is over 1,000 percent up.
In April this year, Nio got a 1 billion dollar cash injection from Chinese investors backed by the government. After that, the company started its recovery, and it is now rallying amid investors' new considerations on "strong order backlogs" and battery structure.
Finally, Robinhood analysts highlighted the branding factor of Nio as a differential.
The lifestyle brand factor is a huge part of it... Like Tesla, Nio has built a cult following. Before it ever sold a car, it spent millions on cranking out Nio hats and merch. It also created "Nio Houses," sleek showroom-clubhouses for Nio owners to chill in. Nio and Tesla have both grown by fueling deep brand love.
So, Is Nio a disrupter with its BaaS network? Only time will say.
Meet The Author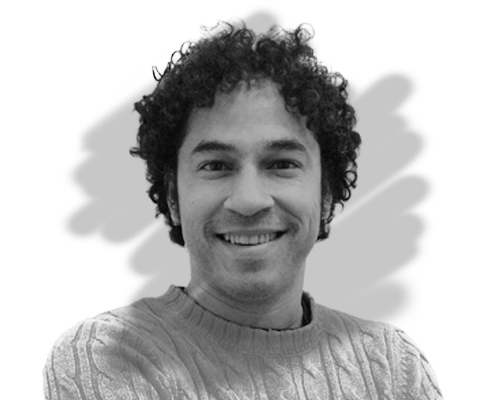 Mauricio Carrillo
Senior Reporter
Mauricio is a newer member of the team and a very welcome addition. He is a financial journalist and trader with over ten years of experience in stocks, Forex, commodities, and cryptocurrencies. This experience means he has an excellent understanding of the markets and current events.
Investing News


Dec 10th, 2020 - 4:32 PM (GMT)


Dec 9th, 2020 - 4:47 PM (GMT)


Dec 4th, 2020 - 4:58 PM (GMT)
Related Pages