Tesla Post Battery Day: It's The Long Run, Stupid
Sep 23rd, 2020 - 3:35 PM (GMT)
Category - Investing News
33

Views Today
In 1992, Bill Clinton ran a successful presidential campaign and won the race against the first President Bush. The story tells that James Carville, Clinton's advisor, coined the "It's the economy, stupid" phrase as one of the slogans that Clinton used to beat incumbent Bush.
Today, we are experiencing concerns about Tesla's shares as many investors were expecting something more prominent from the company's Battery Day. However, Elon Musk, who was downplaying the event days before, delivered one of the most significant speeches in the company's modern story.
We can say something similar here: It's the long run, stupid.
On Tuesday, Tesla shares dropped 5.6 percent as investors got disappointed from Battery Day. Even Reuters called it a "reality check for recent share surge." Today, TSLA shares are falling another 4.3 percent.
According to the journalists, traders didn't like "its omissions and hazy delivery deadlines."
Investors had expected two big announcements from Chief Executive Officer Elon Musk: the development of a 'million mile' battery good for 10 years or more, and a specific cost reduction target - expressed in dollars per kilowatt-hour - that would finally drop the price of an electric vehicle below that of a gasoline car.
Long story short, investors and Tesla believers didn't get that.
However, Tesla made two big announcements on Tuesday. First, they plan to launch a 25 thousand dollars car and expect vehicle deliveries to increase between 30 and 40 percent in 2020.
That's true that investors didn't get a million-mile battery or cost reduction concrete deadlines, but the two announcements are critical for the company, its expansion, and its core business.
In fact, I do believe that the significance of this event came when we see Elon Musk delivering a statement according to a serious and mature company. Some experts consider Musk's speech like a visionary, but it was partnered with data and innovation.
So, from now on, it's the long run, stupid. Potential market share growth, a whole new segment for the company, cost reduction, lead innovation and more car deliveries than ever.
Let's see.
A 25K Car, A Tesla For The Masses
Tesla announced on Tuesday a "very compelling $25,000 electric vehicle that's also fully autonomous" in three years. It would be the opening of a new market segment for the company and Tesla's arrival to the masses.
Until now, Tesla was a synonym of a cool, nice and techy car, but expensive at all. Many people can not afford to pay even the cheaper 40 thousand dollars Tesla 3. However, with a new 25 thousand car, that barrier falls down, and it will change everything.
Of course, it also raises scalability questions regarding Musk's ability to increase production, car delivery, battery manufacturing, and reduction costs, but Musk has delivered in the past.
On the other hand, according to analysts from UBS, the car would arrive a bit late and with associated risks.
UBS analysts wrote in a note to clients:
By the time (the car) arrives, there will be significant competition in the segment, from VW group, amongst others.
Interestingly, UBS analyst Patrick Hummel doubled his 12-month price target for TSLA from 160 dollars to 325 dollars per unit. The decision came on reducing costs and potential 2 million vehicle sales in 2025 and 15 percent of global battery for electric cars market share.
Goldman Sachs analyst Mark Delaney pointed out how battery-cost reduction expectations are enabling Tesla to put a $25,000 EV profitably in the market.
Tesla Reaffirms Its Electric Battery Technology Lead
In that framework, Alex Potter, an analyst at Piper Sandler, highlighted that the event made clear that "Tesla's lead in battery technology is insurmountable." Deutsche Bank thinks the same as Emmanuel Rosner said that battery development is growing.
Rosner expects 2 million vehicle deliveries and 15 dollars per share as earnings by 2025.
New Street Research analyst Pierre Ferragu said he was "blown away" by the company's transparency and confidence.
He wrote:
To give you an idea of the efficiency of the new process, the pilot line ramping in Fremont will achieve 20 [gigawatt hours] of production capacity by the end of next year! That is more than half the output of the Gigafactory in Reno. One is a 2 [million] square ft giant building in the desert, the other one a 150,000 square ft building almost downtown in Fremont.
Finally, Elon Musk announced the company expects an increase in deliveries of about 30-40 percent in 2020. A considerable increase following the 50 percent jump performed in 2019.
Tesla Shares Analysis And Rating Changes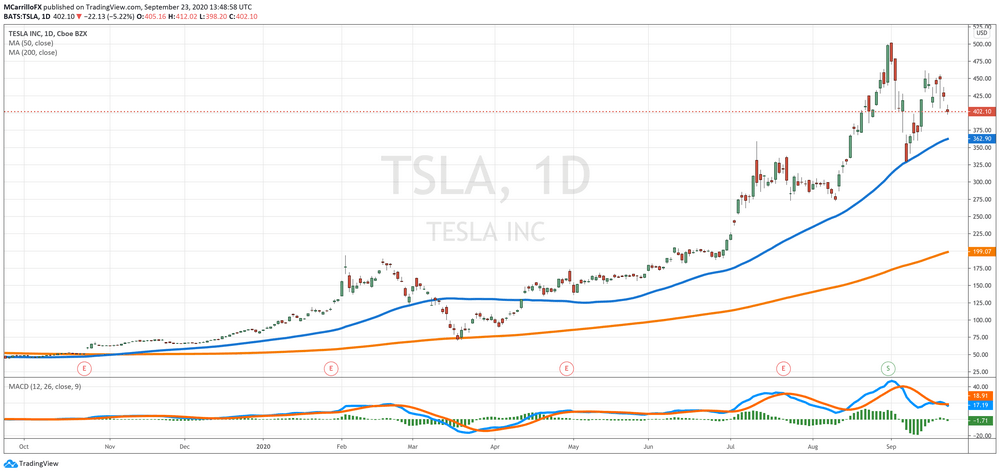 The share of Tesla is trading negatively for the second day in a row as investors are digesting the post Battery day hangover. They expected fireworks, but they just got good news. A matter of market sentiment and news perception.
However, Wall Street is considering the news, and they already improved their perception of the TSLA stock. Let's check ratings:
Deutsche Bank raised its rating to "buy" from "hold" on Tesla and price target from $400 to $500
Baird lifted Tesla price target raised to $360 from $332
CFRA reiterated a buy rating on Tesla
Currently, TSLA shares are being exchanged at 402.10 dollars per unit, which is 5.2 percent down in the day. Technical factors suggest the long term is bullish, but in the short term Tesla is under pressure.
In the year, shares of Tesla are around 370 percent positive, including the 20 percent decline the stock is performing in September.
Meet The Author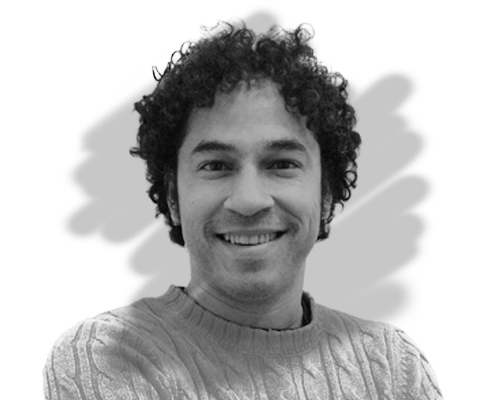 Mauricio Carrillo
Senior Reporter
Mauricio is a newer member of the team and a very welcome addition. He is a financial journalist and trader with over ten years of experience in stocks, Forex, commodities, and cryptocurrencies. This experience means he has an excellent understanding of the markets and current events.
Investing News


Dec 10th, 2020 - 4:32 PM (GMT)


Dec 9th, 2020 - 4:47 PM (GMT)


Dec 4th, 2020 - 4:58 PM (GMT)
Related Pages