Oil Prices Down on Monday, Agreement Between Russia And Saudi Arabia Close
Apr 6th, 2020 - 2:27 PM (GMT)
Category - Investing News
38

Views Today
Oil prices are trading down on Monday as investors didn't welcome the news about the postponement of the long awaited OPEC meeting between Russia and Saudi Arabia to establish an oil cut production deal.
However, sources cited by CNBC are saying that the agreement is "very, very close" to be reached. Now, it is giving some hope to oil buyers, and it is providing the WTI oil with the stamina to bounce back from daily lows.
Last week, The United States President Donald Trump tweeted that both Russia and Saudi Arabia were ready to sign a truce in their oil price war and to reach an agreement of around 15 million barrel daily cut in oil production.
After Trump tweet, a virtual meeting between OPEC, its allies, and Russia was set for Monday. However, it got a delay and it is now "likely" to take place on Thursday. Then, President Trump threatened both countries with tariffs, "I would absolutely do that. We will save tens of thousands of jobs."
Earlier in the day, the postponement fueled concerns on global markets, and investors sold the last week rally at $29 per barrel and sent the price to 26.50, Monday's low.
However, Kirill Dmitriev, CEO of Russia's sovereign wealth fund RDIF, said in an interview with CNBC that both parties understand that the deal is essential, and it will bring "so much important stability to the market," they are taking the matter seriously.
Dmitriev said:
I think the whole market understands that this deal is important and it will bring lots of stability, so much important stability to the market, and we are very close.
A Month of Oil Price War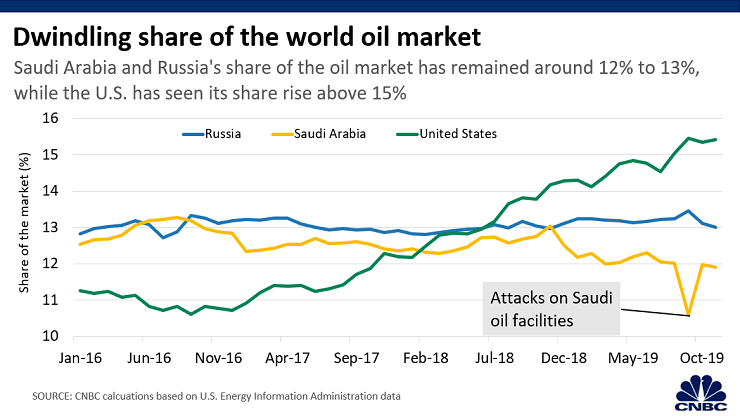 As a matter of context, OPEC and its allies were discussing an oil output cut early in March to prevent oversupply and stabilize prices. However, a price war between Russia and Saudi Arabia started after both countries were unable to reach an agreement.
Oil prices fell to record lows around $20 per barrel in the case of the West Texas Intermediate crude, and to $21.75 in the Brent Crude.
After the eruption of the price war, many jobs were jeopardized not only in the energy industry but in several related sectors. The United States saw the war as a dangerous situation, especially with the Coronavirus emergency, as the US Oil is one of the most expensive production-cost oils in the world. At the same time, its related energy industry is enormous.
At that moment, Trump threatens Saudi Arabia with tariffs on oil to fight back the discounts in price proposed by the kingdom. Now, It seems the White House is pushing the two countries back to the table, and they are willing to find an agreement.
WTI Oil Price Analysis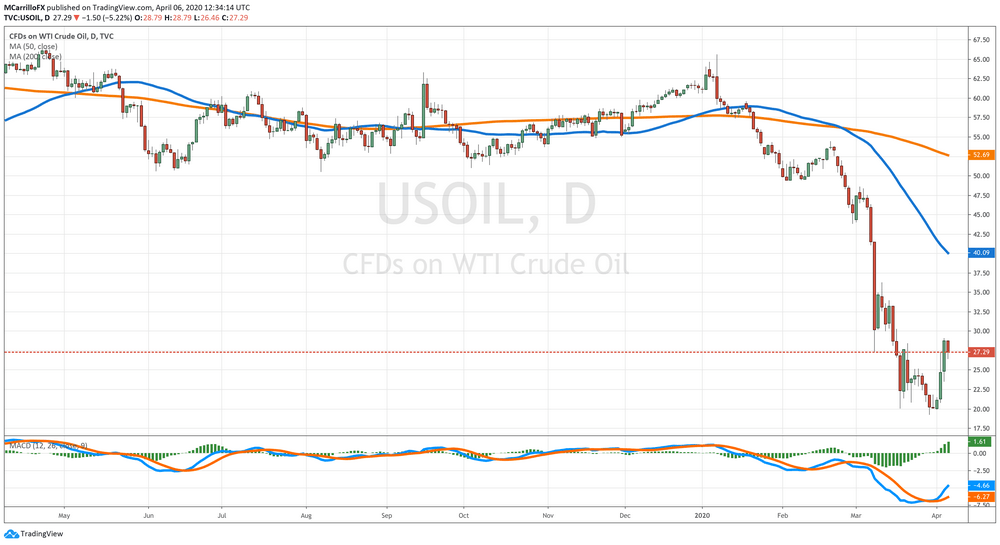 US oil is trading down on Monday after four sessions of gains. However, the decline seems short-lived as it is motivated by the news of the delay in the meeting.
Last week, WTI found support at the $20.00 area and it started to recover. After four positive days, it reached its highest level since March 17 at $29.11 on Friday. Nevertheless, despite the recent recovery, US Oil is still 40% negative since the price war started early in March.
According to Kurt Hallead RBC's co-head of global energy research, the outlook for the energy sector is conservative due to the fundamental challenges it is facing.
Hallead said:
The energy sector is facing its most challenging fundamental period since the Great Energy Depression of 1981-1995, On the oil front, demand is set to decline by amounts never before seen driven by the COVID-19 global economic shock while supply is surging due to the Saudi-Russia oil price war.
That being said, nearly every oil producer in the world is asking for actions regarding production output and also countries like Norway and Canada are willing to cut their production, even when they never contribute to those situations.
According to experts, it is very unlikely that WTI prices would retake pre-war price levels around $47.50 in the short or middle term. In any case, a break and close above $30.00 are crucial for bulls in the case they are willing to give a shot to the upside.
Meet The Author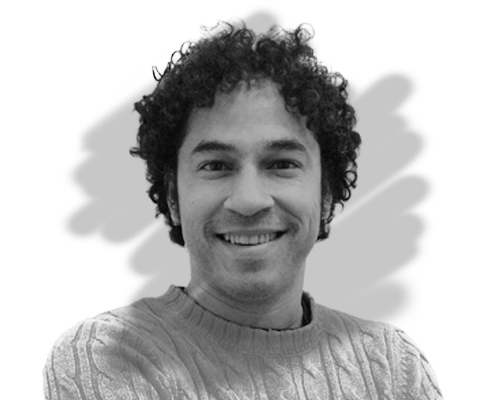 Mauricio Carrillo
Senior Reporter
Mauricio is a newer member of the team and a very welcome addition. He is a financial journalist and trader with over ten years of experience in stocks, Forex, commodities, and cryptocurrencies. This experience means he has an excellent understanding of the markets and current events.
Investing News


Dec 10th, 2020 - 4:32 PM (GMT)


Dec 9th, 2020 - 4:47 PM (GMT)


Dec 4th, 2020 - 4:58 PM (GMT)
Related Pages