Spotify Jumps to All-time Highs After Podcast Deals And Bullish Calls
Jun 19th, 2020 - 5:30 PM (GMT)
Category - Investing News
34

Views Today
Holy Spotify Batman! With that phrase, Swedish music streaming and media services provider Spotify announced its recent deals with Warner Bros, DC Comics, and Kim Kardashian to produce podcasts, exclusive audio content, and more in the streaming platform.
According to a press release published by the company, the deal with Warner Bros is a multiyear partnership to produce and distribute original narrative.
The partnership—the first to involve the intellectual property of the entire DC Universe —will leverage iconic characters in new Spotify shows. Additionally, the companies are expected to draw upon Warner Bros. Studio's broader collection of timeless titles as stand-alone podcast series.
On the other hand, Kim Kardashian will provide an exclusive podcast focused on criminal justice and prison reforms. A new show will be born in the near future, and it will be only in Spotify. That means that some of the 175 million followers that Kim has on Instagram would join the 286 million users in the Spotify platform.
Now, think about the global impact of DC comic fans and the whole heroes' ecosystem. A new way to read/listen to comics. It is a bold podcast move.
Over $1 Billion in The Podcasts Tsunami
In the last year and a half, Spotify has invested around $1 billion in podcast related content with companies and individuals.
Previously, Spotify paid over $100 million to take "The Joe Rogan Experience" to its platform in exclusivity. Before, they took on Gimlet Media and Anchor, and sports entertainment media The Ringer.
In that framework, Spotify CEO Daniel Ek said in April during the company's earnings call that podcast consumption grew by triple digits in the first quarter compared to the same period in the previous year.
He said that both new and reactivated active users grew substantially even during lockdown periods in the most important markets.
And we believe this is a testament to how engaging our platform and ecosystem are to our users. And last year, as you all know, we outlined a vision to be the world's largest audio platform, and we've made significant progress," Ek said. "We now have more than 1 million podcasts on the platform, and we're the No. 1 audio service for podcasts in dozens of countries around the world and quickly gaining ground where we're not.
Spotify's Share Analysis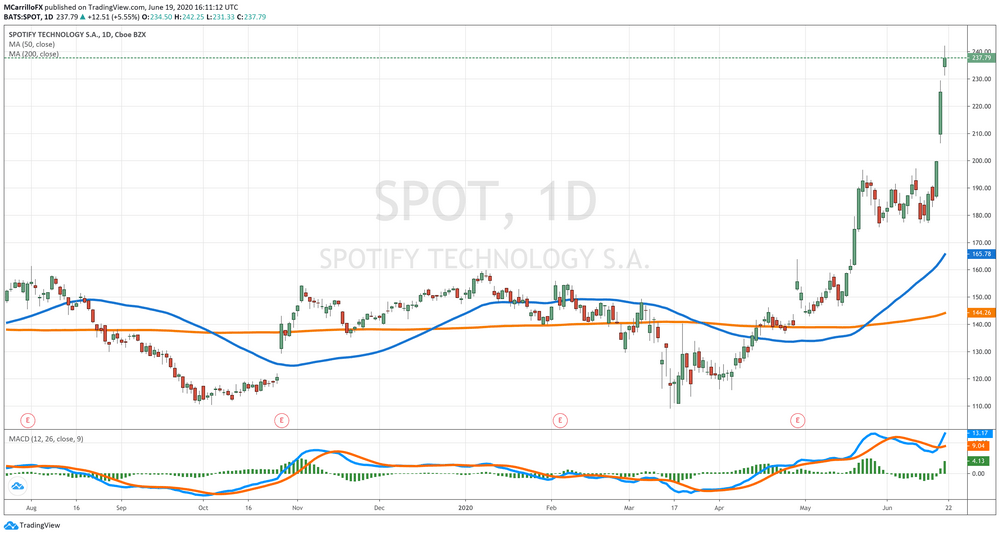 Shares of Spotify jumped on Friday for the third day in a row following subsequent news regarding podcasts deals and upgrade ratings from different firms. Today, SPOT jumped to all-time highs of $242.25. In the last three days, the unit has rallied around 30% from June 17 lows at $186.35 to today's maximum.
SPOT is currently trading 5.69% up on the day at $238.10. Note that on June 17, the unit broke above a critical resistance area between $197.50 and $200.00. Now, it is acting as a new floor for the next upside leg.
Technically, the share of Spotify looks bullish. Current conditions and chart pattern suggest that the upside momentum should continue at least in the middle term. MACD is bullish, and moving averages are pointing to the north.
According to CNBC analyst and TheStreet founder Jim Cramer, Spotify is a definite buy opportunity which is an undervalued share. "Spotify is one of my absolute favorites," he said.
In the same line, Rosenblatt Securities analyst Mark Zgutowicz wrote in a recent note that his firm not only sees attractive monetization potential in Spotify, but these deals will provide "future leverage to premium subscription pricing and label negotiations."
The podcast deals "present attractive leverage characteristics to users and revenue." Rosenblatt Securities raised the price target from $190 to $275 per unit.
Monness Crespi Hardt maintained SPOT stock at buy and raised target from $200 to $275 as Spotify is now offering increasing engagement options in the platform. They are providing more and better products.
Meet The Author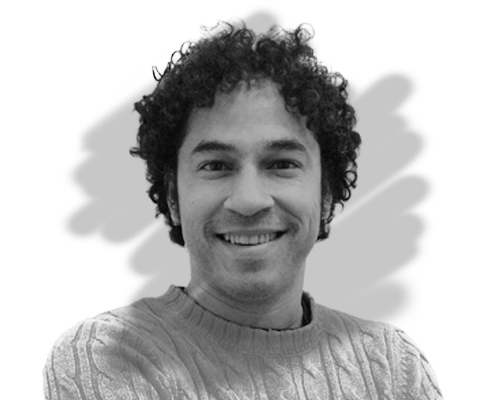 Mauricio Carrillo
Senior Reporter
Mauricio is a newer member of the team and a very welcome addition. He is a financial journalist and trader with over ten years of experience in stocks, Forex, commodities, and cryptocurrencies. This experience means he has an excellent understanding of the markets and current events.
Investing News


Dec 10th, 2020 - 4:32 PM (GMT)


Dec 9th, 2020 - 4:47 PM (GMT)


Dec 4th, 2020 - 4:58 PM (GMT)
Related Pages