TD Ameritrade Confirms Retail Trade Boom in COVID-19 Times
Jul 22nd, 2020 - 5:18 PM (GMT)
Category - Investing News
33

Views Today
American broker and electronic trading platform TD Ameritrade reported better than expected earnings per share and revenues for the second quarter in 2020. The broker also confirmed that online retail trade is booming in 2020 as new accounts and more money and trades have been made this year.
TD Ameritrade reported a Q3 Non-GAAP EPS of $1.09, a beat of $0.24 from estimates. GAAP EPS was $1.05, $0.23 above expectations.
The company also beat revenues by $180 million as it reported $1.59 billion, 6.7 percent more than in the same period of 2019. Also, net interest margin was 1.39 percent, less than 1.88 percent in the first quarter of 2020, but above 1.20 percent consensus.
With an ex-dividend date of August 6, TD Ameritrade will pay $0.31 per share as a quarterly dividend, as expected.
Retail Trading Record Volume
The company also reported sustained record volume in retail trading as well as new accounts.
During the second quarter, the company added a record 661K newly funded retail accounts, more than the previous 601K reported in the first quarter. IN 2020, TD Ameritrade has added over 1.2 million new funded accounts.
Besides, 3.4 million daily average revenue positions were recorded, a 62 percent increase from the first quarter, and more than four times the daily average reported in 2019.
Steven Boyle, TD Ameritrade interim president and chief executive officer, said in a company release that zero commissions and sustained volatility are the keys for recent records.
This quarter includes the top 15 trading volume days in our firm's history with 10 of these days in June and a new all-time high of more than 5 million DARTs on June 11.
TD Ameritrade got net new client assets of $33 billion in the quarter ended on June 30, 11 percent up from the same period in 2019. The company reported that 61 percent of these assets come from retail trading, while 39 percent are institutional.
Ameritrade Shares Analysis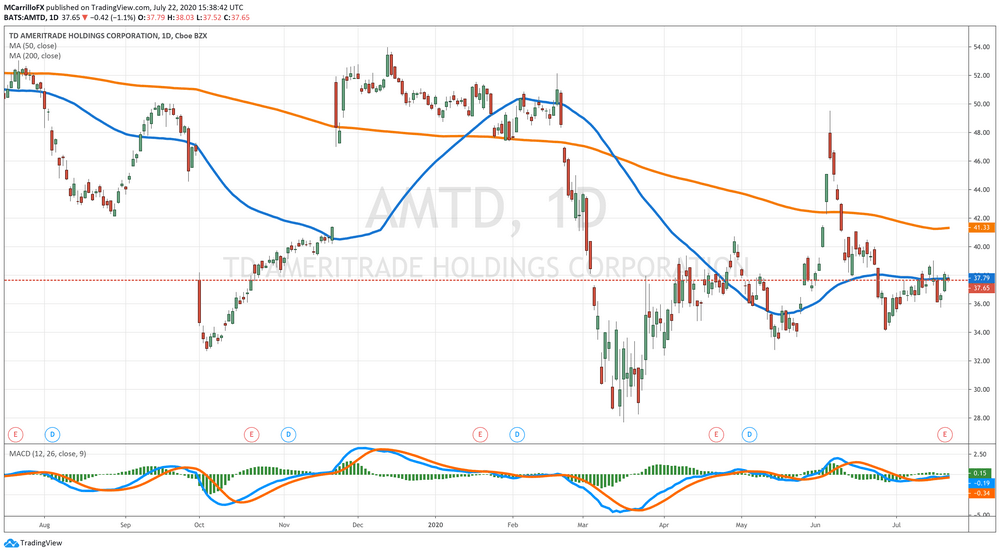 Shares of TD Ameritrade are trading lower on Wednesday after yesterday's 4 percent boom. The AMTD stock is clearly in a recovery mood from the $34.12 level performed on June 26, but it is still stuck in a range between $36.00 and $38.00 levels.
Currently, AMTD is being exchanged at $37.65, which is 0.90% down on the day. Technically, the chart looks neutral but in recovery mode.
According to TheStreet Quant Ratings, AMTD is a "hold" share. "AMTD's revenue growth has slightly outpaced the sub sector average of 0.7%. Since the same quarter one year prior, revenues slightly increased by 2.1%. This growth in revenue does not appear to have trickled down to the company's bottom line, displayed by a decline in earnings per share."
Meet The Author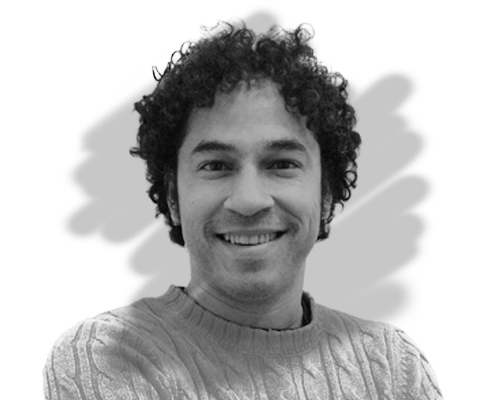 Mauricio Carrillo
Senior Reporter
Mauricio is a newer member of the team and a very welcome addition. He is a financial journalist and trader with over ten years of experience in stocks, Forex, commodities, and cryptocurrencies. This experience means he has an excellent understanding of the markets and current events.
Investing News


Dec 10th, 2020 - 4:32 PM (GMT)


Dec 9th, 2020 - 4:47 PM (GMT)


Dec 4th, 2020 - 4:58 PM (GMT)
Related Pages