Zynga to Acquire Peak Games For $1.8B; ZNGA Shares Explode
Jun 2nd, 2020 - 4:00 PM (GMT)
Category - Investing News
33

Views Today
Social gaming developer Zynga has acquired Istanbul based startup Peak Games in a $1.8 billion deal, including cash and shares, according to a press release published by the Turkish company.
For those who do not know the company, Peak Games is the brand behind popular mobile gaming apps such as Toon Blast and Toy Blast. Founded in 2010 by Sidar Sahin, Peak Games provides online games for millions of people around 193 countries.
The deal, which has been reported to be worth around $1.8 billion, will include $900 million in cash, and $900 million in Zynga shares, is expected to be closed in the third quarter of 2020. It would be the first over a billion dollar deal in the Turkish market.
Among other details, Zynga and Peak's team will join forces and share information to enhance the growth and performance of Zynga Inc. However, Peak will maintain its branding and differential creative culture.
According to the press release, Peak's base user will increase Zynga's international audience.
Collectively, Toon Blast and Toy Blast have more than 12 million average mobile DAUs. Peak is expected to grow Zynga's average mobile DAUs by more than 60% while strengthening Zynga's international audience.
Zynga is a global interactive entertainment company with a huge presence globally. To date, over one billion people in more than 150 countries have played one of Zynga's games at least one time.
Founded in 2007, Zynga is based in San Francisco and has locations in other cities in the United States, Canada, the United Kingdom, Ireland, Turkey, Finland, and Ireland.
Sidar Sahin, founder and Chief Executive Officer of Peak said:
This is a monumental partnership not only for Zynga and Peak, but for the whole mobile gaming industry, Both companies share a common vision -- to bring people together through games. Peak's culture is rooted in relentless learning and progress, so as we embark on this new chapter in our journey together with Zynga, we remain as committed as ever to our unique culture. We're very excited for our combined future and what we will accomplish together.
Previously, Zynga purchased Peak's mobile card games business for $100 million in 2017.
Three Legs of a Great Deal
According to TechCrunch editor Ingrid Lunden, Zynga is making "a couple of big gains out this sale."
First, Zynga is now adding two prime rated games, Toon Blast and Toy Blast, with more than 12 million DAUs. Both games are on the top lists in Apple's App store.
Second, Zynga is expanding its advertising spectrum with Peak Games' international presence, "representing a real growth opportunity for the company to cross-sell other games."
Lunden said:
Zynga says that bolting on Peak's games network to its own will boost its number of mobile daily active users by 60%, which means a lot of scaling up for its ad network.
Finally, Zynga is also adding talent with around 100 employees from Peak. It would be a mix of revenue success and paving the route for new games and developments. It is not clueless, Zynga also reported that the deal would fuel revenues by $40 millions for 2020, increasing expectations to $1.840 in the year.
ZNGA: Zynga Shares Analysis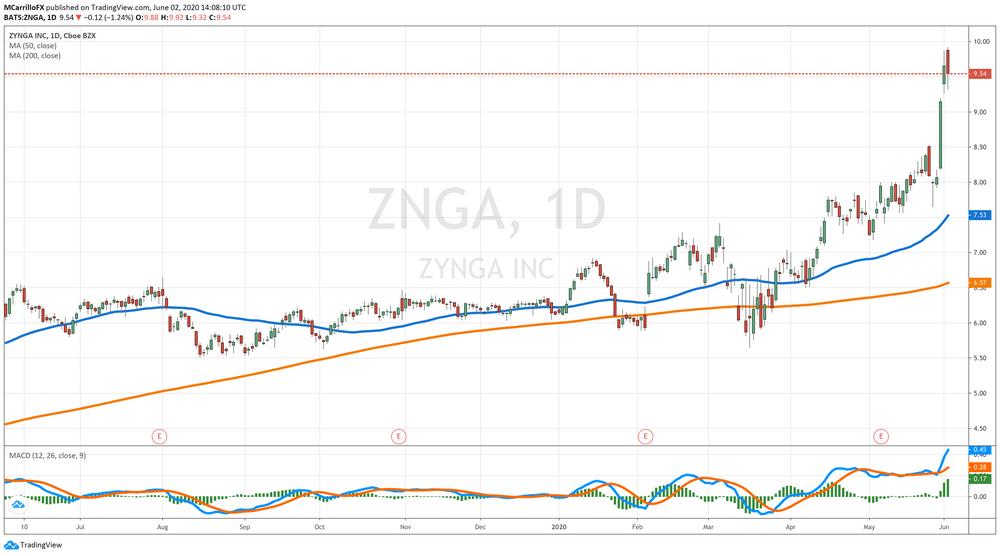 Shares of Zynga are trading down on Tuesday in a combination of consolidation and profit taking after the last three sessions of gains.
After bottoming at $7.65 on May 27, ZNGA started a recovery that combined three days of increases and a 30% run to reach 8-year maximums at $9.90 yesterday. On Tuesday, the unit was unable to hold prices, and it was sold. So, the asset fell below the $9.50 mark.
Currently, ZNGA shares are trading at $9.50, which is 1.80% negative on the day. As said, profit taking and some consolidation. Price should maintain the $9.00 level to give more hopes to the bulls.
However, analysts are not so bullish on Zynga. According to TheStreet Quant ratings, ZNGA is a "hold" share amid "impressive" revenue growth, low current debt-to-equity, and a quick ratio of 1.83%.
Latest actions on Zynga by rating agencies:
Credit Suisse maintains Zynga as "underperformed"
JP Morgan maintains "Neutral" rating for Zynga
Morgan Stanley keeps "Overweight" for Zynga
KeyBanc maintains Zynga as Overweight and raises target to $11 from $9
Oppenheimer keeps Zynga as "outperform" with a price target raise to $11 from $9
Finally, as technology analyst at Bloomberg Intelligence, Matthew Kanterman affirmed in a recent note that the Zynga agreement with Peak Games is a prudent move.
Zynga's agreement to acquire Peak Games for $1.8 billion is a prudent acquisition that will boost annualized revenue by about 50%, based on SensorTower data, and drive meaningful EPS accretion. At about 2.7x trailing sales, the deal represents a discount to Zynga's 5.6x multiple and peer Glu Mobile (3.4x), but we await greater detail on Peak's financials and margins to fully gauge the impact.
Let's take the deal in a short term context. Zynga agreement says that it will pay Peak with 114 million shares at $7.92. As today's ZNGA shares are trading at $9.50, it would be $1.58 almost instant revenue after the selling. An over $180 million return in a few days and just at the beginning of the joint journey.
Meet The Author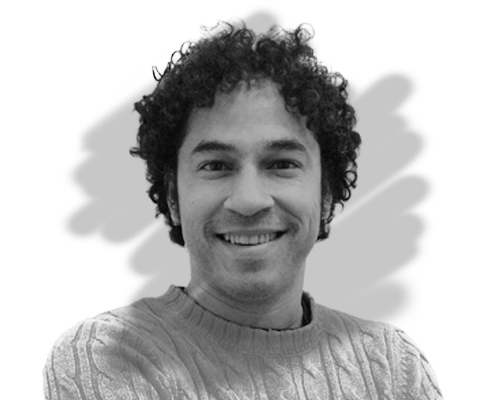 Mauricio Carrillo
Senior Reporter
Mauricio is a newer member of the team and a very welcome addition. He is a financial journalist and trader with over ten years of experience in stocks, Forex, commodities, and cryptocurrencies. This experience means he has an excellent understanding of the markets and current events.
Investing News


Dec 10th, 2020 - 4:32 PM (GMT)


Dec 9th, 2020 - 4:47 PM (GMT)


Dec 4th, 2020 - 4:58 PM (GMT)
Related Pages