Airlines Bailout Divides Congress, Again; How Companies Are Doing Now
Mar 18th, 2020 - 2:22 PM (GMT)
Category - Investing News
30

Views Today
US airlines, including Delta, American Airlines, United, Southwest, JetBlue, Hawaiian, Alaska Air, UPS, and FedEx, are seeking for a massive bailout package between 50 and 100 billion to avoid collapse due to the coronavirus COVID-19 impact in the global economy.
Due to coronavirus, Airlines have been forced to cancel flights all over the world in the last two weeks, and global travel restrictions are expected to continue and to be a more significant toll in revenues in the next months.
Companies are saying they need the money to preserve jobs, maintain vital infrastructure, and stimulate the economy. However, there are voices against the bailout and especially about how companies are using the funds provided in bailouts and regular operations as airlines have used 96% of their cash on buybacks over the past ten years, including $39 billion over the last five years.
US President Donald Trump said to the media on Monday:
We're going to back the airlines 100%, We have to back the airlines. It's not their fault.
However, Congress is not on the same page. US Representative Alexandria Ocasio-Cortez tweeted on March 17 that "96% of airline profits over the last decade went to buying up their own stocks to juice the price - not raising wages or other investments."
Sen. Richard Blumenthal, D-Conn tweeted:
No blank check industry bailouts, enabling possible exec bonuses & stock buybacks.
Also, Drew Hammill, a spokesman of Nancy Pelosi, said that the Speaker of the House discussed with the chairman of the House Transportation and Infrastructure Committee, Peter DeFazio, about the accelerating impact of coronavirus in aviation and transportation.
However, Hammill "emphasized that protecting workers' paychecks and benefits was their top priority and that immediate action was needed."
But, What is The Right Thing to do?
To put airlines' bailout into perspective, the $50 billion package would be more than three times the size of the industry's bailout after the September 11 attacks, and the same amount the federal government used to bail out General Motors during the financial crisis.
While US Treasury Secretary Mnuchin said the coronavirus impact could be worse than the September 11 for the airline industry. Robert Crandall, former American Airlines CEO, said that the effect would be huge as after 09/11, "public resumed traveling much more rapidly than they would here" with the coronavirus crisis.
Crandall affirms that as airlines are the only inter-city transportation system in the United States, "the government can not let them go bankrupt." He is proposing a long term loan program with no interest and the banning of the use of that money in buyback programs.
Talking about liquidity problems, Crandall affirmed that he doesn't believe airlines can survive the coronavirus crisis "without a large amount of external financial assistance."
Meanwhile, according to CNBC, Boeing is seeking access to the $60 billion assistance in public and private liquidity as the company has acknowledged it can not meet its liquidity needs under current market conditions.
So, we can go back and forth many times between who is right and who is not. Obviously, people don't like companies spending their money to support top executives and to increase the price of companies' equities artificially. Still, as other economic and service sectors that depend on how people interact between themselves and global business, airlines are suffering a colossal impasse with the crisis.
How Airlines Equities Are Doing in The Crisis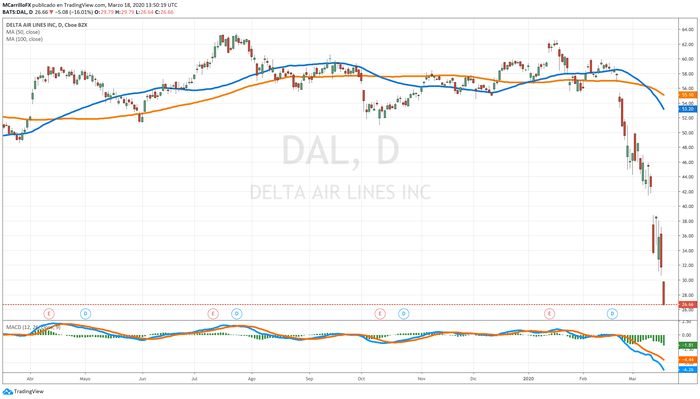 In the last month, Delta fell from $59.47 to current $27.30 per share, a more than 50% decline in a single month. DAL equities are trading at lows since December 2013, and the chart looks very bearish. Immediate support lies at the area between $25 and $26.00 per share.
To put it into perspective, between July 2007 and 2008 DAL price collapsed almost 80%. However, in the years after the financial crisis, it rocketed, including an over 400% rally between September 2012 and June 2014.
In the last month, shares of United Airlines have lost almost 70% of its price from $81 on February 18 to $26.11 on March 18. Southwest Airlines declined 41% to $34.40, Jetblue around 60%, American Airlines fell 60%, and Hawaiian is 61% in the last month.
Do the math.
Meet The Author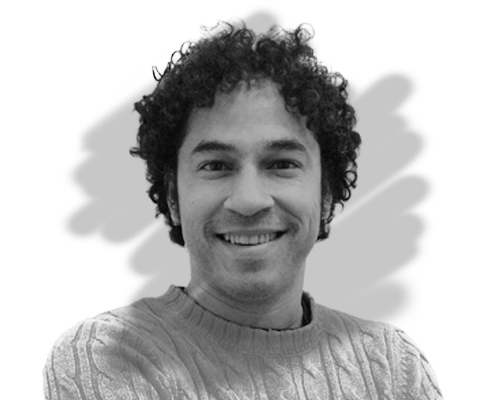 Mauricio Carrillo
Senior Reporter
Mauricio is a newer member of the team and a very welcome addition. He is a financial journalist and trader with over ten years of experience in stocks, Forex, commodities, and cryptocurrencies. This experience means he has an excellent understanding of the markets and current events.
Investing News


Dec 10th, 2020 - 4:32 PM (GMT)


Dec 9th, 2020 - 4:47 PM (GMT)


Dec 4th, 2020 - 4:58 PM (GMT)
Related Pages