Amazon Launches New Fire to Win The Tablet-in-Home War
May 13th, 2020 - 4:21 PM (GMT)
Category - Investing News
37

Views Today
A faster processor, more RAM, and USB-C charging are few of the new features that Amazon is offering in its new upgraded Fire HD 8 tablet as a way to help people to stay at home in a new social distancing world in the COVID-19 age.
Seattle based company Amazon has announced two new 8-inch Fire tablet models starting at $89.99. It includes a new update for its Fire HD 8 tablet which, in words of The Verge News Editor Chaim Gartenberg, "hasn't seen a meaningful update in years."
The new Fire HD Plus model offers more RAM, and Qi wireless charging for the first time in any Amazon's hardware. However, for that you will need the right charger. It comes with a six-month subscription to Kindle Unlimited, Amazon's book rental service. The price would be 109.99.
Despite being launched today, tablets will not start shipping until June 3 according to Amazon.
Fire 8 Tablets specifications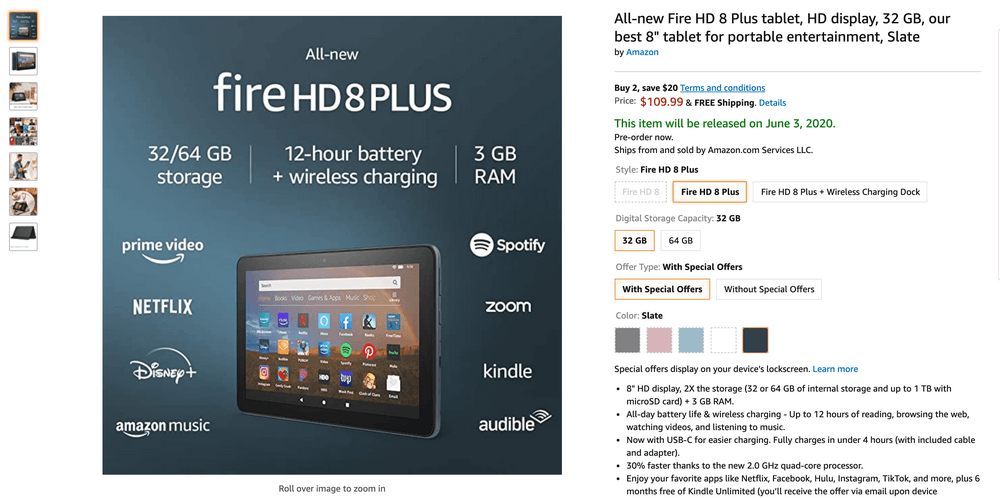 According to the Amazon selling page, the all-new Fire HD 8 Plus will be available in 32 or 64 GB storage, around 12-hour battery plus wireless charging and 3 GB of RAM.
The Fire HD 8, on the other hand, has 32 or 64 GB storage, 12 hours of battery and a 2 GB RAM.
The Kid's edition of Fire HD 8 will start at $139.99, identical hardware to Fire HD 8 but bundled with Amazon's "kid Proof."
Amazon is The Fourth Worldwide Tablet Seller in The World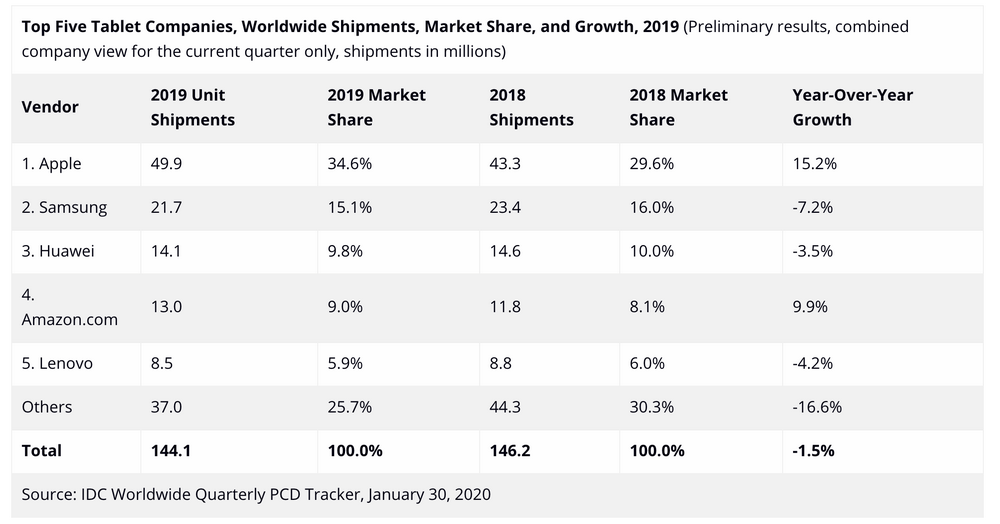 Despite an IDC report published early this year and that said that worldwide tablet shipments declined 1.5% between 2018 and 2019, more than 144 million units were delivered last year.
Apple remains as the King of tablets with a market share of 36.5% and almost 50 million tablets sold in 2019. Samsung shipped 21.7 million, and Huawei delivered 14.1 million units.
Amazon is trailing top 3 with around 13 million tablet shipments in 2019 and a market share of 9.0%. The recent Fire HD 8 tablets are called to revamp company position in the global tablet marketplace. Price is one of its attractiveness along with bundles and additional features.
Said IDC:
The retail giant, which is now ranked second in slate tablet shipments (Samsung is first), is slowly expanding to additional markets but this has not been enough to offset the decline in the United States.
Amazon Share Technical Analysis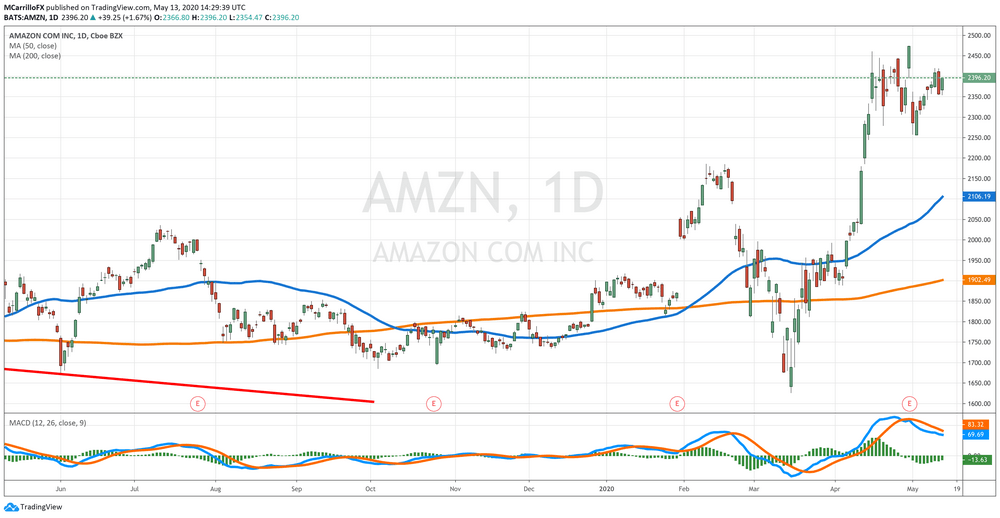 Amazon is trading positive on Wednesday as investors are welcoming new Fire HD 8 launchings and as a joint bounce from Tuesday's overall market sell-off.
AMZN is currently trading at $2,388.00, which is 1.32% positive on the day. The unit is trading on consolidation mode above $2,350.00 after bouncing back at $2,256.35 on may 4 and then rallying to $2,420.00, May 12 highs.
The chart pattern looks bullish and technical conditions in AMZN are strong. Upside momentum is also robust and volume indicates that the share is under accumulation.
Analysts at TheStreet Quant Ratings consider Amazon as a "buy" share with a target price of $3,107.
The company's strengths can be seen in multiple areas, such as its robust revenue growth, good cash flow from operations, expanding profit margins and solid stock price performance. We feel its strengths outweigh the fact that the company has had sub par growth in net income.
CFRA has AMZN as a four-star "Buy" with a 12-month target of $2,600. Analysts see net sales to rise about 23% in 2020, primarily fueled by Amazon Web Services and growing global Amazon Prime subscriber and subsequent Prime e-commerce.
We project gross margin of 40.3% in 2020 versus 40.6% in 2019, pressured by investments in shipping/logistics (including rollout of one-day delivery), stores/groceries delivery (including Whole Foods), Prime video and AWS (including international expansion), as well as certain expenses related to the containment of Covid-19.
Meet The Author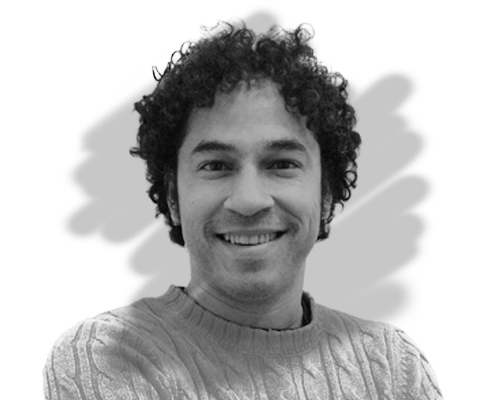 Mauricio Carrillo
Senior Reporter
Mauricio is a newer member of the team and a very welcome addition. He is a financial journalist and trader with over ten years of experience in stocks, Forex, commodities, and cryptocurrencies. This experience means he has an excellent understanding of the markets and current events.
Investing News


Dec 10th, 2020 - 4:32 PM (GMT)


Dec 9th, 2020 - 4:47 PM (GMT)


Dec 4th, 2020 - 4:58 PM (GMT)
Related Pages