Apple Wins Appeal Against The EU Order to Pay €13 Billion
Jul 15th, 2020 - 2:39 PM (GMT)
Category - Investing News
35

Views Today
United States multinational technology company Apple has won its case against the European Commission for 13 billion euros, around 14.8 billion dollars, that the Cupertino's company was ordered to pay back in 2016.
The second highest court in the European Union ruled in favor of Apple. It said the iPhone maker does not owe billions to Ireland after unfair favorable taxation practices and treatments.
The European Commission's antitrust body was defeated. They now have to decide if they want to appeal the case and take it to the highest court in the union.
Ireland and Apple decided to appeal the European Commission's decision as an effort from Ireland to defend its low-tax environment.
The government said in a statement:
Ireland has always been clear that there was no special treatment provided, Ireland appealed the commission decision on the basis that Ireland granted no state aid and the decision today from the court supports that view.
Yes, it is a landmark victory that can be taken as a net profit of 13 billion euros or 14.9 billion dollars. Apple will not be forced to pay Irish taxes, so the Cupertino's company can save that money for more innovation, increase its pile of cash or just to enhance its famous buyback program.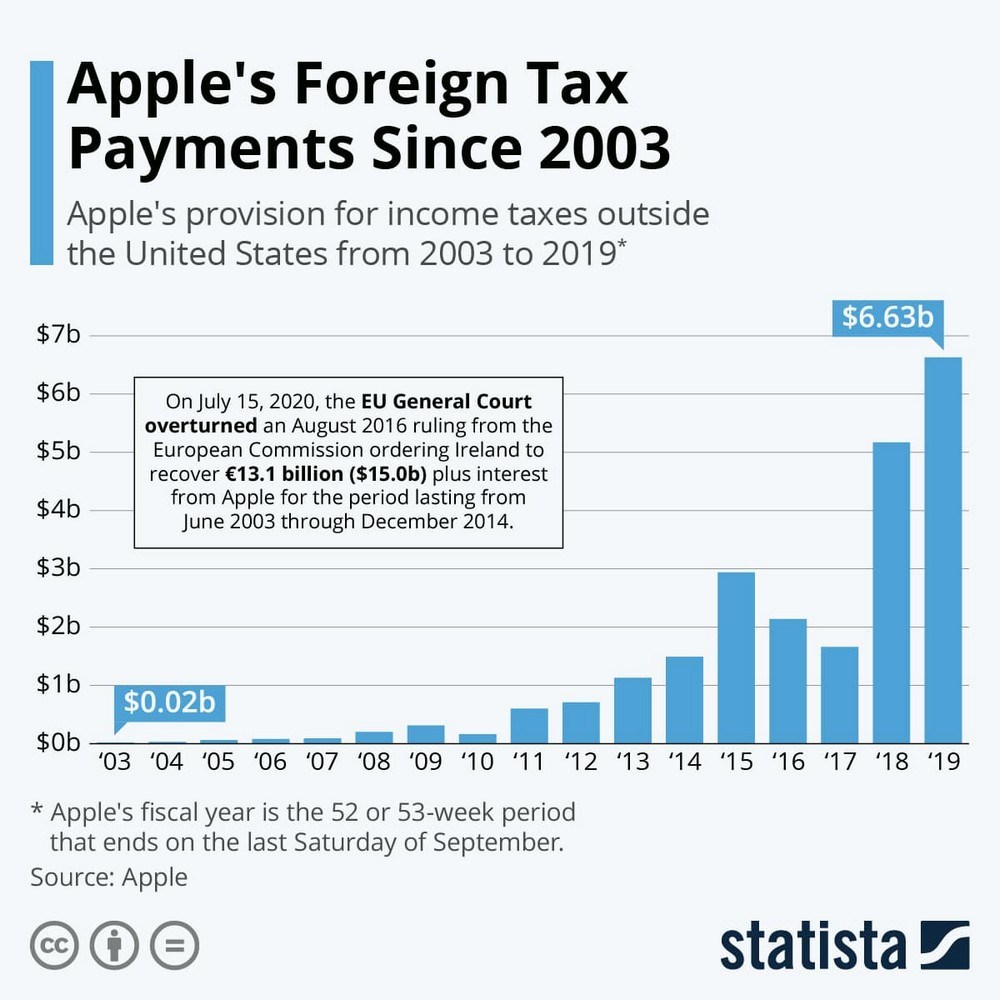 The Claim Against Apple
In 2016, the European Commission said that Ireland offered special conditions to reduce its taxation print. According to the commission's claim, Ireland would allow Apple to pay "substantially less tax than other businesses over many years."
"Member States cannot give tax benefits to selected companies — this is illegal under EU state aid rules," said Margrethe Vestager, the EU's antitrust chief in 2016. Tim Cook answered that the 2016 ruling was "political crap."
In that framework, Apple would pay an effective corporate tax rate of just 1 percent on all European profits back in 2003, and then it fell to 0.005 percent in 2014.
The commission ruled against Apple and ordered it to pay 13 billion euros in retrospective taxes. However, the Irish government and Apple decided to appeal the commission's decision, and now the court has given them the reason.
Now, the European body has to decide if they want to appeal to the court's ruling and potentially take the case to the European Union's highest tribunal.
Why The EU vs. Apple Case is so Important
As CNBC International reporter Silvia Amaron highlights in a recent article, the case against Apple is a cornerstone of the European Union's fight against relaxed taxation practices.
This case was a centerpiece of the EU's crackdown on taxation in recent years. It could impact how the Brussels institution deals with other companies over taxation matters.
The battle between the European government and technological giants relies on how to place big tech conglomerates on the same page of traditional businesses.
After the court's decision, the European Commission said they would maintain its fight against unfair tax laws, and they will work for a just taxation landmark in all countries in the European Union. "We will carefully study the judgment and reflect on possible next steps."
The EU commission said in a statement:
The Commission will continue to look at aggressive tax planning measures under EU State aid rules to assess whether they result in illegal State aid, we have made a lot of progress already at national, European and global levels, and we need to continue to work together to succeed.
Long story short, they won't give up easily.
Apple Shares Analysis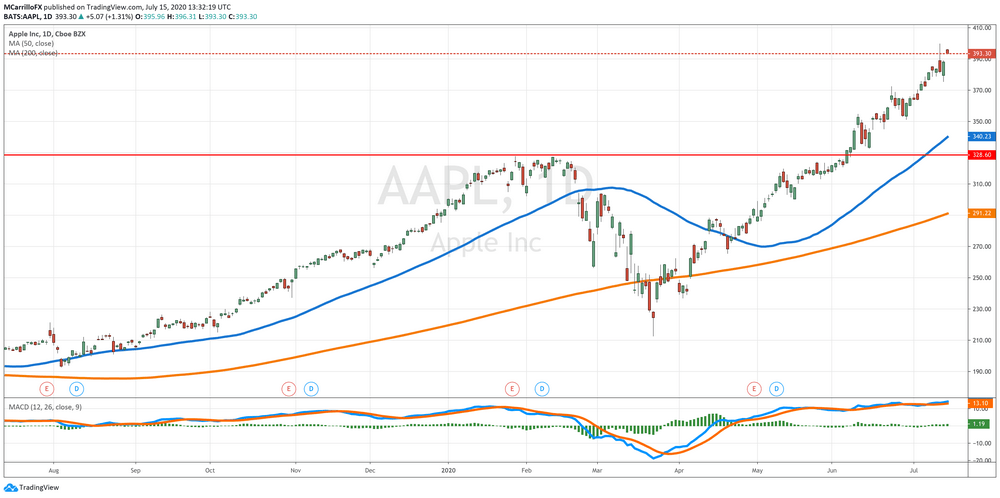 Shares of Apple are trading around 2 percent positive on Wednesday as the unit reacted positively to the court ruling news. AAPL is now testing the $400 area for the third session in a row with a consolidation period performed on Tuesday.
Currently, Apple shares are trading at $395.10, which is 1.78 percent positive on the day. Just shy of its high around $400.00, reached on July 13.
The new floor is now set at $370, as far as the unit remains above that level, bulls will retain the control. Technically, the pair is inside an uptrend with healthy conditions. MACD is bullish with a very strong upside momentum measured by the RSI. AAPL is under accumulation, and moving averages are pointing to the north.
According to TheStreet Quant Ratings, AAPL is a share to "buy" with a target price of $502.33. "Despite its growing revenue, the company underperformed as compared with the sub sector average of 1.3%. Since the same quarter one year prior, revenues slightly increased by 0.5%. This growth in revenue appears to have trickled down to the company's bottom line, improving the earnings per share."
CFRA analysts have Apple as a "buy" with a 12-month target price of $400. "We have high conviction on Services growth given our outlook for a rising installed base and new paid subscriptions of 35M in the Mar-Q to reach 515M (on pace for 600M by CY end)."
Meet The Author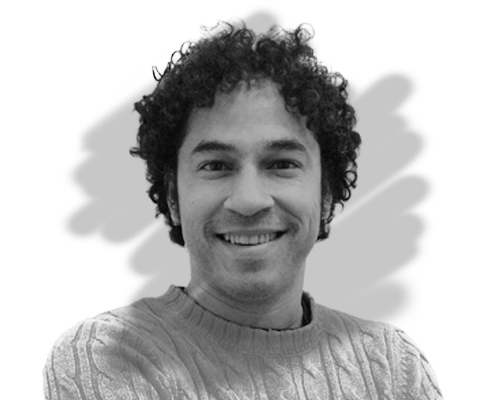 Mauricio Carrillo
Senior Reporter
Mauricio is a newer member of the team and a very welcome addition. He is a financial journalist and trader with over ten years of experience in stocks, Forex, commodities, and cryptocurrencies. This experience means he has an excellent understanding of the markets and current events.
Investing News


Dec 10th, 2020 - 4:32 PM (GMT)


Dec 9th, 2020 - 4:47 PM (GMT)


Dec 4th, 2020 - 4:58 PM (GMT)
Related Pages