Coca-Cola to Return to US Alcoholic Drink Market in 2021
Sep 22nd, 2020 - 4:12 PM (GMT)
Category - Investing News
34

Views Today
American multinational beverage corporation Coca Cola is ready to return to the alcoholic drinks market in the United States after almost 40 years. CEO James Quincey said that in an interview with CNBC's Jim Cramer.
During Cramer's show "Mad Money," Quincey said that the Atlanta based company is following the consumer in the new hard seltzer and alcoholic drinks trend.
Quincey said to CNBC:
I think these innovations that we've seen, including hard seltzer, are a trend of the consumer looking for new things, and if we want to be consumer-centric, then that's what's taking us to this opportunity.
Quincey also commented that Coca-Cola expects to launch Topo Chico during the first half of 2021. The product will be initially introduced in Mexico and Brazil later this month. Then, the United States will enter the scene.
Topo Chico was acquired by Coca-Cola in 2017 in a deal worth 220 million dollars. Before, the brand was the property of Arca Continental, the second-largest Coca-Cola bottler in Latin America.
It is a crucial industry movement as Hard Seltzer market sales are estimated to represent 3 billion dollars in the United States in the last twelve months to July 2020. The deal could mean an increase in global sales for the Coca-Cola company.
Topo Chico will be the first Coca-Cola alcoholic drink since the early 1980s when the company sold its wine business.
Before, Constellation brands introduced the Corona Hard Seltzer drink, which quickly gained a 6 percent IRI market share in the United States.
Coca-Cola, a Buffett Investment
Legendary investor Warren Buffet loves Coca-Cola and he usually congratulates the company for its global presence and engagement with its customers.
Berkshire Hathaway owns 400 million shares of Coca-Cola. It all started in 1988 when Buffett bought KO shares after the Black Monday market crash in 1987. It is a long-term investment that was increased to 100 million shares in 1994. Then, the stock has split two times to its current 400 million shares holding.
Buffett has been quoted saying that he would buy the world a Coke. Also, that a quarter of the 2,700 calories he consumed a day would come from Coca-Cola.
He wrote in a letter to shareholders:
One thing that people don't understand, cola has no taste memory. You can drink one of these at 9 o'clock, 11 o'clock, 5 o'clock. You can't do that with cream soda, root beer, orange, grape. You get sick of them after a while. There is no taste memory to cola.
But going beyond that, he praised the company for the global power of the brand. "If you gave me 100 billion dollars and said take away the soft drink leadership of Coca-Cola in the world, I'd give it back to you and say it can't be done."
In that line, according to the Coca-Cola website, the company's footprint covers over 200 countries and territories, and it has performed 58 years of consecutive annual dividend increases.
Coca-Cola Stock Analysis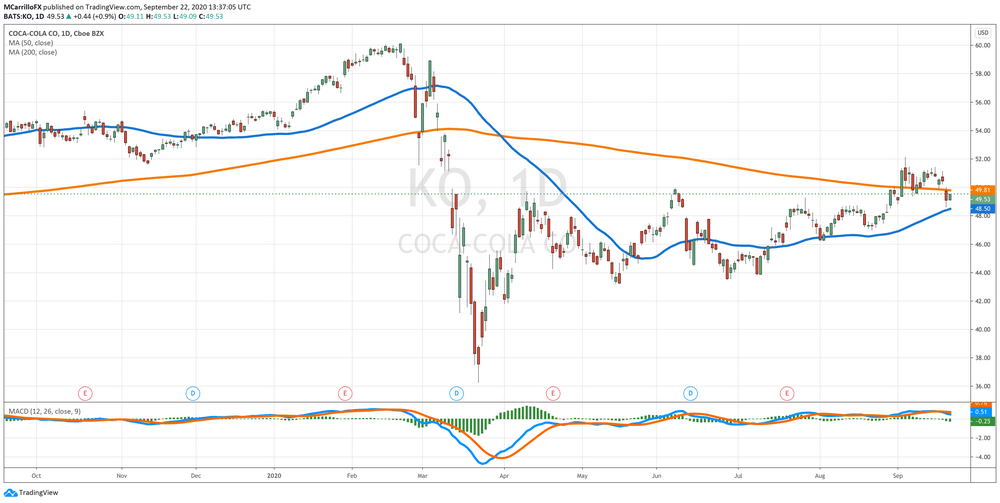 Shares of Coca-Cola are trading positive on Tuesday after two sessions of significant drops amid global equities uncertainty.
KO is currently trading at 49.53 dollars per unit, which is 0.75 percent positive on the day. The unit is consolidating a bounce from 48.61 dollars performed Monday.
The price action's critical technical element is that the equity just crossed below the 200-day moving average yesterday, including a close below that. Investors should take a look at that movement.
TheStreet Quant Ratings considers KO as a share to "buy" with a target price of 58.39 dollars per unit.
Coca-Cola's earnings per share declined by 32.8% in the most recent quarter compared to the same quarter a year ago. This company has reported somewhat volatile earnings recently. We feel it is likely to report a decline in earnings in the coming year. During the past fiscal year, COCA-COLA CO increased its bottom line by earning $2.07 versus $1.50 in the prior year. For the next year, the market is expecting a contraction of 12.6% in earnings ($1.81 versus $2.07).
According to CFRA, Coca-Cola is a stock to "buy" with a 12-month target price of 52.00 dollars per share. Analysts believe that "the world's largest soft drink company, KO also has a sizable fruit juice business."
We note KO's large international footprint, particularly in fast growing emerging markets, and its ability to generate strong free cash flows and return cash to shareholders. We think the Costa deal, which closed in early 2019, provided further product diversification. The biggest near-term headwind we see are "on-premise" sales (i.e. restaurants, movie theaters and other venues), which account for about 40% of KO's volumes. KO is a member of the S&P Dividend Aristocrats Index.
Meet The Author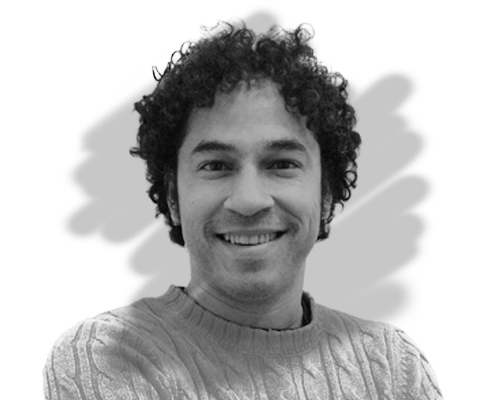 Mauricio Carrillo
Senior Reporter
Mauricio is a newer member of the team and a very welcome addition. He is a financial journalist and trader with over ten years of experience in stocks, Forex, commodities, and cryptocurrencies. This experience means he has an excellent understanding of the markets and current events.
Investing News


Dec 10th, 2020 - 4:32 PM (GMT)


Dec 9th, 2020 - 4:47 PM (GMT)


Dec 4th, 2020 - 4:58 PM (GMT)
Related Pages