Intel Tests $50.00 After Launching an Accelerated Buyback Plan
Aug 20th, 2020 - 4:29 PM (GMT)
Category - Investing News
36

Views Today
American multinational corporation and technology company Intel announced the start of an accelerated 10 billion repurchase of INTC common stocks, according to a press release published by the company on August 19.
The buyback program was previously suspended in March 2020. The board of the company based in Santa Clara, California, is now looking to take profit from the 19 percent decline the share experienced the past month when the unit fell to $46.97, its lowest price since March 23.
Chief Executive Bob Swan said in Wednesday's announcement:
While the macro-economic environment remains uncertain, Intel shares are currently trading well below our intrinsic valuation and we believe these repurchases are prudent at this time.
The decision comes as a part of the 20 billion dollars plan of stock's buyback announced in October 2019. Following the completion of the program, Intel would have purchased around 17.6 billion in 2020. The acceleration of the plan is because of the low price of the stock.
According to the press release, "BNP Paribas Securities Corp. acted as sole structuring adviser to Intel on the ASR agreements."
A Smart Move
The board's decision is a good move in analysts' eyes as they highlight recent corporate results in the company.
In the second quarter, Intel reported earnings per share of 1.23 dollars, 11.82 percent above analysts' estimate of 1.10 dollars. It was also a 16.04 percent increase from the same period in 2019.
Intel Stock Price Action And Analysis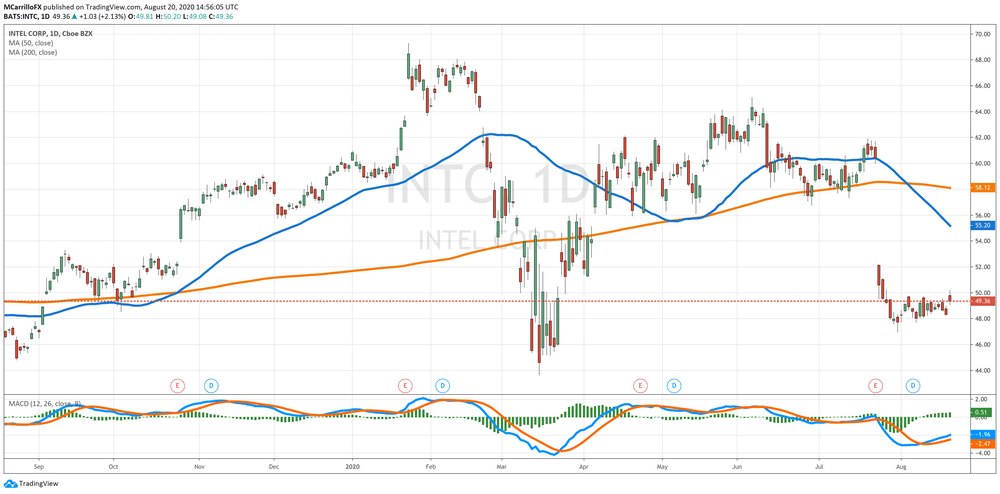 Shares of Intel jumped on Thursday following the news, and INTC rose to its highest level since July 28 at 50.20 dollars per unit. Now, INTC is trading 2.21 percent up on the day at 49.38 dollars.
On the rating agencies front, CFRA has decided to maintain "hold" opinion on Intel Corporation with a 12-month target price of 52.00 dollars per share.
According to analysts at CFRA:
Long term, we see growth driven by INTC's Data-Centric businesses (52% sales and rose 34% in Q2). Data Center revenue rose 43% in Q2, on demand from cloud service providers (up 47%) and ramp of its 3rd generation Xeon Scalable processor.
TheStreet Quant Ratings has INTC as a share to "buy" with a target price of 63.74 dollars.
The Street analysts say:
INTC's revenue growth has slightly outpaced the sub sector average of 13.2%. Since the same quarter one year prior, revenues rose by 19.5%. Growth in the company's revenue appears to have helped boost the earnings per share.
Finally, the company affirmed that there are more stock repurchases to come as "Intel intends to complete the $2.4 billion balance of its planned $20 billion share repurchases and return to its historical capital return practices when markets stabilize."
Meet The Author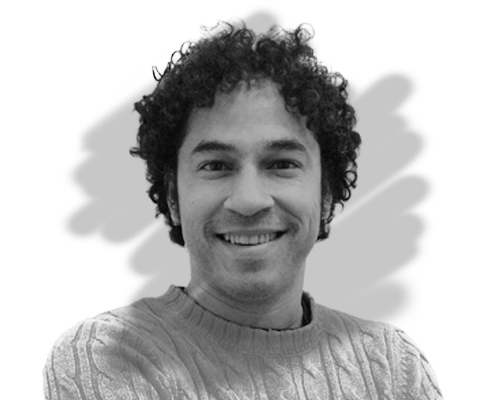 Mauricio Carrillo
Senior Reporter
Mauricio is a newer member of the team and a very welcome addition. He is a financial journalist and trader with over ten years of experience in stocks, Forex, commodities, and cryptocurrencies. This experience means he has an excellent understanding of the markets and current events.
Investing News


Dec 10th, 2020 - 4:32 PM (GMT)


Dec 9th, 2020 - 4:47 PM (GMT)


Dec 4th, 2020 - 4:58 PM (GMT)
Related Pages