Nike Reports a Jump in Online Sales; Shares up to $130
Sep 23rd, 2020 - 4:54 PM (GMT)
Category - Investing News
30

Views Today
American multinational design and fashion company Nike released a stunning corporate earning report after the bell on Tuesday, and today, NKE shares are trading a double digits rally.
According to a press release, Nike has implemented an aggressive digital business strategy that is paying back. "We know that digital is the new normal. The consumer today is digitally grounded and simply will not revert back," CEO John Donahoe said in the earnings conference call.
As for highlights, Nike reported that its online sales jumped 82 percent and its women's apparel division grew nearly 200 percent. Sales in China rose by 6 percent, while in North America it was down 2 percent.
It demonstrates Nike's competitive advantage.
Donahoe said:
Our results this quarter continue to demonstrate NIKE's full competitive advantage, as we strengthen our position in the midst of disruption, in this dynamic environment, no one can match our pace of launching innovative products and our Brand's deep connection to consumers. These strengths, coupled with our digital acceleration, are unlocking NIKE's long-term market potential.
Q1 Results:
Nike reported an FQ1 GAAP earning per share of 95 cents, a beat by 47 cents from market expectations. In terms of Revenues, Nike informed 20.6 billion dollars, a beat by 1.45 billion dollars but a 0.6 percent decline from the same period in 2019.
The gross margin was 44.8 percent, versus a consensus of 42.9 percent. Nike's direct sales accounted for 3.7 billion dollars.
Company digital sales now represent around 30 percent of total quarterly sales, a number the company was expecting to reach in 2023. On the other hand, the company said it is still experiencing year-over-year declines in physical store traffic across the globe due to COVID-19. However, conversion rates are significantly higher than regular.
Time For Another Split?
Nike has always aimed to split its shares. Between 1983 and 2015, there have been seven 2-for-1 stock splits for NKE. The most recent was on December 23, 2015 and the last three were when the share was around the 100 dollars per unit.
With a share at 130 dollars per unit right now, Wall Street is wondering if there is going to be another split for NKE. Only time will answer that question. Just keep that in mind.
Nike Stock Analysis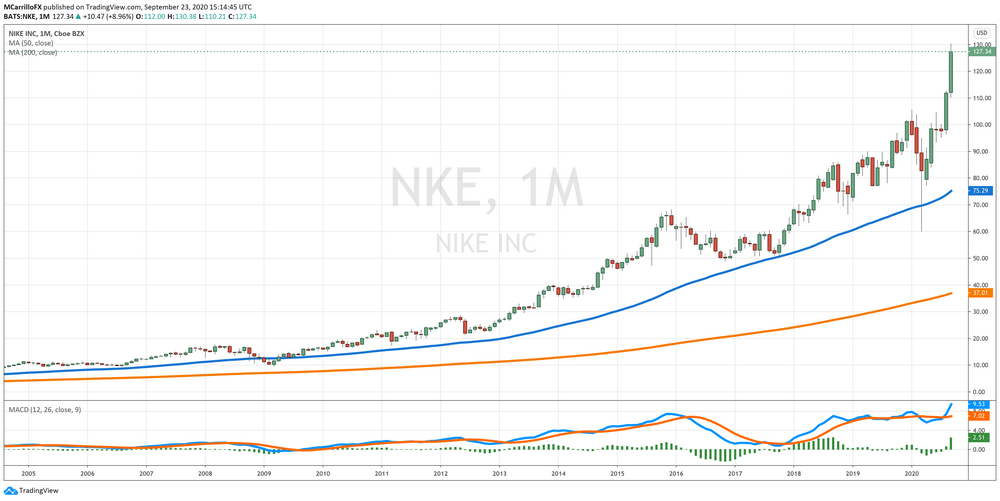 Shares of Nike are trading positive for the third day. On Wednesday, the NKE stock broke above the resistance located at the 120 dollars per share and it is now moving towards the 130 dollars area, which would be its all-time high.
Currently, NKE is trading at 127.44 dollars per share, which is 9.01 percent up on the day, following a 3 percent increase on Tuesday. NKE is rallying 13.84 percent on the month, following another rally in August, which was 14.63 percent. On the year, Nike is up 25 percent.
Technically, current conditions for Nike are healthy and favoring the upside. MACD is bullish, Momentum is bullish, and moving averages are aligned to the north.
BofA Securities maintains Nike as a buy and raised stock price target to $150 from $130
Piper Sandler keeps Nike as overweight
Credit Suisse maintains Nike as outperform
Raymond James Keeps NKE as outperform and increases target price to$140 from $121
JP Morgan raises price target for Nike to $140 from $136
Deutsche Bank raised Nike Inc price target from $107 to $151
Meet The Author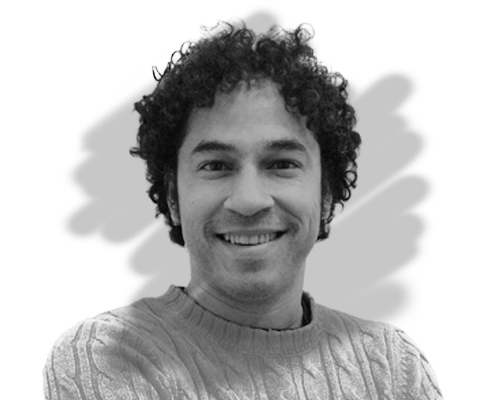 Mauricio Carrillo
Senior Reporter
Mauricio is a newer member of the team and a very welcome addition. He is a financial journalist and trader with over ten years of experience in stocks, Forex, commodities, and cryptocurrencies. This experience means he has an excellent understanding of the markets and current events.
Investing News


Dec 10th, 2020 - 4:32 PM (GMT)


Dec 9th, 2020 - 4:47 PM (GMT)


Dec 4th, 2020 - 4:58 PM (GMT)
Related Pages