TD Ameritrade Falls on Thursday After Mixed Earnings
Apr 23rd, 2020 - 3:22 PM (GMT)
Category - Investing News
30

Views Today
Nebraska-based broker TD Ameritrade reported a mixed corporate report on Wednesday but commented that despite COVID-19 disruption, the platform expects to close the deal with Charles Schwab late in 2020.
As a reaction, the share of TD Ameritrade closed lower on Wednesday and it is expected to extend declines on Thursday, near to the $36.25 area. It would be the second negative day for AMTD in the four last trading sessions.

TD Ameritrade Publishes a Mixed Earnings Report
According to a press note published by the company, TD Ameritrade reported a Q1 Non-GAAP earning per share of $0.86, which is a miss of $0.02 from expectations. GAAP EPS will be $0.82, a miss by $0.01.
The company declared a $0.31 quarterly dividend per share for its fiscal first quarter of 2020, in line with the previous report. It would be payable on May 20 for shareholders of record May 6 and an ex-dividend date of May 5. It would mean a forward yield of 3.31%, taking the current share price.
However, revenues rose 2.1% year to year to $1.4 billion in Q1, which is $80 million above experts' expectations. The previous quarter net revenue was $1.29B.
TD Ameritrade also reported record net new clients assets of $45 billion, a 13% annualized growth rate, and a record high for gross new funded retail accounts of 608,000.
Interim President and CEO Steve Boyle said:
Inflows were robust as new and existing clients brought over new funds to capitalize on various trading opportunities when market concerns started to dominate the news cycle.
The company also informed that as per April 20, client cash is steady around $209 billion, an increase from previous periods, and that would boost future earnings power in a "more favorable interest rate environment," as Interim CFO Jon Peterson said.
Deal With Charles Schwab Will be Closing in Late 2020
The broker commented that the plans to merge with US-based broker Charles Schwab are set to be closing late in 2020. Remember that Charles Schwab and TD Ameritrade announced their plans to join forces back in November 2019.
Boyle said in a statement about the planned merger:
While our top priority at the moment is managing our company through the challenges presented by the pandemic, teams remain focused on the most critical work needed for deal close, which we expect will happen in the second half of 2020.
Schwab CEO Walt Bettinger recently highlighted that as the other two, TD Ameritrade acquisition "remains on track," and both companies are optimistic about the Department of Justice review.
Previously, the Department of Justice of the United States asked firms in the middle of mergers and acquisitions to add 30 days to their "deal timing agreements" in line with COVID19 disruption and the postponement of depositions and the movement of meetings to phone and video.
TD Ameritrade Share Analysis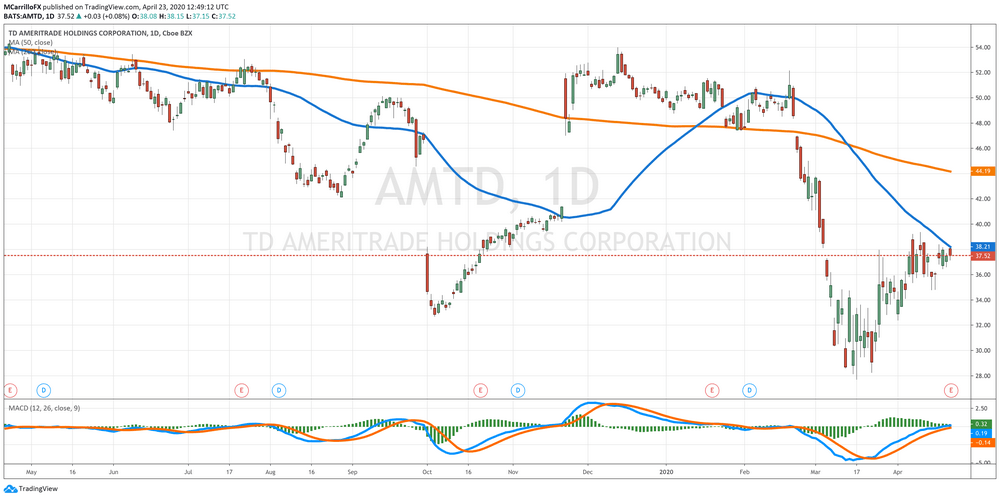 After closing its first negative day in the week on Wednesday at 37.52, shares of Ameritrade are expected to extend declines on Thursday as the unit is heading to sub-$37 prices.
The unit is still well above current support at 36.40; however, investors are looking with concern at the performance of AMTD yesterday when it posted declines in contrast to the bullish rise of the broader equities market on Wednesday.
Currently, TD Ameritrade is trading at $37.00, which is 1.39% down on the day. The chart still looks bullish but the momentum is fading. The 50-day moving average right now contains the unit to the upside at 38.21, but AMTD has strong short term support at 36.40.
Meet The Author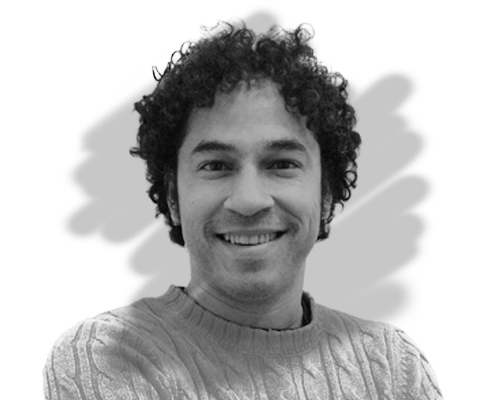 Mauricio Carrillo
Senior Reporter
Mauricio is a newer member of the team and a very welcome addition. He is a financial journalist and trader with over ten years of experience in stocks, Forex, commodities, and cryptocurrencies. This experience means he has an excellent understanding of the markets and current events.
Investing News


Dec 10th, 2020 - 4:32 PM (GMT)


Dec 9th, 2020 - 4:47 PM (GMT)


Dec 4th, 2020 - 4:58 PM (GMT)
Related Pages