Tesla at $1,000 Per Share After Profiting Feds Money And SpaceX Hype
Jun 11th, 2020 - 4:39 PM (GMT)
Category - Investing News
33

Views Today
A few months ago, while talking about the electric car revolution in Europe and the Americas, a top executive in the luxury car industry told me that Tesla was overrated, and it was considered just like a battery producer by the car industry.
This week, the American electric vehicle and clean energy company is about to become the world's most valuable car company as shares jumped to its all-time highs of $1,027 per share on Wednesday. It is now consolidating levels around the $1,000 mark.
Tesla is producing more cars than ever, it is entering the truck heavy cargo industry, and its solar roof business is also improving numbers. At the top of it, the Palo Alto company is taking advantage of the SpaceX hype.
Besides, the Fed has been pumping money into the US economy and helping stocks to rally and recover from COVID-19 lows in March. Tesla is not an exception with a stunning 190% rally from March minimums at $350.50.
Tesla is trading around 20% positive in June, three positive months in a row and it managed to break above the key $955.00 resistance this week. During this year, TSLA shares have skyrocketed around 136% from the 2020 opening price of $418.00 per unit.
The Tesla Electric Freight Truck Business
This week, Tesla's CEO Elon Musk asked the company to go all out and volume production of its new Tesla Semi, its bet on the truck industry. Musk's note came after new competitors were gaining investors' interest and branding hype.
China Approves LFP Batteries For Model 3s
According to the Chinese Ministry of Industry and Information Technology website, Tesla was awarded with government approval to build Model 3 in China with lithium iron phosphate batteries, also known as LFP.
The Chinese government approval is a bold move for Tesla as LFP batteries use no cobalt, one of the most expensive metals in electric car batteries.
Investors Pleased With Tesla
Analysts and investors welcomed recent news about Tesla and also Musk's SpaceX endeavor. Ron Baron, a billionaire investor and follower of the Tesla enterprise, believes that Tesla and SpaceX will experience exponential growth in the years to come.
In a conversation with CNBC, Baron affirmed that "there is ten times more to go" with the electric carmaker. In the case of SpaceX, Baron said that the aerospace company based on Hawthorne, California, will expand by a multiple of 20 in the next ten years. "That is an amazing opportunity as well."
Why are we talking about SpaceX in a Tesla piece of news? Well, any SpaceX achievement will be seen as a Tesla victory. That's, TSLA will take advantage of the SpaceX hype.
On the other side, investors are expecting a new "million-mile" battery technology with longer life and lower costs for future Tesla vehicles.
Right now, with a $1,000 price per share, Tesla's valuation is around $190 billion, close to the world-wide most valuable car brand, Toyota, with $216 billion. As a matter of context, Tesla's market cap has risen by around $40 billion in the last month.
TSLA: The Tesla Share Analysis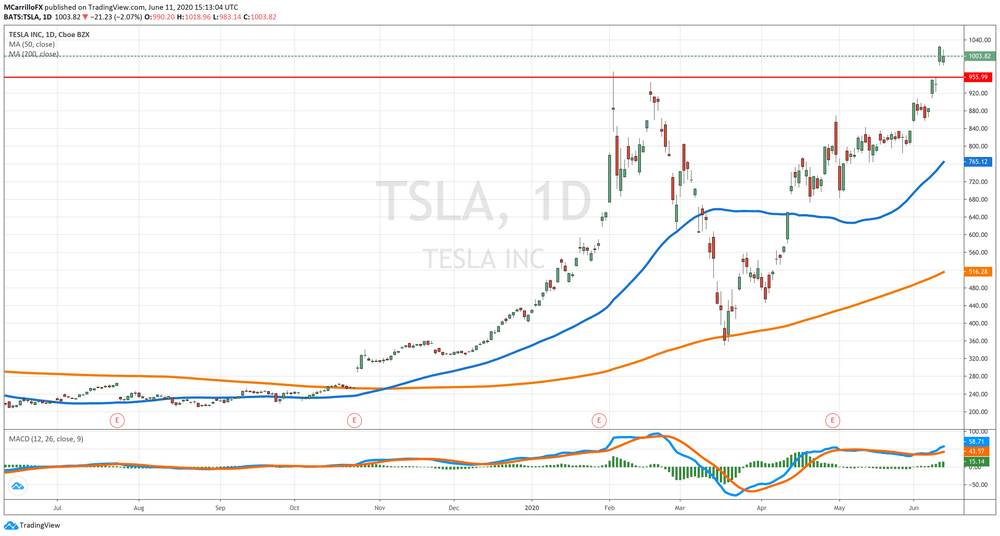 Tesla shares are trading negatively on Thursday for the first time in five days. However, today's decline is due to two things: First, the current market environment of risk aversion with major indexes posting significant losses; and second, consolidation after the latest rally that brought the unit from the $880.00 area to its all-time high at $1,027.50.
Currently, Tesla is trading at $1,012, which is 1.28% down on the day. But the unit managed to recover from intraday lows at $983.15.
Taking yesterday's $1,000 mark surpassing, we can say that the critical point in the last rally was the breaking up of the $955.00 area on June 10. It is now acting as strong support. Keep that in mind.
The technical analysis says that conditions for TSLA are healthy and indicators suggest that the uptrend remains intact. The chart formation shows a solid rising trend with MACD being also bullish. Momentum is positive, but it is starting to decline its pace.
Long story short, Tesla is under accumulation and moving averages are aligned to the upside.
According to Ford Equity Research, Tesla has very positive price movement and earnings strength. However, relative valuation is negative.
Ford Equity comments:
We project that TSLA will outperform the market over the next 6 to 12 months. This projection is based on our analysis of three key factors that influence common stock performance: earnings strength, relative valuation, and recent price movement.
On the other hand, TheStreet Quant Ratings has Tesla as a share to "Hold" with no target price. Analysts think that despite revenue growth being robust, profit margins are poor.
TheStreet says:
The company's strengths can be seen in multiple areas, such as its robust revenue growth, solid stock price performance and impressive record of earnings per share growth. However, as a counter to these strengths, we find that the company's profit margins have been poor overall.
Tesla Brand Awareness
Finally, I still remember my conversation with the top carmaker executive. We were talking about how to make a luxury brand social connotation as successful and popular as a new kid on the block such as Tesla.
He got me wrong about comparing one of the top brands in the world with Tesla in terms of car performance or high quality. I was trying to make a point saying that Tesla's brand awareness is a significant differential for Musk's company.
I told him, they are like Apple, you are cool if you have a Tesla right now, how can we create that kind of awareness for our brand. He misunderstood me, and he missed the point.
And yes, Tesla has followers, and now he is enjoying the SpaceX hype. Life is what it is.
Meet The Author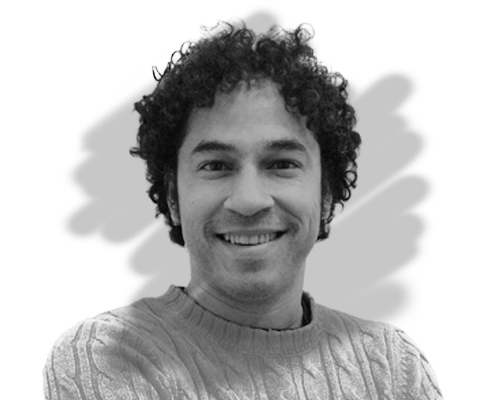 Mauricio Carrillo
Senior Reporter
Mauricio is a newer member of the team and a very welcome addition. He is a financial journalist and trader with over ten years of experience in stocks, Forex, commodities, and cryptocurrencies. This experience means he has an excellent understanding of the markets and current events.
Investing News


Dec 10th, 2020 - 4:32 PM (GMT)


Dec 9th, 2020 - 4:47 PM (GMT)


Dec 4th, 2020 - 4:58 PM (GMT)
Related Pages