Finmax Review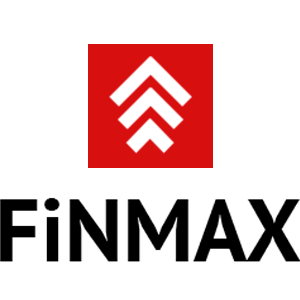 Introduction
Updated Jan, 2020
Category - Reviews
53

Views Today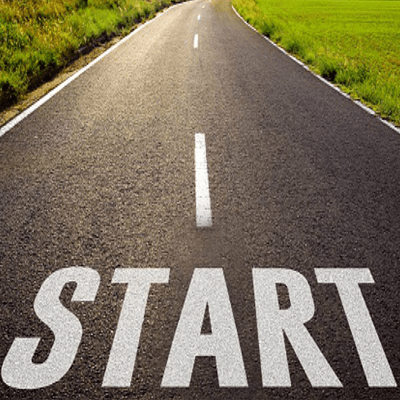 Finmax is a binary options broker operating in Sofia, Bulgaria, licensed in the Seychelles and trading since 2016. While a relatively new broker, they have a bespoke trading platform, developed specifically for them on which they offer an extensive range of expiry times ranging from 60 seconds to 4 months options, offering a whole host of other trading features.
This particular binary options broker offers upwards of 75 assets, including all of those that you would expect from a broker including metals, oils, indices and currency pairs. Their bespoke trading platform supports mobile trading, and with a large proportion of Russian traders, the website is available in both the English and Russian languages.
When deciding if Finmax is the right binary options broker for you, there is a lot to consider. Research can take time, which is why we have done the hard work for you. From trade and account types to customer support and information about deposits and withdrawals, we bring you all the information you need to make a decision when it comes to choosing who to trade with.
In this review, you will learn:
The details of the different account types on offer
Minimum deposit requirements and their bonuses
Any special unique features offered by Finmax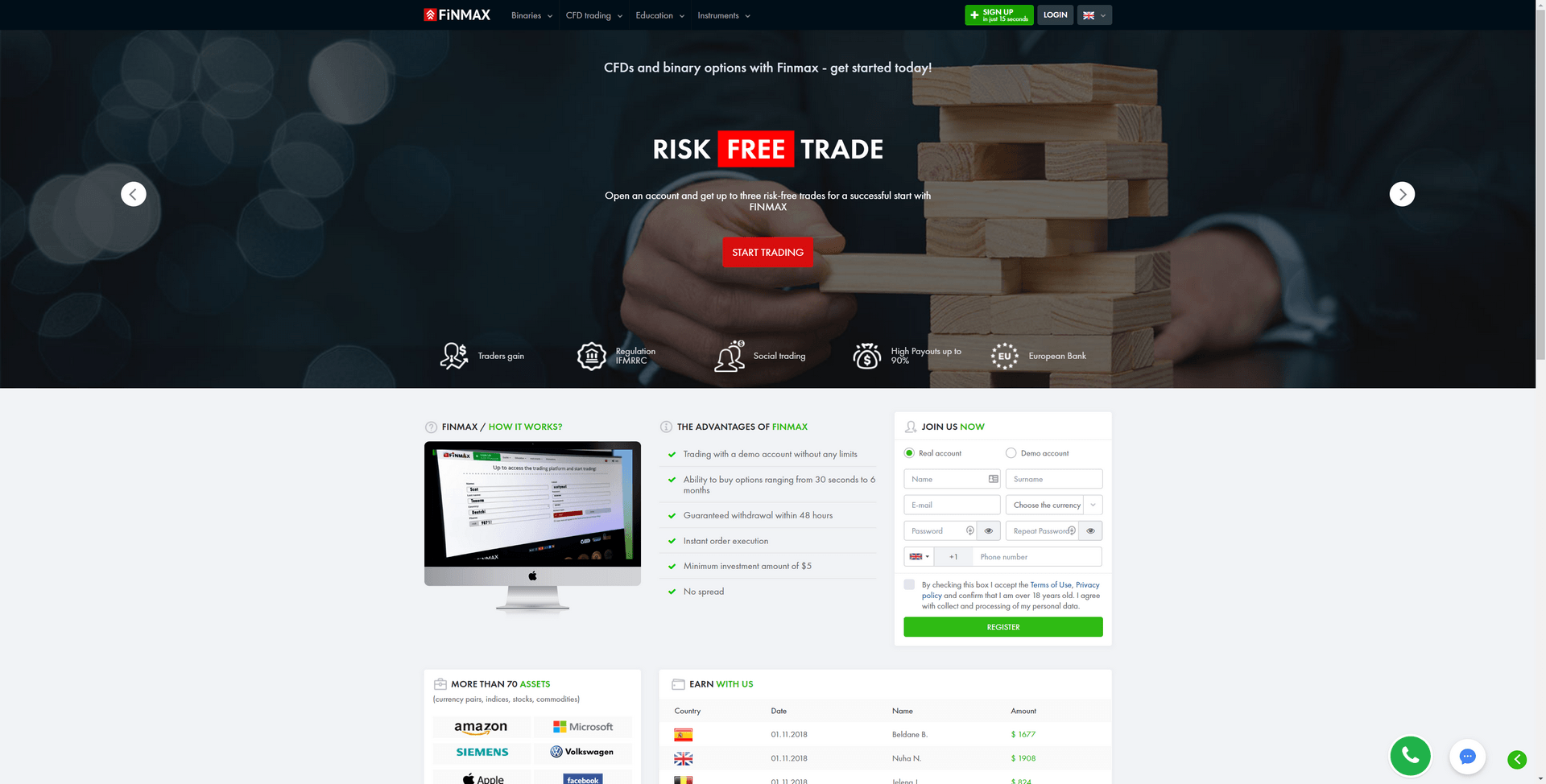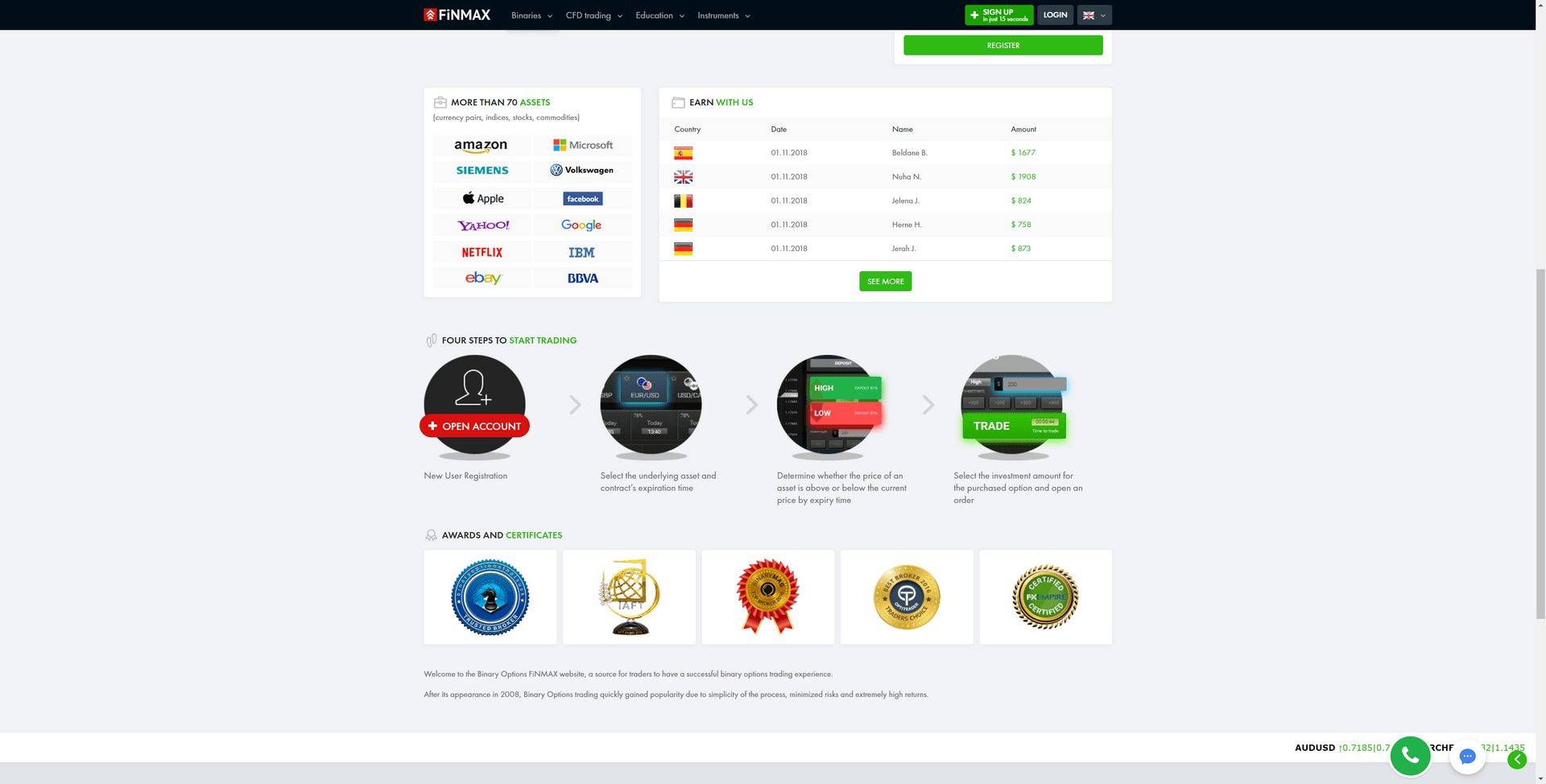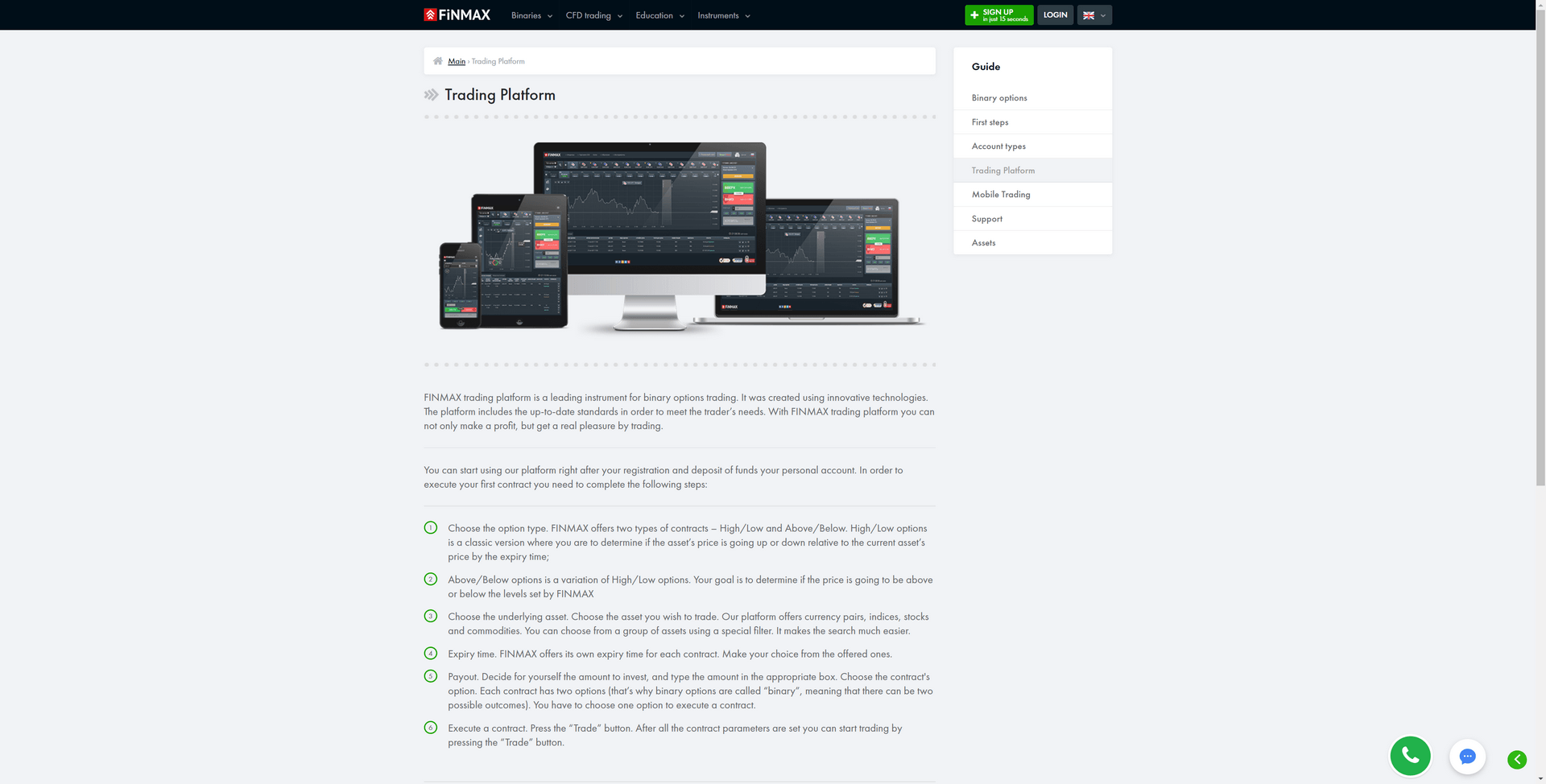 Risk Warning
/
Ad Disclosure
Risk Warning: The products offered by the companies listed on this website carry a high level of risk and can result in the loss of all your funds. You should never risk money that you cannot afford to lose.
Ad Disclosure: Some of the links that you will find on this website are advertisements for which we do receive financial gain from referring new customers.
Account Types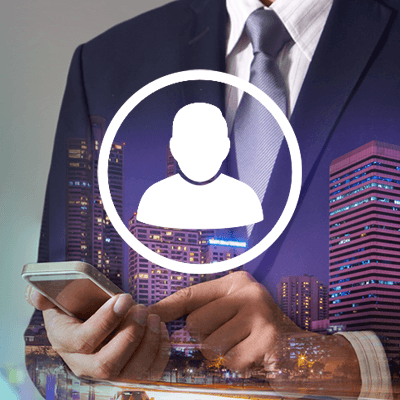 The different account types available from Finmax very much depend on the level of investment you are prepared to make. If you are hoping to make some good returns from your binary options trading experience, then you need to consider how much profit you can make at $5 per trade with a $250 deposit. For those who want to invest more, there is a range of accounts to choose from, all of which require a different level of deposit.
Bronze Account
Bronze account holders can open an account for a minimum deposit of $250 which gives you access to trades on more than 75 assets including currency pairs, assets, stock and indices and bonuses of up to 25%. At a minimum of $5 per trade, it is an excellent account for those that are new to trading and want to get used to the site before increasing your level of investment and upgrading your account.
Silver Account
One month access to trading signals and a personal account manager are all benefits that a Finmax silver account holder can expect for their $1,000 deposit. This is the most famous account offered and a good step up for those who are already familiar with binary options trading or those who want to deposit more than the basic $250.
Gold Account
If you want to raise the stakes and are looking for more from your trading experience then for a deposit of $5,000, as a gold account holder, you will benefit from withdrawals that only take 24 hours to process as opposed to longer times with the bronze or silver accounts. The bonuses on offer are also increased to up to 75%, and there are other educational tools available.
Platinum Account
With a deposit of $25,000, platinum account holders can benefit from several additional features offered to gold account holders including +4% of return per each trade. This account is more suited to the more serious binary options trader that has a certain degree of experience in trading. Educational tools including webinars, videos, daily analytics and unlimited trading signals are also available to those who open a platinum account.
VIP Account
As you would expect, a VIP account gives you all of the benefits of the above accounts and much more. The minimum deposit is $100,000, and account holders can benefit from up to 100% bonus as well as a wealth of other tools and benefits including a manager that is available 24/7 and an all VIP webinars access.
Trade Types And Payouts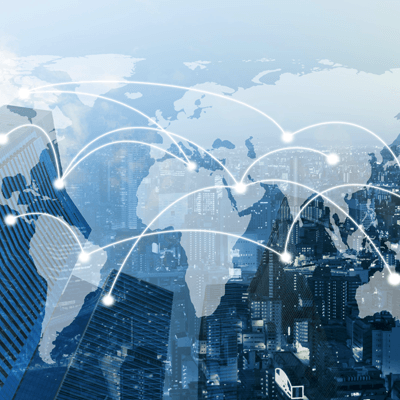 While some brokers offer an infinity of trade types, others prefer to keep it simple and offer a select few, especially when their platform is aimed at those who want to simplify their binary options trading. Finmax offers just the two trade types which are:
High/Low Options
As the name would suggest, high/low trades are when you predict whether the price of the asset currently will go up or down in the specified expiry time. Otherwise known as call/put options, the call is when the price goes above and put is when the price goes below the cost of the asset at the time of placing the trade.
Above/Below Options
Similar to the high/low option, the above/below trade type is predicting whether the asset will finish more upper or lower than the price, only it is the specific price set by the broker. Again, there are many names for these types of options, so it is essential to understand exactly what you are trading on. Another name you may see in addition to above/below or high/low is over/under.
Some brokers like to boast payouts that seem too good to be true, which is often an indication that they are just that. This particular broker offers returns of 70-80%, which are realistic, but there are higher payouts available for platinum or VIP account holders. When choosing a broker, be careful not to be drawn into those that are offering more than 90%.
As we discussed in the introduction to Finmax above, this particular broker offers a vast range of expiry times from short 60 second options, daily, weekly, monthly and to 4 months. Many brokers offer no more than expiry times of a few weeks, and not everyone provides short expiry times like 60 seconds. This means that there is something for everyone whether you want quick wins or are happier to play the long game with your investments.
Many unique features are available when you open an account with Finmax.
Bonuses And Promotions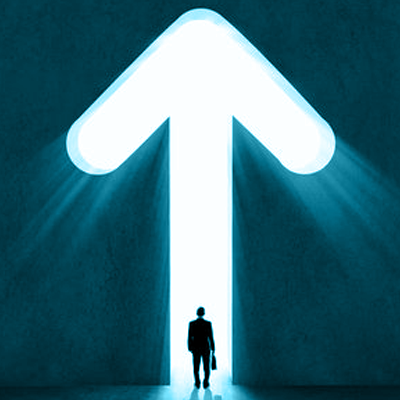 For some traders, the bonuses and promotions on offer can make a big difference as to the decision to choose a particular broker. If it's bonuses that you are looking for, Finmax offers welcome bonuses and deposit bonuses of up to 100% depending on the level of account that you open.
In addition to this, they also offer promotions to win prizes such as holidays as well as money back promotions on particular trades.
Mobile Trading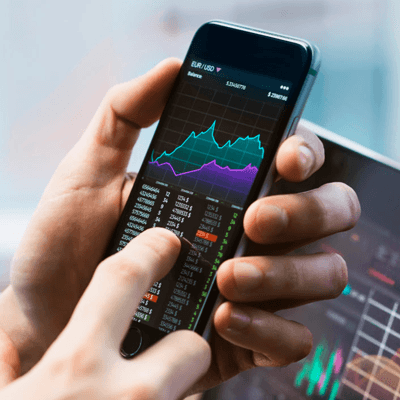 As with most things now, technology allows you to complete many actions from your mobile phone. This includes mobile trading. To keep up with trader requirements, it is critical for binary options traders to offer you the ability to trade on the move.
Finmax offers you the opportunity to not only trade on desktop but also iOS, Windows Mobile and Android mobile devices. This means that wherever you are, and whatever you are doing, you are never far away from your next trade.
Deposits And Withdrawals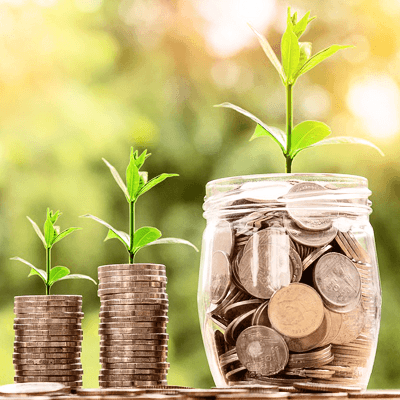 The minimum deposit required to open an account with Finmax is $250. This offers you the introductory bronze account level. To start trading, as long as you have cleared funds, you can begin trading upon depositing your funds. If using a debit card or credit card, this is instant. Withdrawal times vary depending on the level of account you have.
This can range from 24 hours to a few days. Withdrawals will be processed and returned by the same method they were used to make the initial deposit.
Special Features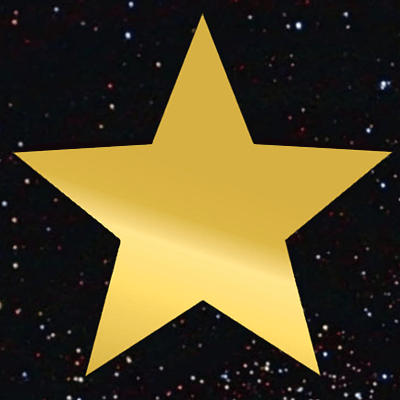 There are many unique features available when you open an account with Finmax. We have already mentioned their bespoke platform, but perhaps one thing that we should highlight is their extensive educational tools which include videos, e-books and webinars in addition to their comprehensive analytical tools.
There is also a demo account available once your account has been opened and verified, which means you can try out the platform before you start trading with real funds.
Trending Pages
Customer Support

24/7 online chat, email and telephone. If you visit the contact us page, you will see that there are telephone numbers for Cyprus, London and Toronto, Canada. These telephone numbers are operating between the hours of 8 am and 8 pm.
On both the desktop and mobile devices, there are bottom right-hand corner icons to allow you to call the support team while on desktop, you can start an online chat. When it comes to customer support with languages in both English and Russian, they are an accessible broker.
Here are the contact details for Finmax:
Email - [email protected]
Phone - +44 203 807 4841
Address - IK Partners Ltd, Suite 305, Griffith Corporate Centre P.O. box 1510, Beachmont, Kingstown, St. Vincent and the Grenadines
Conclusion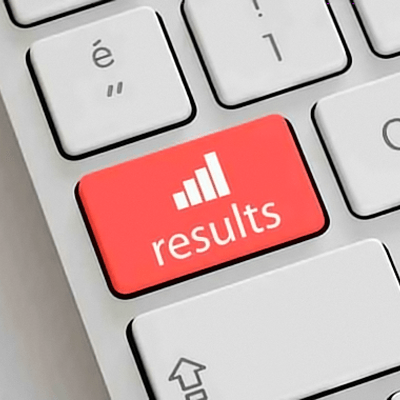 In conclusion, there is a lot to like about Finmax. Their website is clear, concise and easy to navigate, which means that you can enjoy your trading experience and benefit from a good user experience. They offer everything you need to enjoy successful binary options trading, including a wide range of educational tools and facilities.
The trade types are simple, and if you are new to trading, there is the option to start low. With recognised licensing and a good trading platform, we think that this is a great broker, for those that are both new to trading and those who have a more established background.
Risk Warning
/
Ad Disclosure
Risk Warning: The products offered by the companies listed on this website carry a high level of risk and can result in the loss of all your funds. You should never risk money that you cannot afford to lose.
Ad Disclosure: Some of the links that you will find on this website are advertisements for which we do receive financial gain from referring new customers.
Frequently Asked Questions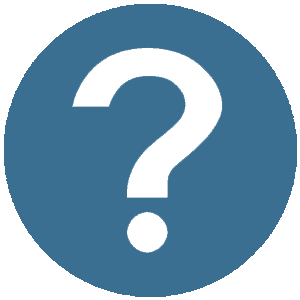 Meet The Author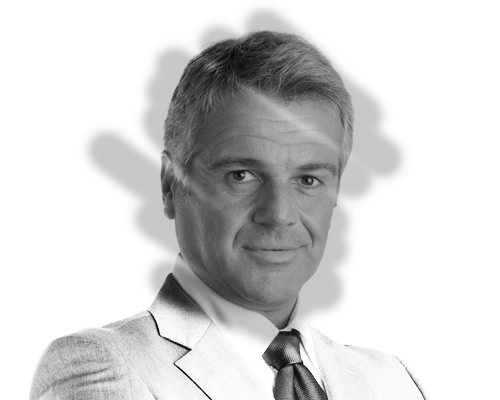 Jacob Bailey
Market Analyst
Jacob has been an author for us since our launch in 2012. He has over forty years' experience in the financial sector and has held a variety of positions within financial services corporations and venture capitalist organisations.
Popular Pages
Popular Pages

Other Investing

More Info